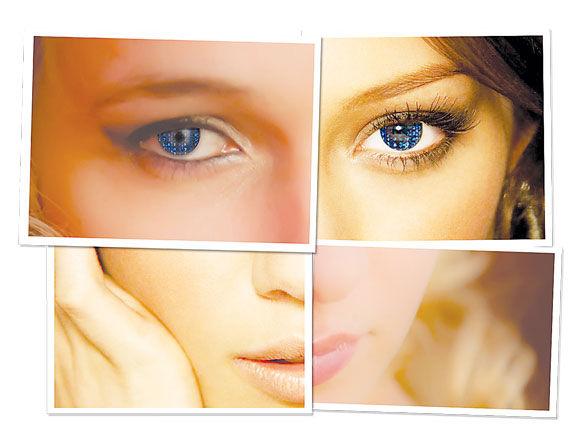 Forget The Sims and other role-playing games of the past. Midnight Cities represents the next generation of gamer: the chic geek.
Addison Sharpe lives in New York City. She is 26 years old and plans weddings for everyone who is anyone. She has the body of a Victoria's Secret model and the charisma of a socialite. She is engaged to Marc Macaleid, a 28-year-old venture capitalist whom she met in college. Everything about her life seems almost too good to be true. Because it is.
Addison and Marc aren't real.
They are characters from an online game called Midnight Cities. Addison (aka Victoria Secret's model Candice Swanepoel) and the game itself were both created by Jillian Hutton, a journalism student at MU. Notorious for being practically attached to her Macbook, this Texas native spends nearly 20 hours a week on Midnight Cities.
Although that type of dedication might make her sound like a hardcore gamer, she isn't what most people would expect. She's a fashion-addicted sorority girl with more knowledge of coding and web design than some will have in a lifetime.
Even though Jillian spends a lot of time online, during the working hours of the week, she really is just like your average co-ed. Each week, she spends 15 hours in class; 20 hours at work; four hours participating in her sorority and other campus organizations and does about five hours of homework. She even manages to maintain a social life. But it is usually well after last call and fourth meal that Jillian begins working with her avatar, Addison. A self-proclaimed night owl, she requires a steady intake of Diet Coke with vanilla from Sonic to fuel her virtual-life binges.
A NIGHT IN THE CITY
Simply Googling "Midnight Cities" won't lead to the website. So, knowing exactly what to look for is key. At first glance, Midnight Cities doesn't look like your typical game. There aren't hurdles to jump, bad guys to fight or coins for a man in red overalls to collect. The website is formatted almost like a blog. The main page, designed by Jillian, is a display of pictures of models and a description of the game. Set to a purple-gray background, the home page allows you to jump to new pages, which eventually lead to the threads or correspondences between characters. For a novice, it would be easy to get lost on the site. But those, like Jilllian, who have been playing on sites like this since high school know exactly how to navigate it.
Midnight Cities is a play-by-post role-playing game or PbP RPG. PbP RPGs are online text-based games usually inspired by popular books, movies and TV shows. Unlike the massive multiplayer role-playing games à la World of Warcraft, it is more chic and less nerd. The game could be described as a seamless blend of Gossip Girl and Sex and the City based in fictional New York City and Los Angeles.
Created in September 2012, Midnight Cities revolves around the lives of successful, beautiful men and women with big bank accounts and crazy love lives — a contrast to the duels and wizards you might find in the Dungeons & Dragons Online game. Jillian co-created the game with Susan, a woman she's never met in-person and who prefers to remain anonymous to this day. The inspiration for Jillian's game comes mainly from the fashion world. Many of the characters are models, and a lot of the site is designed almost like a fashion editorial.
Approximately 13 members of the game create characters based on celebrities and models and play out scenarios via long-form writing on a series of threads. Members range from having one active character to as many as seven. Jillian has four, but her favorite is Addison, at least for now. Much like the plot lines, that could change at any moment.
Selecting or claiming a character is the first step to playing. Anyone from Selena Gomez to Kate Upton has made a cameo on the site; it might be the celebrities in their profile pictures, but players acknowledge them by their aliases in the game, Cecily and Athena.
After choosing a character, participants create their personality, lifestyle and background. Each is given a name, occupation, age, degree, job, hobbies, relationship status, pets, family history and even memories. The amount of detail involved is what makes the game so realistic. Applications and bios for most characters on the site are thousands of words long and detailed down to their addictions and Starbucks orders.
This is where the emphasis on long-form writing comes in, and it is what sets these role-playing games apart from others. It's unique and, in many ways, has managed to avoid the mainstream gaming world.
But simply being a good writer doesn't mean acceptance to the site. Throughout the years, the game has become exclusive, and after generations of characters, Jillian and the other administrator have a tendency to be picky.
Those who have been lucky enough to make the cut are asked to choose a location for their character: New York City, where the NYU students and speedwalking Northeasterners dwell, or Los Angeles, the West Coast Mecca for surfers and dreamers. For those looking for an opportunity to become part of the jet-setting elite, opting for the Spotlight option is the quickest route to celebrity stardom.
The rules of the game are fairly simple. First and foremost, Midnight Cities operates under a real-life format, meaning that everything is measured in real time. Nagging, nudity and grammatical errors are frowned upon. Respect is a golden rule when playing the game, but besides that, it's a free-for-all. Every choice is made by each individual player; the more creative and controversial the post, the better.
Take a close look at the home page for Midnight Cities (midnightcities.proboards.com). The scrawling cursive and seductive images entice first-time users to the site.
GETTING CAUGHT IN THE WEB
Jillian has always been a creative writer. In the second grade, she placed third in a writing contest. She even won a contest in high school by placing first in her entire school district. She's also a reader. Anything from mystery novels to love stories to thrillers attracts Jillian. She just adores the written word. So, it isn't much of a surprise that an online game involving writing would pique her interest. But Jillian's experiences online didn't begin with Midnight Cities.
Her fascination with virtual life began in middle school. She started playing The Sims, one of the first popular role-playing games, created back in 2000. She would spend up to seven hours on the family's shared computer watching the lives of her pixilated avatars play out on the screen. It was her escape from school where, at times, Jillian felt ostracized by her friends. She wasn't bullied, but she did suffer through the typical middle- school drama.
It wasn't until she left the game one evening to troll the Web that she discovered one of the many online forums for fans of The Sims. She began forming virtual friendships and started having conversations with other gamers on MSN Messenger. It was through shorthand instant messaging that Jillian formed her first online relationships and got her first glimpse of PbP RPGs. This look into the online gaming world opened Jillian's eyes to a new type of creative writing and, ultimately, to what became her passion.

During her sophomore year of high school, other role-players asked Jillian to join their group, and she began writing for La Même Historie, a game that became one of the blueprints for Midnight Cities.
"I was so into creative writing, so I thought, 'Why not expand my boundaries,'" Jillian says. "The first thing I ever wrote was God-awful. I could barely write 300 words, and I didn't know what to do. From there, you just kind of learn; you learn the rules."
After a little practice and gaining some experience, Jillian began playing on, and eventually became a staff member of, other gaming sites. Her knack for coding, skills in Photoshop and artistic eye for Web design are what really helped drive her involvement in the gaming world. Her knowledge of coding and Photoshop are both completely self-taught, and she learned it all online.
"She obviously really loves it if she had to teach herself all of that to get to where she is now," says Savannah Hutton, Jillian's younger sister, who only found out about Jillian's online game within the past few years.
The Secrets We Keep Savannah remembers watching Jillian work on the computer for hours. "She was really secretive about it," Savannah says. "It was kind of like that one guilty pleasure I think that she had."
Savannah wondered for years what Jillian was doing online and didn't find out until around the time Jillian first went to college. In high school, Jillian would always turn off the monitor or minimize screens whenever Savannah was around and she was on the site. Out of curiosity, Savannah, along with the youngest of the Hutton trio, Anna Kate, used to snoop.
"When she wasn't home, my little sister and I would sneak on to her folders on the computer and read through and see if we understood anything," Savannah says. Mostly what they found were saved instant messages with other gamers discussing story ideas. It wasn't until later that Jillian began divulging information to Savannah and asking for advice on layouts and designs.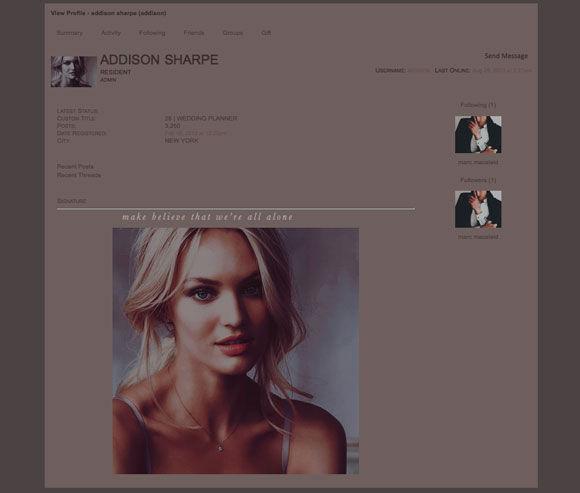 Addison, one of Jillian's avatars, is featured above. Notice the pristine skin, perfectly blonde tousled hair and pouty lips. In Midnight Cities, role-players build profiles based on their ideal model or celebrity.
Even though Jillian eventually opened up to her sister, their parents are still in the dark about her online endeavors. They knew Jillian spent a lot of time online, but they didn't know exactly what she was doing or whom she was talking to. The few times her parents did catch her talking to people online, they became concerned. That's when she began really keeping it a secret from them.
Jillian even managed to hide it from all of her friends, including her college roommates. They realized how much time she spent on her computer but always assumed it was homework or some version of social media filling her screen. It wasn't until this past year that Jillian began confiding in her friends. At first, she was very worried about how they would react.
"I didn't know how to explain it," Jillian says when talking about keeping her role-playing a secret. "It's not exactly something normal."
The more people she began to tell, the more comfortable she became. She wasn't being judged for her hobby; her friends were truly interested in learning more. This type of support was something Jillian didn't expect, and though it had a very positive impact on her social life, it hasn't entirely alleviated the need to keep her role-playing a secret.
Jillian says that she has always been worried, like some of the other players are, that her participation in a game that centers on using models and celebrities as avatars could harm her future career. Jillian's dream job is to work at a modeling agency and represent the models that she uses as characters in her game. She is convinced that Midnight Cities would do more harm than good when trying to get that type of job.
Besides her friends and family, Jillian also kept secrets from her online cohorts in her early gaming days. In the beginning, Jillian used a penname, which isn't abnormal in the online universe. These days, that type of deceit is classified as "catfishing" or pretending to be someone you aren't online. With online activity, you truly never know who is on the other side of the screen.
In many ways, the unknown is part of the risk anyone takes when going online, but it is also part of the appeal. For Midnight Cities, that type of anonymity is standard.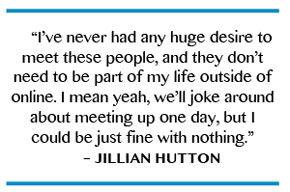 Despite playing together for years, most of the players on Jillian's site don't know one another's last names, and most of them have never met nor will ever meet in person. And Jillian is perfectly fine with that.
"I've never had any huge desire to meet these people, and they don't need to be part of my life outside of online," Jillian says. "I mean, yeah, we'll joke around about meeting up one day, but I could be just fine with nothing."
There is one exception — Lexa. She is another player on Midnight Cities and the only game member that Jillian has met in real life. The two crossed paths in New York City, a place where both of their characters live. It was a serendipitous encounter when both girls were there for their dream internships.
"I just knew; there she is," Jillian says about seeing Lexa for the first time in Union Square. "It was like we were long-lost friends."
Their online connection instantly materialized into a real-life friendship. They spent a lot of time together while in the city and were able to do things that their characters would do. They went to Sunday brunches at swanky restaurants, met celebrities and models and even participated in New York Fashion Week.
The entire time she was in New York, instead of being tethered to her computer, Jillian was out in the world living the life she had spent hours creating for Addison. She was on Midnight Cities less in those months than she ever had been.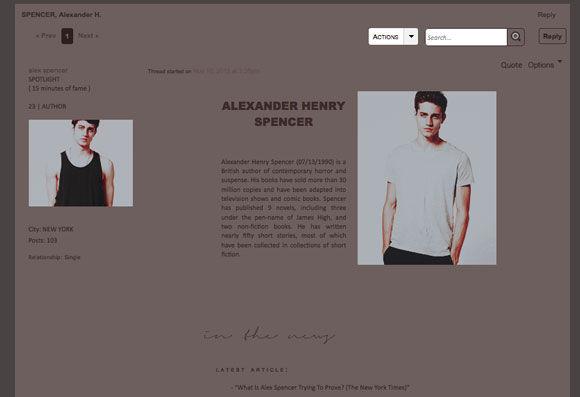 Ah, the men of Midnight Cities. Imagine a more detailed Facebook profile, like times ten.Here, users construct the story of their characters' lives.
THE WAITING GAME
Although Midnight Cities has been an integral part of Jillian's life, she is moving on. For the past month, Jillian has been coding and designing a brand new site called Waiting Games. The goal for this new online gaming venture? Make it bigger and better than the last. Not only is it a much more intricate design, it's a little darker and more mysterious than Midnight Cities. It is housed on a brand new server, which has allowed Jillian to try a lot of new design techniques. Like the games that came before it, it is essentially a spinoff of the previous, even though they are visually very different.
The new site is expected to be completed by the end of February and will be linked to Midnight Cities' current URL. Even though a lot is changing, both Addison Sharpe and her fiance Marc Macaleid will be staying the same and simply making the virtual move from their former Web address to the new one.
Addison and Marc aren't the only ones making a big life change. Jillian will be graduating in May. She is currently applying for internships and jobs across the country, but as of now, that doesn't mean the end of her online gaming days.
Regardless of how much longer she will continue to play in the future, Jillian says she will leave her sites open and allow people to continue joining after she is done so she can look back on her writing. "It's so much a part of me, it would almost be sad to just drop it and never think of it again," Jillian says.
Ultimately, Jillian doesn't know exactly what will happen or where she will end up in the future. But much like Midnight Cities, some of the most exciting plots are the ones that haven't been written yet.
GAME LINGO
Plotting: planning for characters actions or responses to posts
Coding: how the website is put together; every bit of text and every graphic is coded to make the layout appear a certain way
Plot page: where the background of the character can be found
Claims: who is who on the game
Role-players or Rp'ers: stands for role players, or the people playing the game
Archive: completed posts that are saved and easily accessible as references
Thread: a correspondence between characters