In the basement of 1000 E. Walnut St., Wendi Jensen seeks to facilitate an environment where creative children can thrive. The appropriately named Art Underground opened in 2014, and it serves kids in kindergarten through 12th grade. At the afternoon art school, students are celebrated as artists and taught the power that art holds. "I want them to see how awesome it is that they have this gift and that they can use this gift for good and to help others," Jensen says.
Before opening Art Underground, Jensen worked for 10 years as a public school art teacher in Excelsior Springs, where her art supply budget was $1.25 per student per year. Her classes had 20 to 30 children, which made it difficult to connect directly with each student. "I always felt like I couldn't reach those kids that were really, really good at art, who really wanted to be there," she says.
One day, Jensen was approached by a friend who asked if she would give her daughter art lessons. She began teaching three kids, and by the end of the semester, she had 10. "I was like, I wonder if I could do this as a business?" Jensen says. What started with three students meeting in Jensen's attic grew into a business that serves over 100 children.
Art Underground classes meet once a week for one hour and are capped at eight kids in order to dedicate one-on-one attention to individual students. The school consists of three classrooms, four instructors who are certified art instructors and 10 interns. During the classes, the kids are furthering their natural artistic abilities. Jensen says they show the students how their love for art can translate into a career path one day.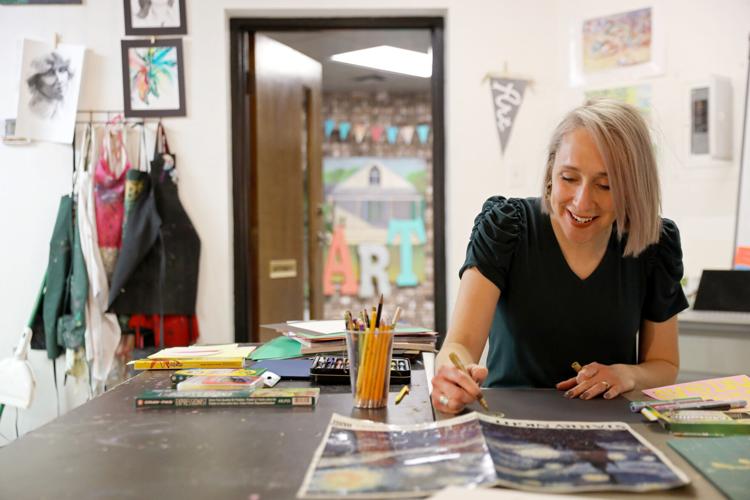 "(We) give them a chance to experience a lot of different art mediums and things that might be harder to do in a bigger classroom," says instructor Michelle Mozingo. Art Underground student Adilynn Dixon, age 10, says she loves being able to use paint during class, as this messy medium isn't allowed at home.
Lauren Tyler is the clay instructor, and she guides kids through the process of creating ceramics. The clay department was added a year and a half ago, and now students can learn wheel-throwing and hand-building with clay, the process of kilning, how to paint and glaze their work and more. One of Tyler's students, Allison Briscoe, was excited to discuss ceramics art. "Your work kind of comes to life," says Briscoe, age 8.
Each month, the classes focus on a different artist. Students get an in-depth look at the artist's life, work and style, and they learn how their lives might have affected their art. Once they learn the history, the students make projects with the artist's mediums and techniques.
During the summer, Art Underground puts on weeklong art camps for K-12 students. The camp themes are inspired by what the teachers would have been interested in at a young age, such as clay, urban sketching, printmaking, Vincent Van Gogh and Frida Kahlo. There is a camp titled "Your Grandma's Art Camp," where third grade through eighth grade students will learn the arts of embroidery, paper-making, felting and weaving. Mozingo loved treehouses as a child and will be instructing a camp called "Gnome Homes and Fairy Houses," and Jensen will be teaching about the style of her childhood icon, Bob Ross.
"I feel some connectedness to my childhood self in the fact that I've created something that I would have loved," Jensen says. 
Related Stories