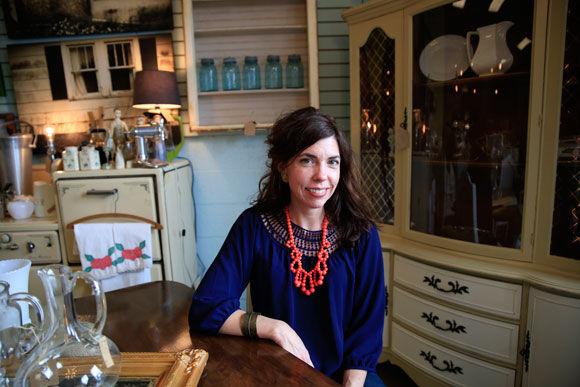 A Facebook news feed full of crafts for sale gave Kelly Gilion an idea. She would start her own business, a consignment shop for local vendors to sell their products in one central location. Plume, which opened this past November, is stocked with work from about 60 vendors, many of whom are stay-at-home moms looking to contribute to their family income. Vendor Leah Bradley sells cloth diaper covers and other baby items at Plume. "Columbia does seem so open to doing things locally," Bradley says. "So, (Plume is) just the perfect place for people to not only buy locally but for (vendors) to be able to sell in one location."
The unique products combine modern and vintage styles that reflect Gilion's taste. Customer Sarah Hodapp has purchased several items from the store to decorate her home, including a kitchen table and a set of chairs. "It's like a treasure box," Hodapp says. "Just walking in you feel like you could spend hours in there. You kind of just feel like you're going over to a friend's home." Plume is an extension of Gilion's hospitality, and her personal style shines through the shop's environment and items on display.
Why did you name your store Plume?
If you look up the definition of "plume," the dictionary actually says a decoration or an adornment, as a feather. There is also a verb usage. If you plume something, you decorate it; you adorn it; you make it pretty. So, I love the double usage that plume could stand for. And then there's also some scriptural reference about God covering us with his feathers, and under his wings, we find refuge. I just like the idea of my shop being a place of refuge for a shopper who needs to get away, wants to come have some alone time and shop away from their kids or whatever stresses they have.
Why did you choose to focus on this vintage-modern vibe with upcycling handmade items?
These are all the things I love. If you were in my home, you would see modern fabrics, but I love all the details from the past, so you would see an old school desk in my living room. I have always loved that industrial, vintage style, but I also feel like that's what's good for the environment. I don't know that we need to be out ordering more things from China when we have all this stuff that could just be passed on to someone else. I have always loved the concept of making something that's old and worn down and making it beautiful again.
How do you select what you choose to sell from the vendors?
That is really hard to put into words because so much of it is just what I see. I know what I like and don't like. Someone could bring something in this month, and I look around the shop and think, "Would that work with what I currently have?" and the answer might be "No." To me, it doesn't do a vendor service to just accept their things if I don't feel like I can sell it to the best possible price for them. And in order to sell things for the best possible price, they need to look intentional. My first goal is always to have the shop look cohesive and put together and not have it look like there's 65 different people all contributing.
What is your relationship like with your vendors?
I really hope that it's viewed as a partnership, that it's viewed as a win-win. My shop would not exist if I didn't have the vendors bringing their things in. I am not in a place in my life to go out and source the shop; there's no way I could buy enough stuff to fill it up. That's not what I want, really. I want it to be a resource for people who have a passion and can be paid for being good at whatever it is they individually do.
You give out samples of coffee to your customers while they shop. What do you think that does for the shoppers' experience?
I tried really hard to make Plume be seen as a destination spot because we're not in a typical retail space. I brought in pastries and coffee that I actually sell as well to enhance their experience. Plume isn't just a place that you come and run in and run out. I want people to stay and really feel like they can take their time. I've always loved putting food out, so me offering coffee is a way for me to extend that hospitality.