Can a splatter of red paint speak louder than a protester with a bullhorn? Can graffiti articulate the complexity of deep-seated issues? Although history typically associates activism with speech, advocacy takes many forms, including art.
Art activism is rooted in American political discourse. Although art has been used as a form of political expression for centuries, this type of advocacy expanded in 1933 when the New Deal, a government campaign to alleviate Great Depression hardships, funded public works projects. Since then, art has become an integral part of political dissent and social progress. Some famous activist pieces include the raised painted fist of anti-Vietnam protests and the "hands up, don't shoot" posters of the Black Lives Matter movement. According to a 2018 article in The Atlantic, the Trump presidency catalyzed a rise in protest art that is still increasing today.
These three local artists use art as a way of speaking their minds without having to say a word.
Lisa Bartlett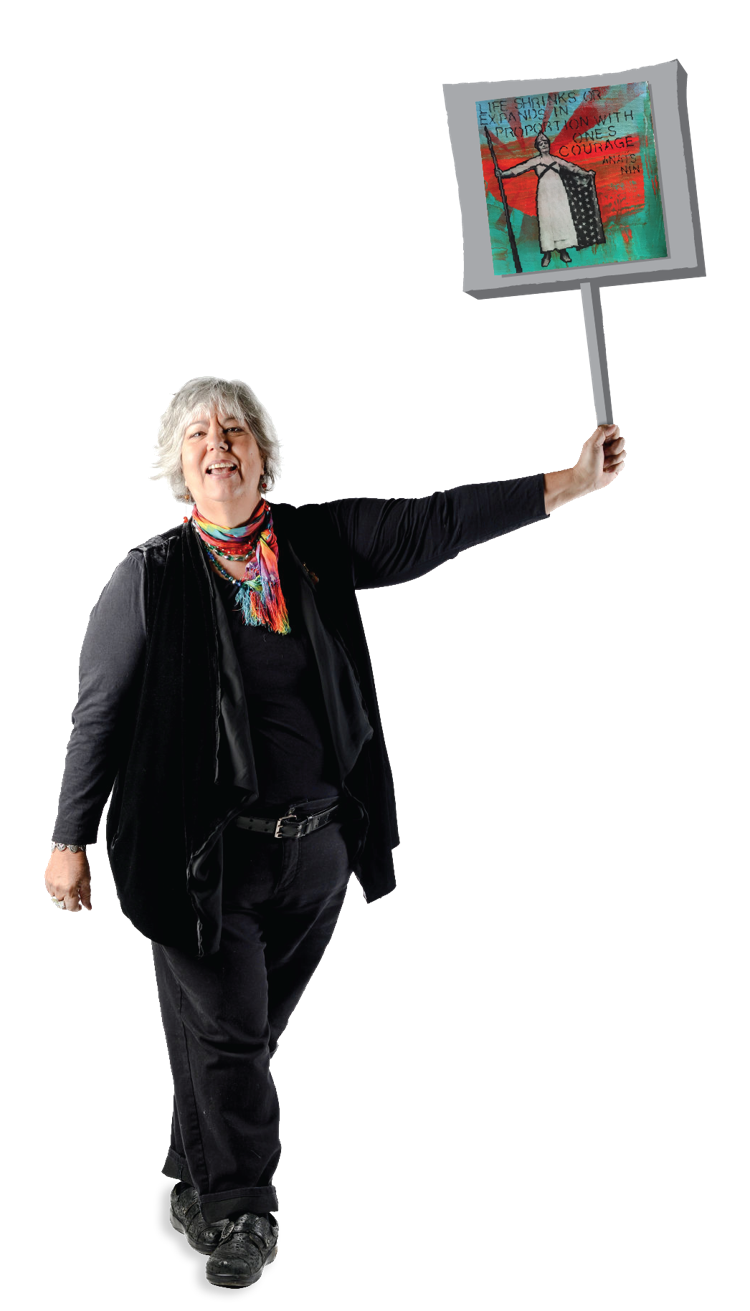 The founder of ARTLandish Gallery, Lisa Bartlett creates paintings that show how marginalized groups are oppressed. She raises questions in her works about identity and says she hopes the viewer chooses to learn more. "I just hope they dig deeper into history," Bartlett says.
Her art mainly focuses on painting women in a proud light. Some of these works include Harlem Renaissance women and African-American blues culture.
Bartlett has devoted her life to art. Throughout her career, she has worked on roughly 10 different activism series, including portrayals of Native Americans and Japanese geisha.
She holds fundraisers where she sells prints of her paintings, and all of the profits go toward social justice organizations. Currently, proceeds from Bartlett's "Women of the World" series go to City of Refuge, a Columbia immigrant and refugee center.
Sonya Nicholson
Traditional Japanese legends say making 1,000 paper cranes will grant the creator a wish. Sonya Nicholson has had more wishes than she can count, as she has folded thousands of cranes in her life.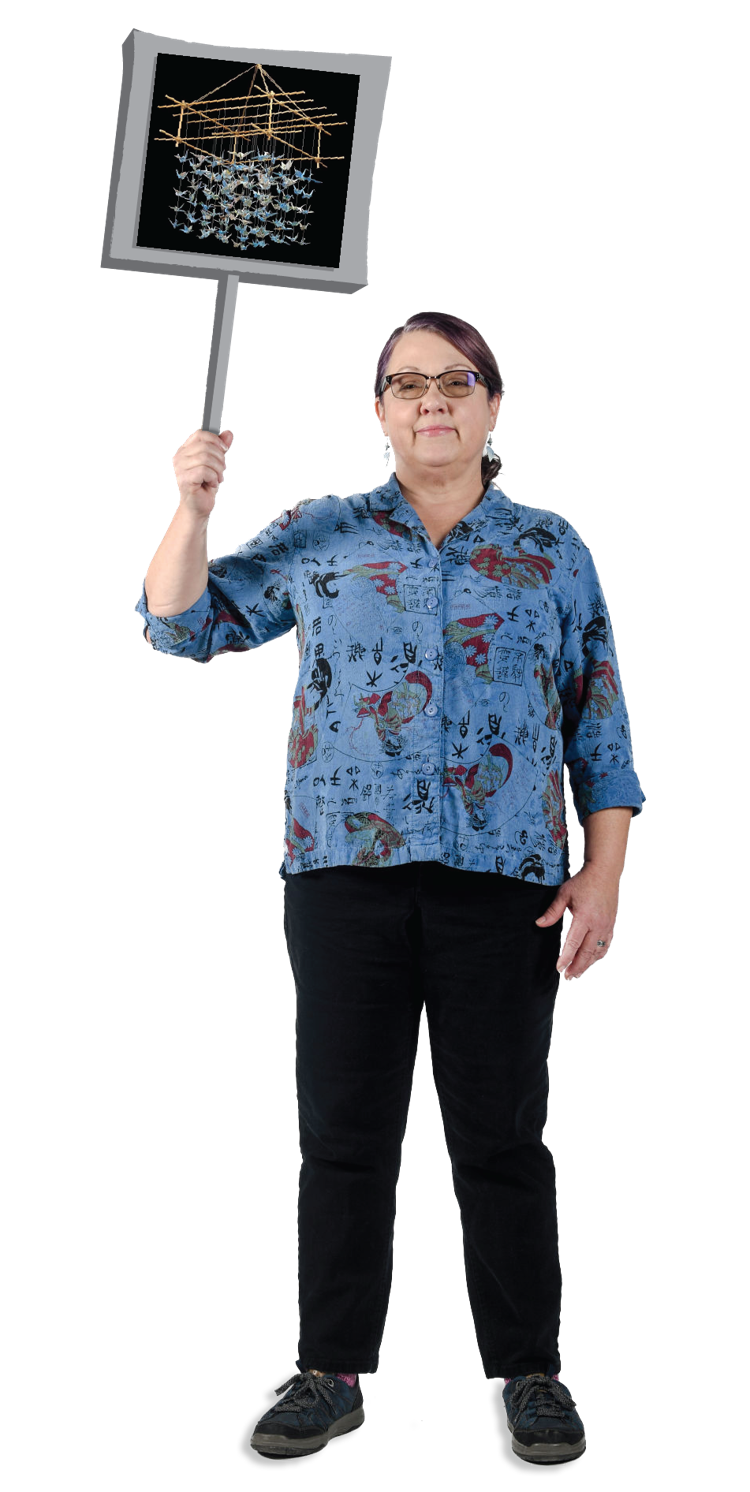 As a mixed media artist, Nicholson creates origami mobiles of everything from lotus flowers to bunnies. Her specialty is cranes, which are universal symbols for peace and goodwill.
When the 9/11 attacks put America into war, Nicholson says she realized people needed cranes more than ever, so she began making more origami. It became her avenue to anti-war activism as she hung hopeful one-word messages from each crane, such as "peace" or "love."
One notable mobile, "Blessings on the Wing," dangles above visitors in Boone Hospital's lobby. At 14 feet tall and 10 feet wide and supporting over 400 cranes, this is Nicholson's largest project. She created the nature-inspired installation in 2016. "I feel like we're making these things that are bringing peace into the world that people can exchange," Nicholson says. "It's something that you can see and enjoy."
Nicholson is currently working on a mobile for the Asia Pacific Museum at the University of Southern California.
Madeleine LeMieux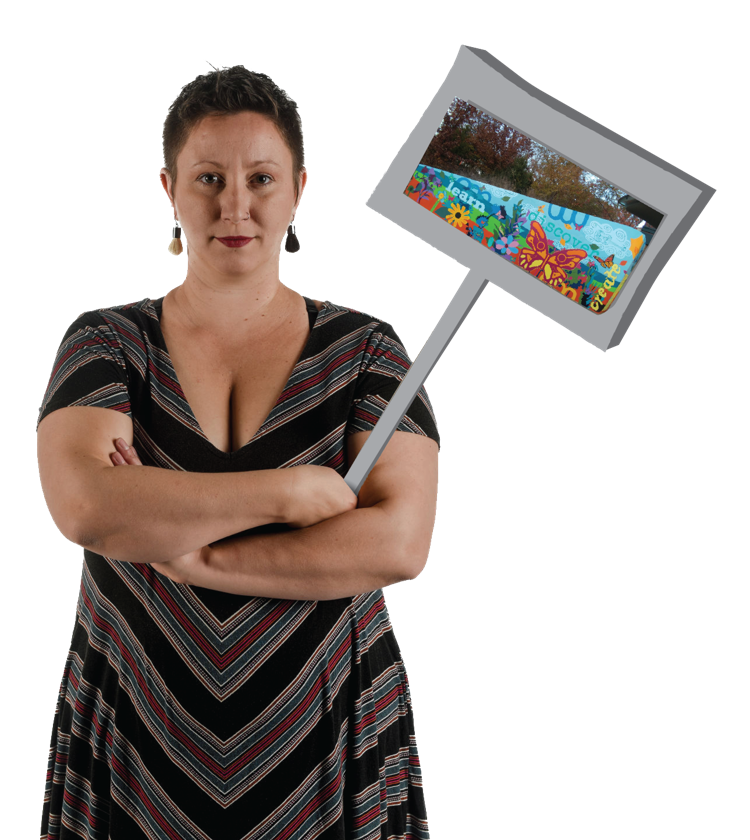 As the founder of the artist-run nonprofit Resident Arts, Madeleine LeMieux partners with local agencies to create mid-Missouri murals as a way to help unheard voices speak out. LeMieux, her Resident Arts team and a group of 5-year-olds worked together to paint the mural outside of The Atelier School of Creative Learning in Columbia. They completed the mural of butterflies, flowers and words such as "discover" Nov. 10. Columbia residents can find this mural outside the preschool's main entrance at 1609 Chapel Hill Road.
In addition to Resident Arts, LeMieux contributes to An Artist Residency in Motherhood, an international project depicting the beauty and challenges of being a mother, a topic traditionally unexplored in an art world dominated by men. Another mural project of Resident Art's depicts the urgency of climate change action and can be found on the MKT Trail at the Elm Street overpass.
For LeMieux, art activism is a form of social responsibility. "I think every single human being has the opportunity to take on some responsibilities for the culture in which they exist," LeMieux says. "And I think that is doubly so for artists who have the unique capacity to visualize ideas that might influence people's thinking."
Related Articles