During the week, Siham Nour is a clinical laboratory assistant at MU's Women's and Children's Hospital. But on the weekend, she runs her henna tattoo business.
Nour started her official business over two years ago, which she named Simsima's Henna, after the nickname her mother gave her. But the 26-year-old has been doing henna since 2011 for friends and family events. For Nour, henna is a relaxing artistic outlet and source of comfort.
"I remember when I was an undergrad, weekends where I would be stressed from assignments or exams or stuff like that," Nour says. "Henna was my way of escaping all that and doing what I really want and enjoy."
Henna is the millennia-old tradition of decorative tattooing using paste made from a henna plant. Artists focus on creating intricate designs, including geometric shapes, mandalas, animals and plants, typically drawn on the hands and feet. A finished tattoo dyes the skin reddish-brown and lasts about two weeks.
Nour and her family moved to Columbia in 2007 for better job and education opportunities. Raised in a household with Somali and American influences, the tattoo artist says she feels attached to her cultural roots, despite spending most of her life in Columbia. Nevertheless, she conveys her African background through her henna work.
The decorative ink art is traditionally done for weddings and holidays. One of Nour's most involved henna projects, a piece done for a bride, took three hours. Once it was finished, the design stretched from the client's feet to her knees, hands to shoulders and back and chest. "I wouldn't say it's the traditional way of doing it, but it's the bride's choice," Nour says.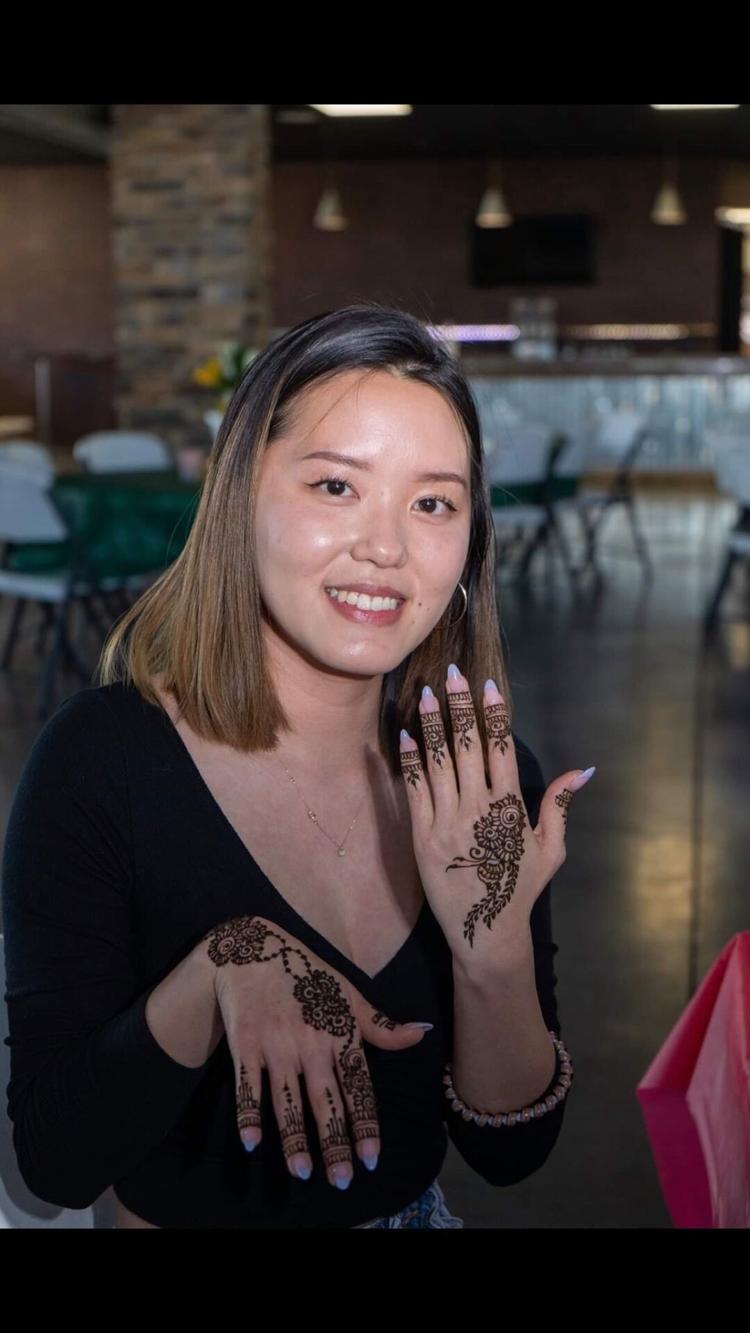 Nour has met many friends through her decorative design work, including Wing Deng, a student from University of Tennessee-Knoxville. Deng got her first henna tattoo from Nour when the two attended a wedding in April. "It turned out really awesome," Deng says. "She was super nice, and we were chatting throughout."
The Tennessee student also recalls Nour's unique henna style, which varies from traditional Indian to Somali influences.
"Henna is a form of art in a lot of cultures and a sign of beauty," Nour says. "Every culture has different colors, different styles that they do. I've maintained and learned how to do different styles for different cultures." For example, Indian tattooists typically design intricate patterns with red ink. Meanwhile, Somali artists lean toward floral designs using black ink.
In Columbia, there aren't many people who have Nour's varied background, so she enjoys getting to share her culture with new clients through her art. Her younger sister, Sumaya Nour, agrees. "It's nice to see that in the Western society, we have a part of our culture here and also within our home," she says.
Sumaya says she's proud of her sister for taking a leap of faith and starting her own business.
"I've always been her helper," she says. "So I remember my sister starting out her henna tables during Earth Day, and it's really nice to see how big she's becoming. She's a great person to look up to when it comes to having your passions and trying to show everyone what you can do."
Related Stories