Brick by brick, column by column and window by window, the building styles in Columbia's historic downtown district tell stories of the city's history.
More than 80 structures are designated as historically significant. Many of those were constructed between 1836 and 1956, and they showcase styles from Art Deco, Beaux Arts and Classical Revival architectural movements.
"I got into architecture for the buildings, and I stayed for the stories," says Building Preservation's Deb Sheals, who has been an architectural historian for 30 years.
Despite the span of time, most of the buildings downtown use architectural terra cotta, which is glazed clay made to look like stone. Sheals says the material was commonly used during the late 1800s and early 1900s and was popular because it is easier to work with than stone. Here are a few buildings that showcase Columbia's architectural history.
Art Deco
The Metropolitan Building: 808 E. Broadway
Home to Rally House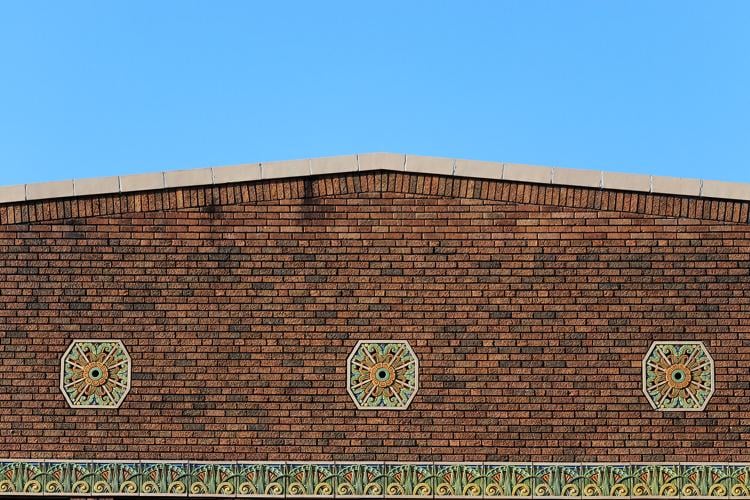 There are only a few Art Deco buildings in downtown Columbia. Built around 1930, the Metropolitan Building and current home to Rally House is one of them.
The term "Art Deco" wasn't popularized until the 1960s, says Elizabeth Hornbeck, an architectural historian who taught in MU's art history department for over 18 years. The style that inspired this building was ahead of its time with its detailed decorations. "It's the single best example of polychromatic terra cotta in town," Sheals says.
The concept of Art Deco comes from the Exposition Internationale des Arts Décoratifs et Industriels Modernes, an exposition that took place in Paris in 1925. This style spilled into other decorative art forms including fashion, design and sculpture. "Just like clothes, everything comes in and out," Sheals says.
The building that houses Skylark Bookshop on Ninth Street is another example of the Art Deco style in downtown architecture. Hornbeck says Skylark's gold, bronze and silver interior creates its iconic design. "When I think of Art Deco in Columbia, that's the place that comes to mind," Hornbeck says.
Beaux Arts
The Miller Building: 800 E. Broadway
Home to Sycamore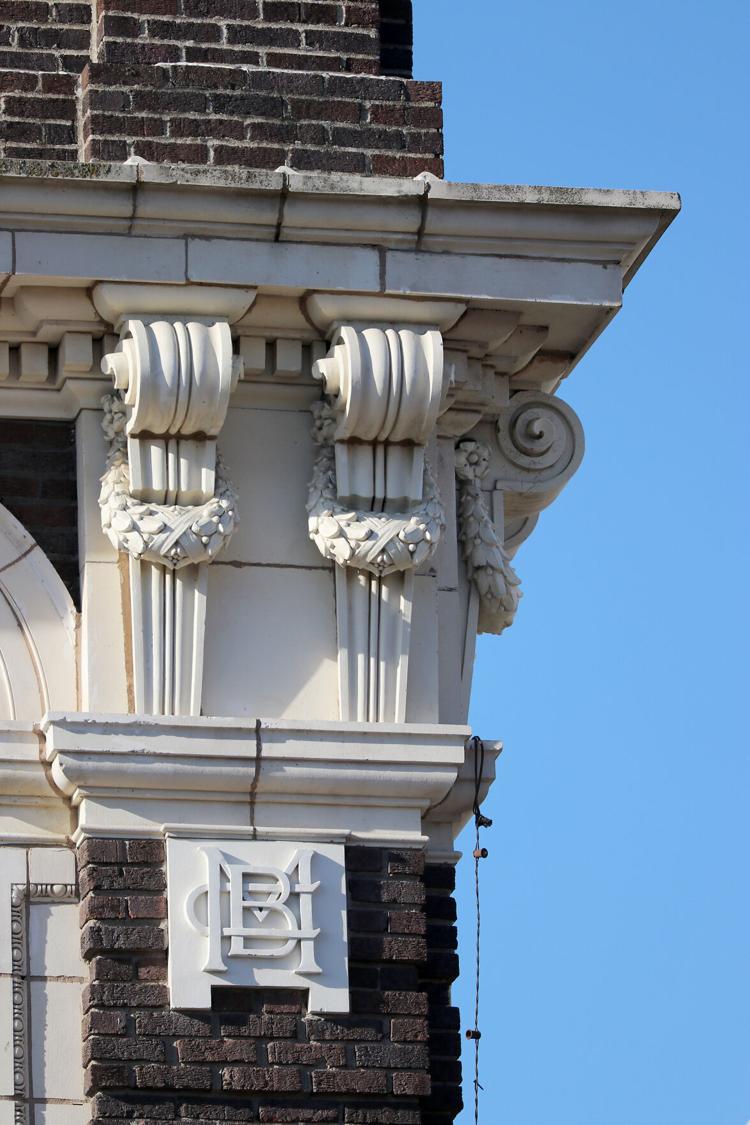 The Miller Building, built in 1910 and home to the local restaurant Sycamore, exhibits Beaux Arts through its grandiose elements reminiscent of Greek and Roman styles.
Hornbeck says the World's Columbian Exposition of 1893, also known as Chicago World's Fair, significantly contributed to the growing popularity of Beaux Arts in America. The fair's structures were designed in Beaux Arts style, in part to celebrate the city's revival after the Great Chicago Fire of 1871. Millions of people visited the fair over six months, and the Beaux Arts style took off.
Victor Barth Building: 827 E. Broadway
Home to Binghams Traditional Clothing and The Law Firm of Haden & Colbert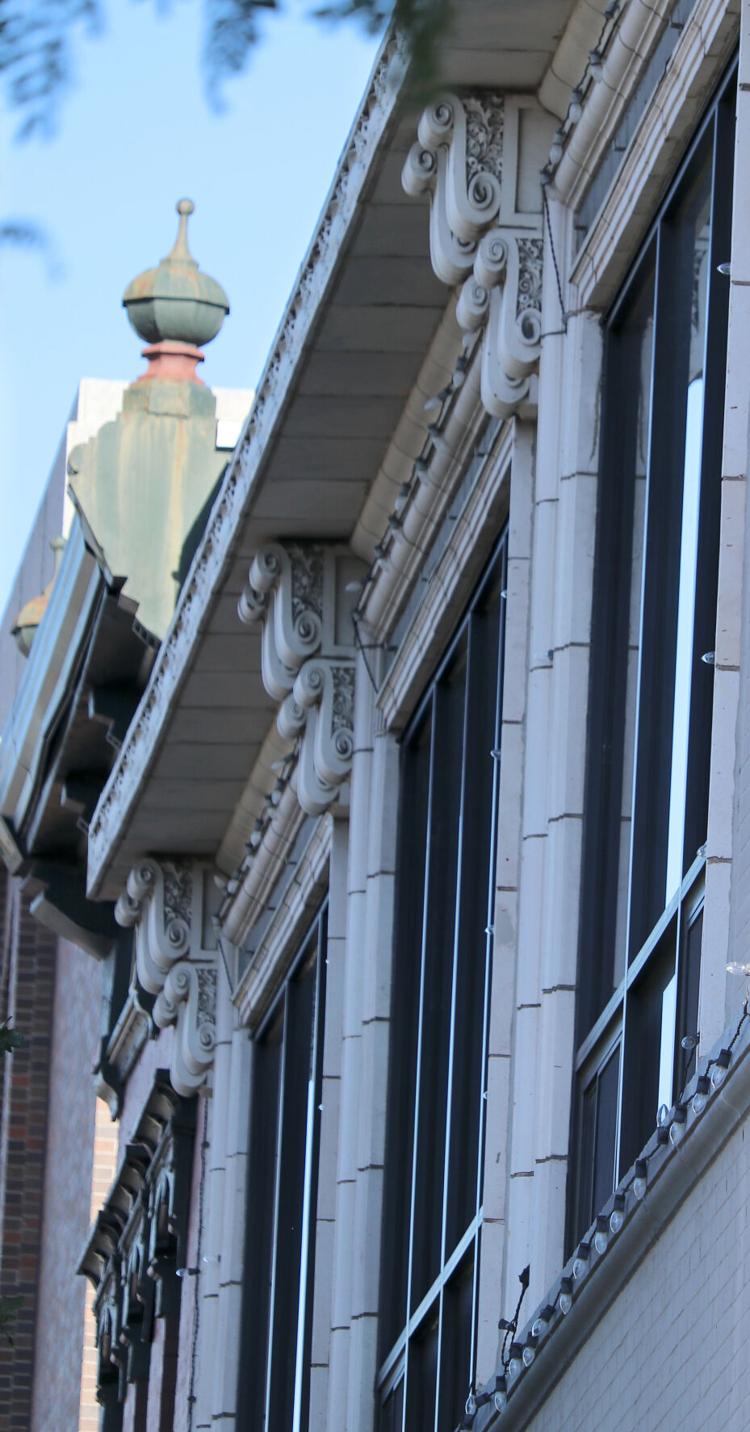 Another Beaux Arts building in Columbia is the Victor Barth Building that was built in 1909. The structure is currently home to Binghams Traditional Clothing and The Law Firm of Haden & Colbert.
The view of the structure was obscured for a time when a concrete canopy to shelter pedestrians was built along East Broadway in 1968. The canopy was removed in the early 2000s.
Beaux Arts was taught at the premier European architectural school of the 18th and 19th centuries in Paris, known as the École des Beaux-Arts. Americans who wanted to study architecture had to find the appropriate teaching in Europe. It took many decades of seeking inspiration from European design before architecture schools were established in the U.S. during the late 19th century, Hornbeck says.
Even when architecture schools were established, not everyone was on board with the Beaux Arts' expansion, Hornbeck says. Modernist architects didn't approve of attending school just to replicate classical styling in new structures.
Classical Revival
Haden Building: 901 E. Broadway
Home to Commerce Bank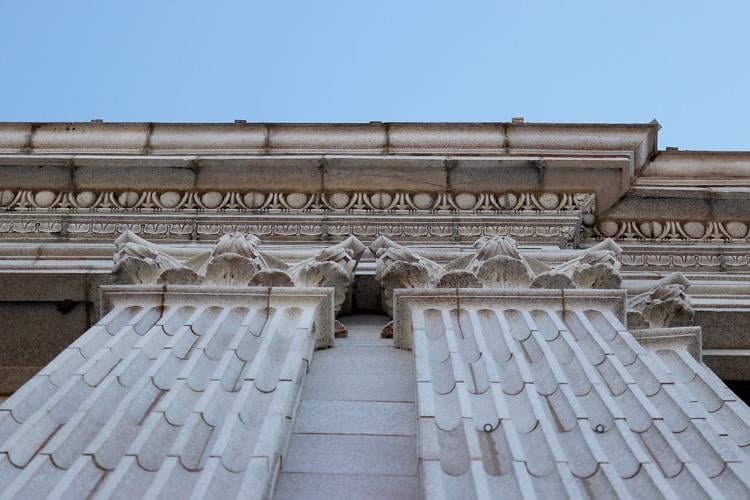 The Haden Building, which was built in 1921 and currently houses Commerce Bank, displays some features of the Classical Revival style. Sheals says Classical Revival is a part of the later stage of the Beaux Arts movement.
Classical ancient Greek and Roman forms both influenced the Haden Building. Hornbeck says the building is "more Greek than Roman," and attributes the columns' decorative features to the Romans and their functional use to the Greeks.
Related stories