Walking into Iron Moe's, the friendly welcome and grey walls almost instantly calm any nerves about having a needle repeatedly poke your skin. In fact, you kind of forget you're in a tattoo parlor, as owner and artist Moe Ricee leads you into a larger room with ring lights and a padded table. In his space overlooking downtown Broadway, Ricee is known for tattooing his customers using very thin lines. 
Ricee began tattooing cursive names at his friend's shop in St. Louis over 10 years ago. Having those skills, it only made sense for him to accept offers to start doing "minimalist" tattoos. Minimalist tattoos are typically smaller in size and are done best with thin lines and black ink. "My customers that I had, mostly college students, kept asking for them," Ricee says. "And then nobody wanted to do them because they were hard to do."
In recent years, the minimalist tattoo trend has taken over social media, and the bodies of celebrities and college kids alike. For tattoo artists, they can be difficult to execute as they are far from the typical larger tattoos that parlors offer. Tattooing such tiny lines requires a greater control of the needle. 
"Based on the command, I just decided to learn how to do it the right way," Ricee says.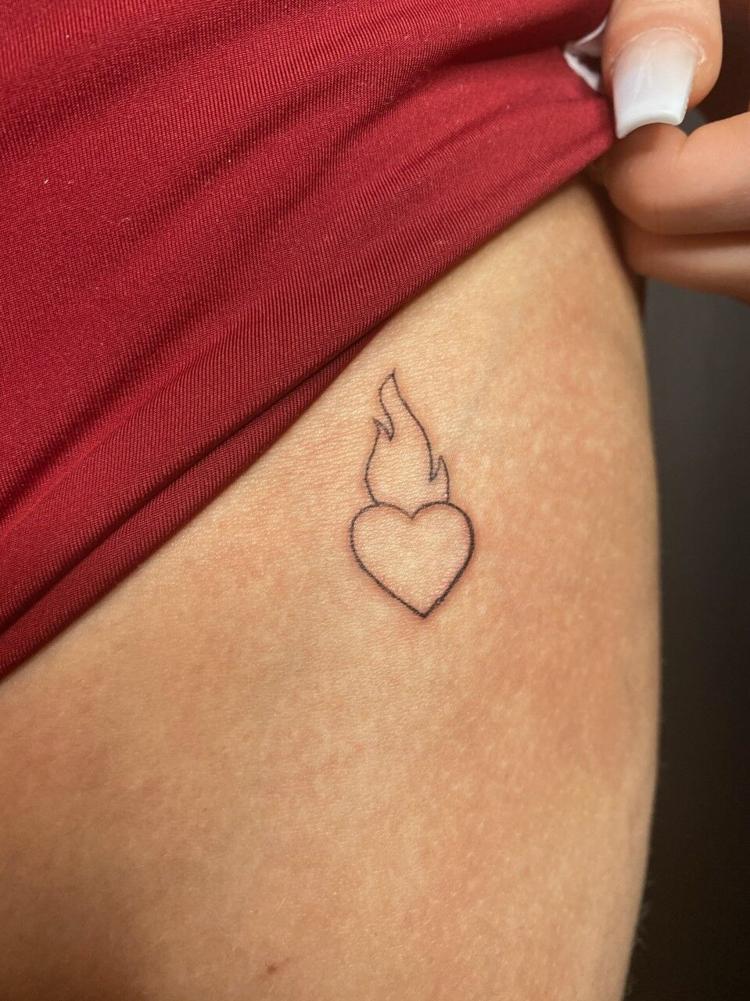 Ricee explains that the trend partially came from people wanting tattoos, but not wanting to commit to something that will overwhelm their body. "They want something a little more subtle, that kind of just compliments their body, or it's more of an accent or an accessory versus, oh my god, like, I was totally different," Ricee says.
Lying on the padded table in dim lighting, a customer is greeted again as Ricee sits next to them while preparing his needle. When the tattooing begins, he explains that some of his patients forget they're getting a tattoo and think they're at the psychologist's office. "I get this broad range of experiences that are going on, almost like vicariously through the customers when I communicate with them," Ricee says. "And God knows what you're going to hear." 
As the needle scratches skin and its buzz fills the room, Ricee carries on conversation in his own low voice. He pushes away the stigma of intimidation that comes with tattoo parlors from his shop with simple storytelling and listening. "People are already nervous anyway," he says. "I would like to have them more relaxed, and I try to stay really calm too, and that rubs off on the person getting one a little bit."
Ricee is hunched over the table for what could be 15 minutes to over an hour. He explains that even some of the smallest tattoos require great attention to detail. This is part of what he has studied over the last five years, and strived to perfect when tattooing minimalist designs. "They think they are quick and small, but there's a lot more going on than you may think," he says. 
"They want thin lines," Ricee says. "They want the tattoos to look pretty, cute, elegant, dainty and they want them to be complementary to them."
When the tattoo is done, it probably won't be the last time you see Ricee. It's not out of the norm for Ricee to hear shouted "hello's" and "hey's" on the streets of Columbia. His popularity among the local college students not only makes him a trusted artist, but one of the few that has hundreds of his designs literally walking around town.
"Tattooing is something I continually get better at every day I do it," he says. "I'll be perfecting it for the rest of my life."
Related stories