Sexual assault and gender violence can happen anytime, anywhere and to anyone. That's exactly what "It Happened" reminds visitors of when they visit the exhibition in the George Caleb Bingham Gallery.
With the exhibit having opened at the beginning of the school year, it serves as a reminder that sexual assault has no limitations, especially on college campuses ― an environment where rape culture is notoriously prevalent yet often overlooked.
A little more than 23 percent of undergraduate women endure sexual assault in college, according to the Rape, Abuse & Incest National Network. The site also reports that more than 50 percent of sexual assaults in college happen within the first semester.
Quintan Ana Wikswo, a featured artist in the exhibition, describes why the discussion of sexual assault and gender violence on college campuses is so important.
"A lot of universities actively refuse to report rape or any kind of gender violence to the police, and there is a huge pressure on female students to be quiet," Wikswo says.
Wikswo herself was brutally kidnapped and raped by two freshman males from Earlham College in 1992. The two students were never prosecuted, and the administration did not support her in her fight.
"I personally was told that the only way they would help me deal with it was if I sat in a room with the two students — I came back, sat in a room with the two students, and we 'forgave' each other," Wikswo says, stating "forgave" sarcastically. Wikswo refused to attend the meeting recommended by her school because she felt it was unsafe and unethical.* 
Wikswo is now an artist and activist against sexual violence. Wikswo wants to show the ferocity of survivors and acknowledge a strength "so rarely celebrated and recognized and honored" through her art; she wants those affected by assault to be viewed as strong, resilient survivors, instead of vulnerable victims.
Her piece in the exhibit, titled "A Man Walked By and Wanted to Buy Us," was created with old American cameras in collaboration with more than 50 survivors of sexual and gender violence. Wikswo made a pilgrimage to photograph places in the desert southwest where women, including the artist herself, experienced gender violence and sexual assault.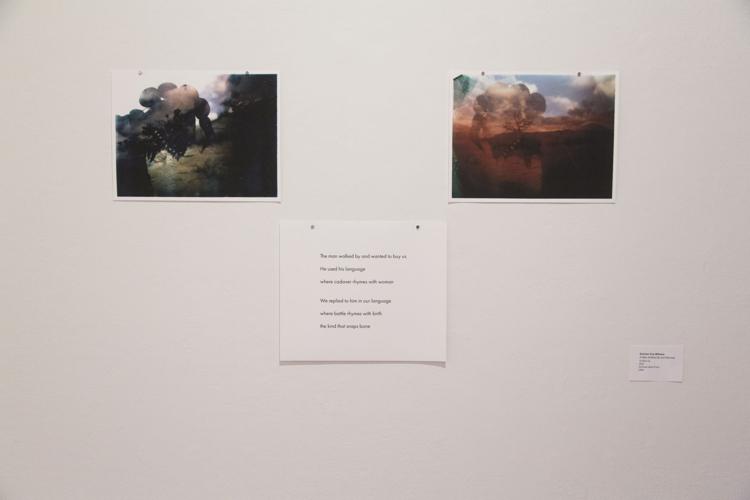 Wikswo emphasizes there are many places where sexual violence occurs that are often times unassuming, and her art highlights these sites to remind others that those atrocious acts cannot go unseen.
Artist Traci Molloy also collaborated with survivors of assault and harassment for her piece in the exhibit. She worked with 20 female survivors from Ashland University to create her digital print piece, "I Am, I Will, I'm Afraid (Ashland)."
The piece portrays an image of a woman sitting, staring directly into the camera, with accompanying text. The image, comprised of overlays of the 20 women in the project, serves as a representation of sexual assault survivors at Ashland University, Molloy says. The text itself consists of phrases written by the survivors in response to the words, "I Am, I Will, I'm Afraid."
Molloy says the experience was overwhelming yet incredibly eye-opening.
"When I was in school, the statistics were the same," Molloy says. "It's disheartening to know, in nearly 30 plus years, nothing has changed."
However, Molloy says the piece later became a catalyst for the campus to take action. The piece was displayed at Ashland University, and later a panel and support group was implemented by some of the survivors on campus. These actions, among others, inspired students to speak out against sexual assault in the form of a protest.
Once the media began to cover the protest, the campus took down Molloy's art piece ― the weekend before graduation, nonetheless. The gallery director was fired.
The Brock Turner case broke that summer. "And when that story broke, everything changed," Molloy says.
Following the aftermath of the Turner case, Ashland University reinstated the gallery owner that was fired and gave her a promotion. The art piece was then used for freshman orientation to address sexual assault on campus.
Despite the challenges that resulted from the artwork, Molloy was satisfied with the change it brought. "It was like the greatest victory in the entire world," Molloy says.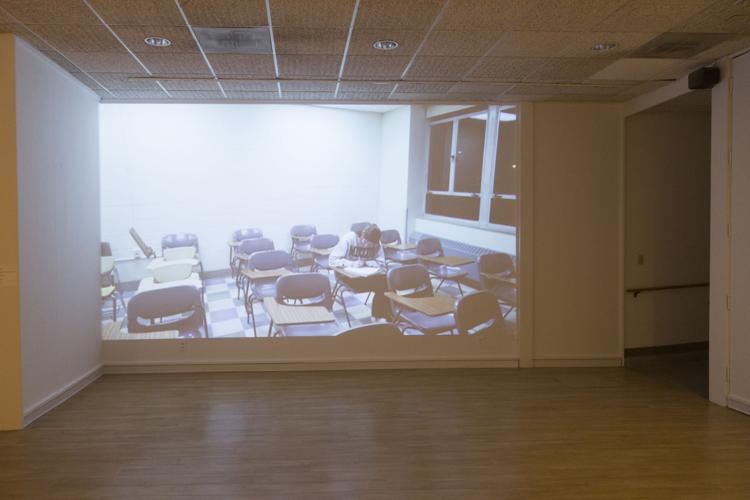 The "It Happened" exhibit is not exclusive to female artists, though. Jordan Keller, a member of a group of artists whose video is featured in the exhibit, wants attendees to know that the fight against sexual assault doesn't have to be fought by women alone.
"Isolation (2017)," created by Keller and fellow MU students Jenny Brandt, Courtney Luer and Naeun Park, captures the internal fear that so many women share when they walk alone at night on campus.
"We really want to raise awareness, especially in the male community, that it's happening," Keller says.
Katina Bitsicas, Keller's former teacher, interim director of MU's digital storytelling program and co-curator of the exhibition, along with Lee Ann Woolery, says the feedback from visitors of "It Happened" has been surprising.
"I was very taken aback," Bitsicas says. "Maybe I shouldn't have been, but I was when I was at the opening because everyone was very serious and super somber. It became this more contemplative and intense space. People seemed very affected."
Bitsicas hopes that showing this exhibit during the beginning of the school year will bring more awareness to sexual assault and harassment, along with the possibility of prompting future change.
"We even had a representative from Senator Claire McCaskill's office come to the exhibition," Bitsicas says. The co-curator is hopeful that, though it might take time for policies to be implemented, the exhibit will bring social change in some capacity.
"If we could just change one person's mentality about sexual assault or provide support for one survivor, then we know the exhibition has done its job," Bitsicas says.
"It Happened" will be open until Sept. 21. It is free and can be viewed from 8 a.m. to 5 p.m., Monday through Friday.
There are also a lot of sponsors who have helped to make this exhibit possible. These sponsors have not only helped fund "It Happened," but many of them have also supplied their staff in order to have support services for attendees at various events that have been held at the exhibit, Bitsicas says. 
The exhibit is sponsored by the following: University of Missouri (MU) Digital Storytelling Program, University of Missouri Extension, MU Art Department's George Caleb Bingham Gallery, MU Women and Gender Studies Program, MU Office for Civil Rights & Title IX, MU School of Social Work, MU Women's Center, MU RSVP Center and MU Counseling Center.
*CORRECTION: Wikswo refused to attend the meeting that her school recommended she go to with her attackers. A previous version of this article gave the impression she had attended the meeting.