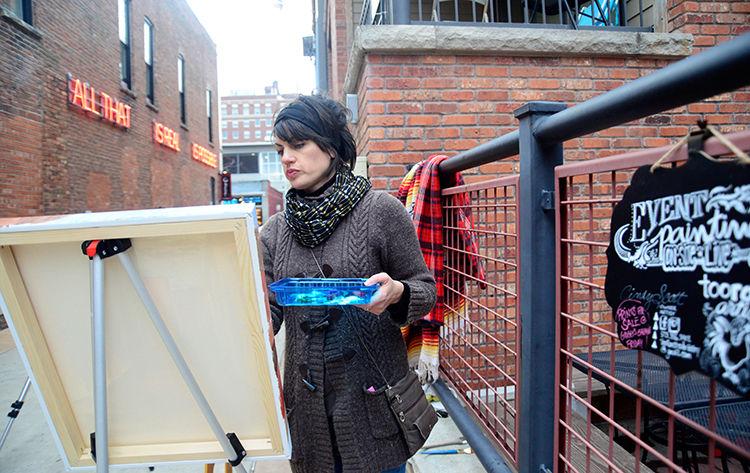 Live painting always starts with the same supplies — a blank canvas, brushes and a cup full of acrylic paint — but the outcome varies. For local artist Cindy Scott, capturing life's moments one brushstroke at a time is just part of the job. 
Combining immediacy and quality, Scott has been live painting since January 2015. She finishes a piece in four to five hours. Whether it's an alleyway or a banquet hall, Scott's mission is the same: Freeze a moment that never stands still.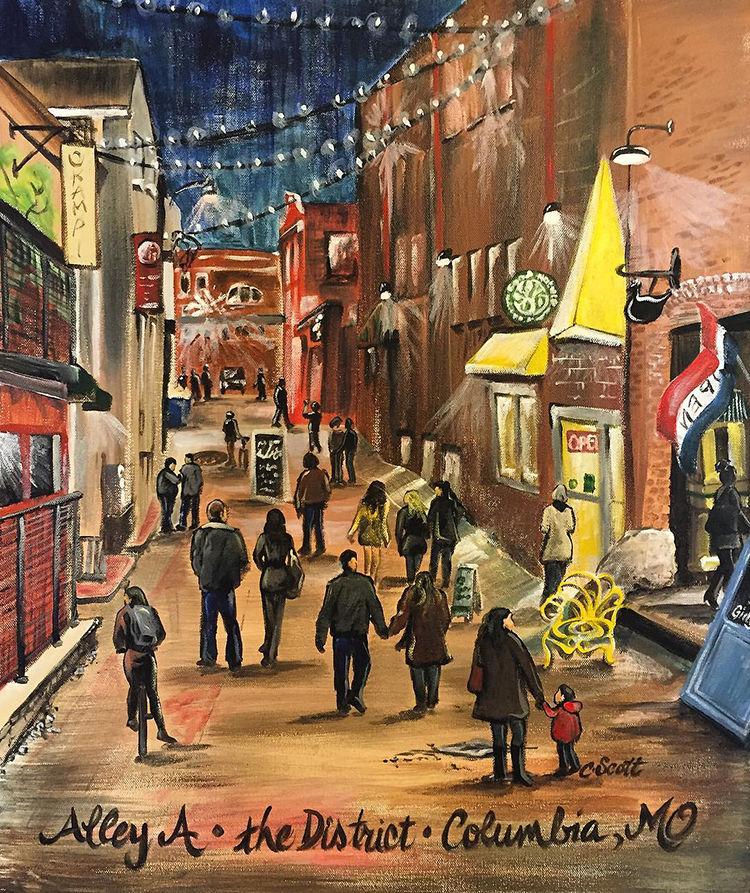 In August 2015, Scott opened TooRooster Artistry. She offers different services, including in-home paint parties, painting lessons and home decorating. Scott started live painting last winter when she was asked to capture a business' customer appreciation lunch on canvas. The finished piece was auctioned off for $2,100. Earlier this month, she live painted in Alley A during the True/False Film Fest. 
Each event brings a new challenge to Scott's easel. During True/False, Scott's gaze and paintbrush were both focused on the movement in Alley A, where fest-goers bustled. Whether it's the change in lighting, constant movement of guests or fleeting nature of a specific point in time, Scott loves being a part of other people's special moments. 
"I get to visually record it, so I get to be a part of it, but I don't have to be involved," she says. "I can just fade away as much as possible and do my thing."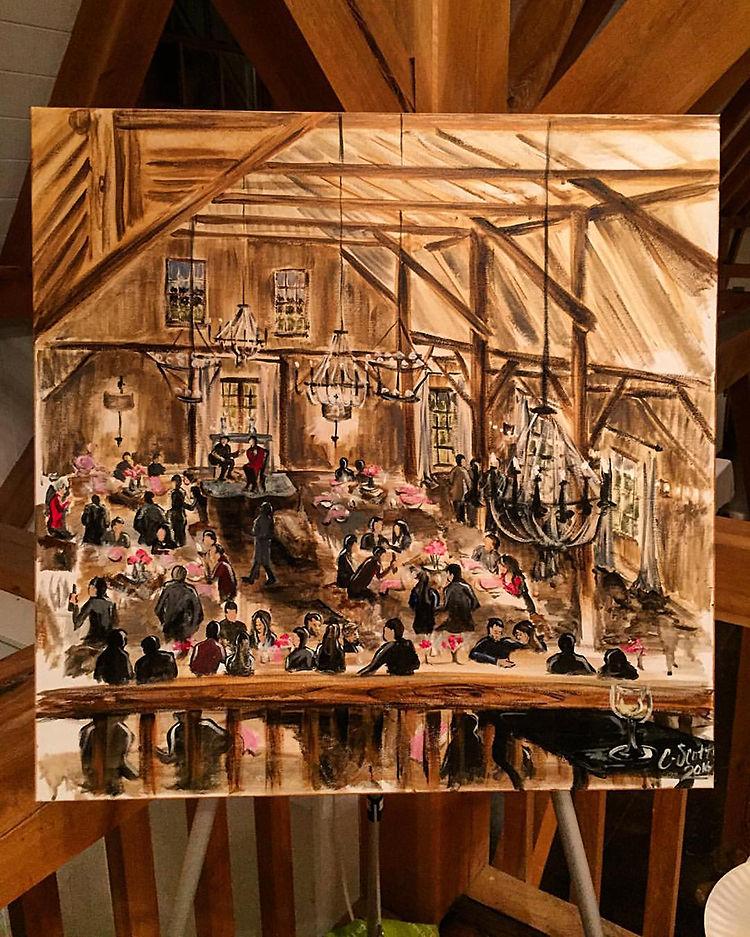 To live paint an event, Scott starts with the venue. She focuses on the structure and decorations, and that becomes the backdrop she will fill in with the mood and motion of the guests. To capture Alley A during True/False, she started with strokes of reds, browns and blacks that transformed into the alley's buildings.
"It's not a typical piece of art you would buy and hang on your wall," Scott says. "It's personal, and you get to see it happen on site."
Once the backdrop is in place, Scott hones in on a specific feeling or moment: a couple's first dance or a child laughing. When she live painted at Blue Bell Farms' Valentine's Day dinner this year, she tried to capture the romance in the room.
"I was blown away by how she just kind of got the feeling of everything," Blue Bell Farm owner Jamie Bryant says. "I think it was a really neat interactive art experience that not a lot of people get to do."
Scott isn't always confident in the finished product while she's working on it. "There is a point, usually a couple of hours in, where I just don't think it will ever come together," she says. "So I will take a few minutes here or there and walk around and take a little mental break from it."
Scott did just that in Alley A. But as the March afternoon turned into a brisk evening, and hanging lights illuminated the alley, she wrapped herself in a blanket to warm up. Her painting was nearly complete, so she jumped back to the easel after a minute of rest — on to the next brushstroke and reluctant to miss a moment. 
Learn to paint en plein air
Interested in learning more about the art without the stress? The Columbia Art League is offering en plein air, French for "open air," painting classes. Similar to live painting, en plein air painting focuses on painting outside, where the environment constantly shifts. This style of painting was an important focus for 19th century Impressionist artists such as Claude Monet and Edgar Degas. 
For six weeks, students will meet with instructor Katherine Barnes at locations around Columbia. Barnes will give lessons on different techniques, then set students free to capture the moving world in paint.
"Prior experience is a plus but not necessary," Barnes wrote in an email. "It is expected that students will have a wide range of skills, and I will be working with students individually to achieve goals in their artwork."
Barnes is still deciding on locations, but classes at Shelter Gardens, around the MU campus and at Devil's Icebox are all possibilities.
Mondays, March 28 to May 2, 4:30–6:30 p.m., $120 CAL members; $140 non-members, 443-8838, columbiaartleague.org