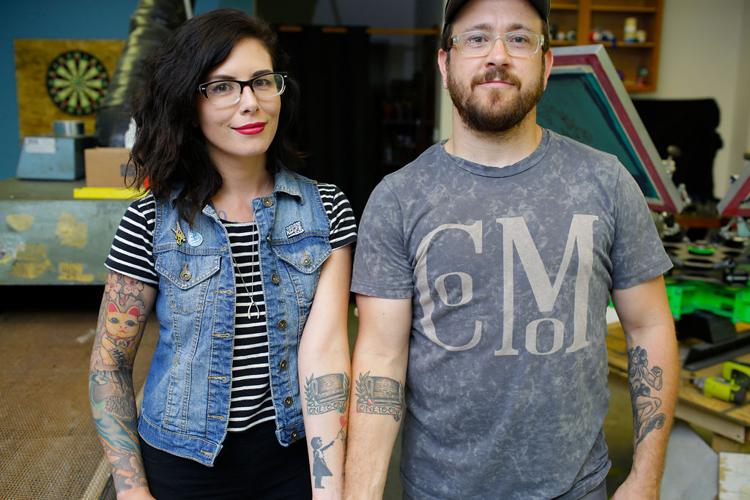 Spray, press, scrape, lift.
Spray, press, scrape, lift.
Johnathon McDowell's movements are sure and easy, as if they've been committed to muscle memory. He sprays an adhesive onto the arm of the press, which looks like the curved end of an ironing board. After placing a t-shirt over the arm, Johnathon flattens the cloth and smooths out wrinkles. It's ready to be folded. Johnathon and his wife, Kelli, own One to One Print Shop on East Broadway in Columbia. Inside, the sound of the pair singing along to Supertramp's "Breakfast in America" can be heard while they screen print and fold shirts. Bowls of leftover paint packed onto counters and shelves — reds, blues, yellows and oranges — speak to the volume of work the McDowells have done since they opened shop in November 2014.
Before they found the site of their current storefront, the McDowells were screen printing out of their basement. "Ordering shirts and putting them in our dingy basement was scary, especially because our basement flooded a lot," Johnathon says. His tattooed arms are often crossed as he talks.
Kelli removes a shirt from the press, folds it and places it onto the dryer. She is similarly inked. Johnathon and Kelli share matching One to One tattoos that feature a scroll and printing machine surrounded by vines.
During the basement days, the two worked other jobs. Johnathon and Kelli welcomed their son, Easton, in December 2013. He joined 7-year-old Lua, Johnathon's daughter from a previous relationship. Kelli stayed home with him while Johnathon worked as a baker at Kaldi's Coffee. Johnathon would bake from 4 - 10 a.m., come home, print T-shirts downstairs all day and then watch the kids when Kelli went to work from 4:30 - 9 p.m. as an MU research assistant. The pair's business outgrew their basement in less than a year. They moved to a new space the following November with the goal of getting enough footing to make One to One their sole occupation.
Prior to working at Kaldi's, Johnathon started screen printing at Carrollton High School in Missouri and worked at a local print shop for seven years.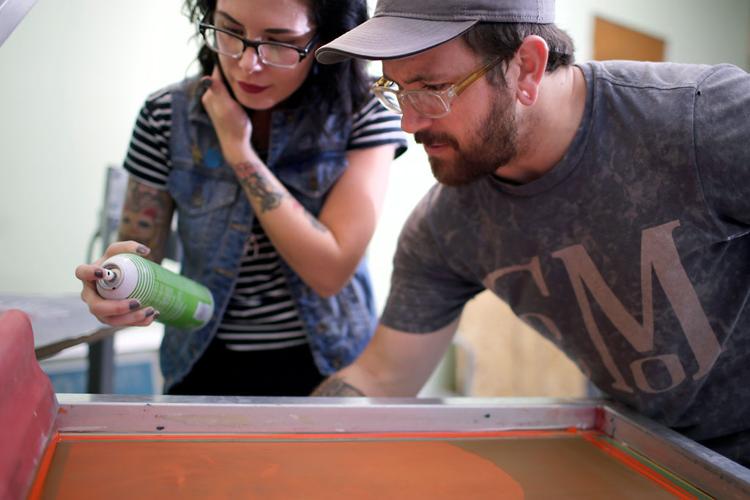 One to One grew quickly as orders came in from the community that originally brought Johnathon and Kelli together — bike polo. The pair met about five years ago at a bike polo tournament in Lawrence, Kansas. They saw each other again at a tournament in Memphis.
The two dated long-distance for almost a year, with Johnathon in Columbia and Kelli living in Denver. They saw each other at bike polo tournaments every few months but knew that long distance wasn't going to work forever. When Kelli moved to Columbia in February 2013 to join Johnathon, the idea of starting a print shop was still far from their minds.
Johnathon says he was miserable at his job at Diggit, a local print shop, and his relationship with Kelli helped him realize he needed to quit. "I was just complaining too much," he says. "I wasn't happy. One day I remember her going, 'Let's just do it. Let's just do it on our own.' Without that, I probably never would have."
And so they did.
The name One to One is a reference to Johnathon and Kelli's mutual love for bike polo.
"The ratio of a bicycle, the gearing, is the front gear to the back gear," Johnathon says. "The closer those two are to each other, the easier it is to pedal. So, in polo you try to have a closer ratio, but a running joke is, 'Are you one to one?'"
The name is also a reference to how Johnathon and Kelli work as a team and how they match each other's contributions to reach a final result.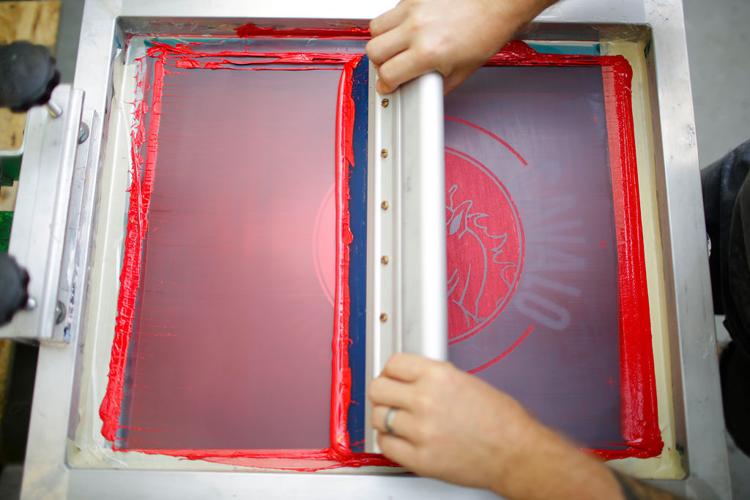 One to One is not the only print shop in Columbia, and screen printing isn't the only method these printers use. The Midwest Print Collective, nestled in the back of Orr Street Studios, uses a form of printing called lithography. It is the first studio of its kind between St. Louis and Kansas City.
At the Collective, Marchelo Vera prepares work for a group show in Rochester, New York. He's working on the final piece. His fingers are work-worn and covered in gloss, but today, they are ink-free.
Vera got his start in commercial printmaking in the late '90s. He studied printmaking at a vocational high school in Worcester, Massachusetts, and he made calendars and brochures at copy shops for years until the art began to feel stale. But his undergraduate career at the Rochester Institute of Technology in New York refreshed his passion for print.
He moved to Jefferson City from New York in 2012 to be an associate professor of graphic design and printmaking at Lincoln University. Two years later, Vera moved to Columbia, where he is now the director of education at the Midwest Print Collective.
Prior to fall 2015, the Midwest Print Collective was known as Grindstone Lithography. Famed illustrator Frank Stack founded Grindstone with Byron Smith, Robert Friedman and Jeffrey Moore in April 2011. The shop specializes in lithography, an early printmaking method.
"Frank and I were painting pals, and we were doing studies of the Missouri Contemporary Ballet in the Balsamo Warehouse building, where the print shop is located now," Vera says. They discovered there was vacant space at the time and brought in Smith and Friedman, whom they knew through academic figure-drawing classes, along with Moore, to open the studio.
"Lithography is the closest type of printing to a freehand sketch that you can get with printmaking," Moore says. This form of etching seems complex but rests on the simple principle that oil repels water.
An artist draws on a stone tablet with oil pencils. These marks repel a solution of gum arabic and nitric acid that coats the stone. Next, the lithographer scrubs the stone with refined turpentine, which removes visible evidence of the drawing but converts the marked lines into a substance that is basically soap. Soap attracts oil, so when ink is rolled over the surface of the stone, the drawn area accepts it while the rest of the treated surface rejects it.
This process transforms the oil drawing into an ink one, which is essential to mass-producing the image. At this point, all the artist has to do is place paper on top and run it through a press to get a reproduction. The studio can then reprint an artist's work without redrawing it each time.
Before the studio opened, Friedman alerted the other founders of a lithography press Stephens College was selling for $3,000. Moore says comparable, new presses can sell for up to $10,000. This turn of events — along with Stack and Moore's return from studying lithography at Paris' Idem Studio — made the decision easy.
Over the next five years, they acquired more presses. A petite Kelsey Company letterpress now rests on a workbench. A larger French model makes prints from etchings. The four founders rebranded Grindstone to reflect the studio's expanding scope and open it up to other artists in the region. Still at its original Orr Street location, the studio transitioned to the Midwest Print Collective, a change that as of mid-2016 is still underway.
The change, Vera says, was also meant to reach out to artists in the community and across the entire Midwest. Printmaking requires equipment, and a single press can cost around $10,000. Columbia College, MU and Stephens College all teach printmaking, but what do students do when they leave a university setting that provides equipment? What about those looking to try printmaking for the first time?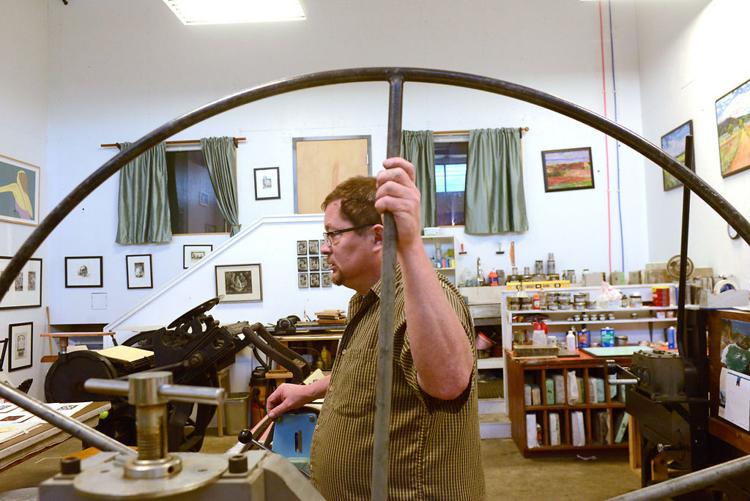 During that first year screen printing from the basement, the bike polo community became key clients for One to One. Johnathon and Kelli offered to sponsor tournaments and supply bulk T-shirts at a low price. Aaron Hand and Johnathon got into bike polo together, and Hand now runs the bike polo blog 3-2-1 Polo. Those involved in the sport were quick to embrace One to One. "It's a great community, and everyone is looking for shirts to wear to tournaments or for their clubs," Hand says. "They always needed someone, and someone within the bike polo community is who you're going to turn to over someone else."
Word spread, and bike polo players requested shirts for other endeavors, such as CrossFit gyms, art projects and clothing lines. Johnathon and Kelli gladly took on the projects. "We started picking up those jobs, and we were like, 'Holy cow, we can do this here,'" Johnathon says. "If we use the same networking and are good people doing something good and locally, and push that, we can really grow locally, too."
One to One's partnership with Harold's Doughnuts was the first big step into local business. Johnathon's love of doughnuts made him realize there was a lack of good doughnut shops in Columbia, and he wanted that to change. But, as Kelli put it, "We don't know shit about doughnuts."
So they stuck to screen printing. When he heard about Harold's opening in 2014, Johnathon immediately contacted founder Michael Urban. That eventually led to partnerships with Main Squeeze, Pizza Tree and Shortwave Coffee.
One to One is significantly smaller than other print shops in town — only Johnathon and Kelli staff it. So far, they've specialized in working with small businesses like theirs.
Reid Lyle of Fast Yeti Tees, a larger-scale print shop, says there are two target markets in Columbia — businesses and events. "That could be small businesses looking to do some marketing or large businesses looking for corporate wear for their employees," he says. "The next side of it is more student groups, more college- and event-based stuff."
Since 2008, Flying Cow Shirt Company has occupied the brick building across from MU's Middlebush Hall. Flying Cow was one of many screen printing businesses to emerge over the past decade, including Fast Yeti, One to One and Acme Hot & Fresh T-Shirts. After a lull in the mid-2000s, engraving, relief printing and screen printing were revitalized. The area from Stephens Lake Park to the Daniel Boone Regional Library alone is home to seven shops.
These shops specialize in printing custom T-shirts, a popular service in college towns such as Columbia. Flying Cow has filled orders for the Mizzou Democrats, and their sister company, Missouri Cotton Exchange, has made gameday shirts for The Mizzou Store. This year, Flying Cow snagged the Mizzou Panhellenic Association's account.
The PHA, which oversees 16 sororities, buys shirts for chapters and new members each year. That's 10,000 shirts — all inked by hand.
The whole process generally takes about two weeks from design to finished product, Flying Cow manager Mallorye Looten says. It can be done in one week in a pinch.
Looten says that for a few years, the number of orders Flying Cow received was stagnant. The emerging surge of screen printers had cut into its base. But this spring, orders increased by 80 percent. The Panhellenic account alone brought in an additional $120,000 for the company, but Looten also credits the growth to word-of-mouth.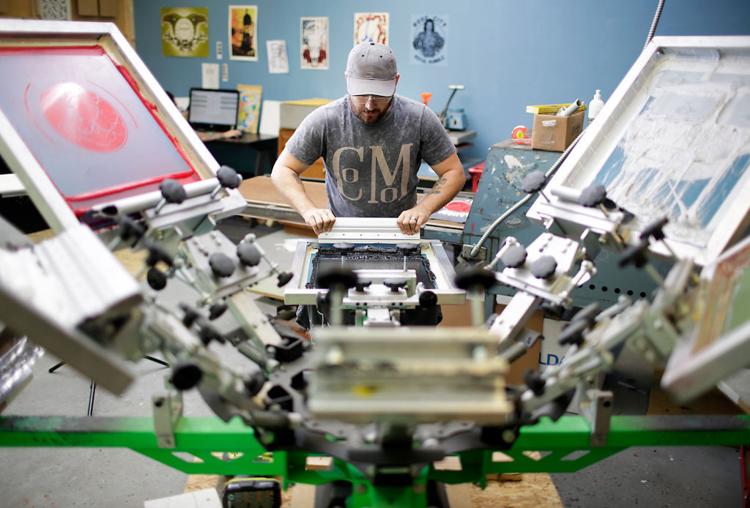 Columbia isn't the only place where printing has grown in popularity. All over the nation, other cities have experienced similar print revivals. In 2012, the Nashville Scene profiled a new wave of local printmakers. That same year, Pasadena's Norton-Simon Museum hosted the show "Proof: The Rise of Printmaking in Southern California." The Museum of Modern Art in New York hosted its "Print/Out" exhibition to showcase what curators described in promotional materials as "a resurgence of traditional printmaking techniques" among contemporary artists. In 2014, two Dallas galleries — Red Apple Contemporary and The Basement Gallery — hosted simultaneous printmaking exhibitions.
This popularity, though, can take a toll on printmakers. "In 2006, if you bought a Vandercook proofing press for $300, you were overpaying," Vera says, referencing an antique make of short-run letterpresses. Now, a properly maintained press will fetch $15,000. In the '90s, print shops were closing and melting down their heirloom presses. Couple the dwindling supply of equipment with printmaking's now-invigorated demand, and it becomes clear why prices are skyrocketing.
And it's not just other printmakers. Shops compete with collectors, as well. Antique-lovers are snatching up the woodblock stamps that print studios use for letterpress. Rising interest over the past decade means that suitable sets can go for hundreds or thousands of dollars, depending on the intricacy of their designs.
Luckily, Access Arts, a nonprofit organization that teaches art to underserved populations, lent its Chandler & Price letterpress to Midwest Print Collective after an instructor at Access Arts found it rusting in the basement. But the cost of equipment and a thinly stretched management staff still stand in the way of the Collective's growth.
"These last few years, all our lives have changed," Moore says. Friedman headed to California for work. Smith needed more time to care for his father. No one can afford to underwrite the shop's expenses.
To help with funding, the studio's founders plan to shift to a nonprofit business model. Doing so would allow them to solicit donations. The Midwest Print Collective currently earns revenue through workshops for Columbia College, Stephens College and other organizations, but the founders still pay many of its expenses. Nonprofit status would bear part of the financial load required to support community programs, such as a print collector's club that allows members to pay to receive monthly prints from the Collective's artists. A separate printmaking club would let artists pay to use studio space at the Collective and share techniques or ideas during meetings. Nonprofit co-ops such as the Chicago Printmakers Collaborative tout similar programs.
Moore dreams of extending outreach to Columbia Public Schools, where young students could pull ink over etched plates and see their own artwork come to life through a centuries-old press — a new generation of young artists who, like Vera, would fall in love with the printmaking form.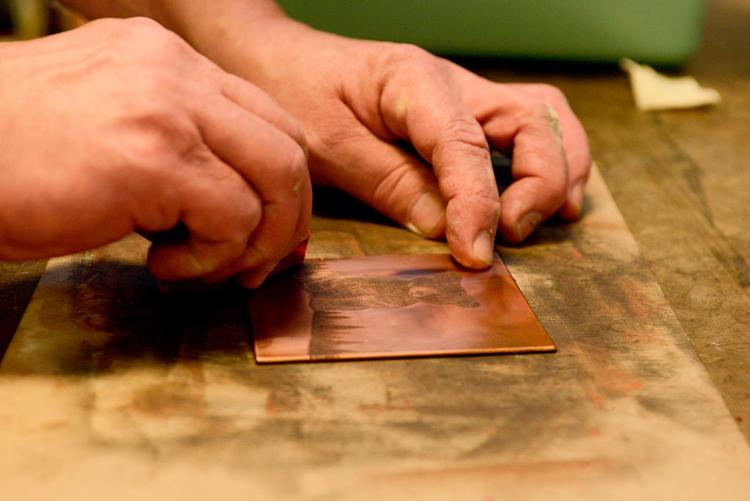 Time at the print shop passes quickly in the bright space on East Broadway. A bell sounds upon entry to rouse Johnathon and Kelli from their creative states, and large floor-to-ceiling windows light up the green walls of the office. The store is divided in half by a plywood wall separating the office in the front from the workspace in the back. Framed prints of favorite art line the walls, including a print done for the horror movie You're Next, shot in Columbia. A metal clothing rack features samples of One to One's work, such as T-shirts, tank tops, hats and tote bags.
It's messier behind the wall. Fluorescent lighting hums over the two presses and the industrial dryer. One press is a six-color, six-station press, which has a base with six individual presses and six pallets attached, the tops and bottoms about which both rotate. The other press is also a six-color, but it has four stations (the arm of the press that the shirt is placed on). Johnathon says the mobility of the turnstile press is important for producing orders on time.
Johnathon and Kelli needed to build credit for their business, so they took out a loan to purchase their dryer and press, but not from a bank, (each one cost about $2,000). After consulting with Business Growth Services, which is part of the Missouri Small Business and Technology Development Centers, the pair worked with a St. Louis-based company called Justine Petersen LLC, which helps families and businesses develop financially.
The couple also purchased a secondhand exposure unit from Craigslist they use to create negative images for the presses. The table allowed Johnathon and Kelli to replace the halogen lamp they had been using, which took up to 16 minutes, and imprint an image in two minutes. Once exposed, the negatives are burned onto the screens, and ink is pushed across it in order to print the image onto a shirt.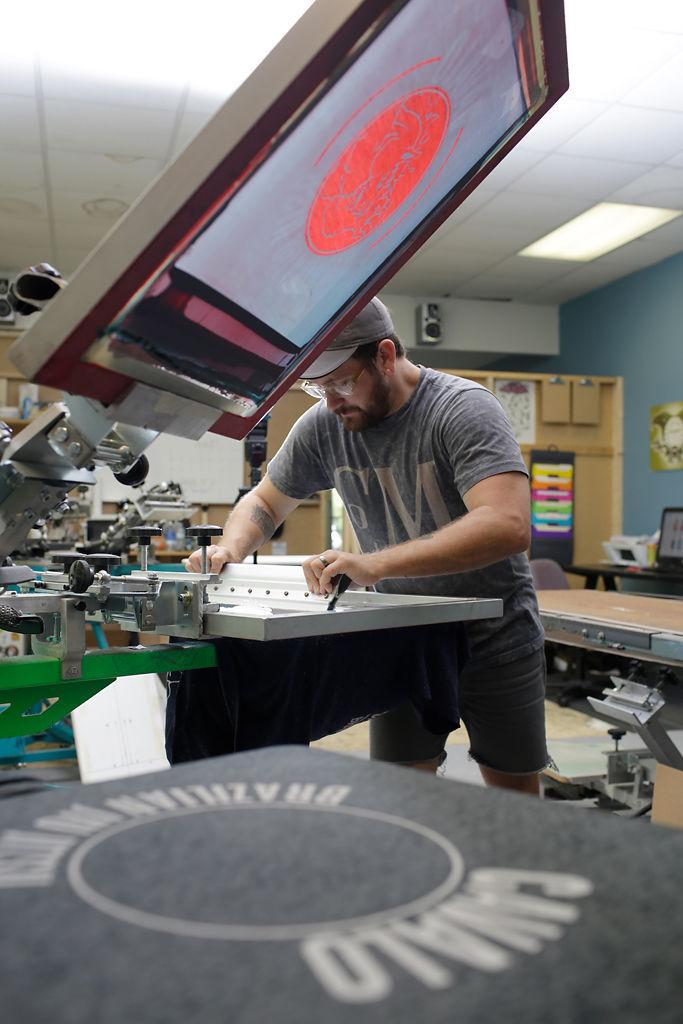 Lua, Johnathon's daughter, can often be found among the presses and paints at One to One. Lua is 7 years old, and she hangs out at the shop some days after school. She has purple hair and an undercut — she's a chic 7 year old — and often helps her dad and stepmom do things around the shop, such as making commercials for One to One's Instagram account and creating posters and designs.
Sometimes she helps fold shirts but not often. "My dad was asking me if I could fold all of this stuff over there, like fold the larges in a pile, and I said, 'Nope, I'm not doing that' because I already did that once, and I got super bored," Lua says proudly.
Johnathon says because he and Kelli have steadily grown the business, they have not experienced the hardships that many small-business owners encounter. "We have done it in a way that we haven't really made many sacrifices," Johnathon says. The pair says they hope to grow enough to be able to hire someone to work with them in the future.
One to One came to be because of a marriage. It's a marriage of bike polo players, a marriage of the tattooed and ear-gauged, a marriage of the creative and kind and a marriage that became the mutual chase of the American Dream. Johnathon says Kelli's confidence in him and in their aspirations made One to One possible.
Print shops such as One to One, Midwest Print Collective and Flying Cow are creative outlets that guarantee their customers are well-represented for any occasion. For the print shops that call Columbia home, the competition these stores create presents a challenge to growth. But it also ensures that the residents and businesses are getting the best of the best.