This post was written by Heather Adams.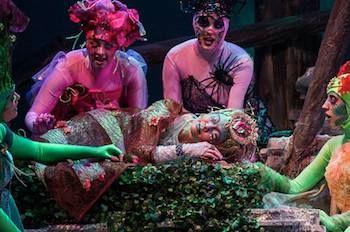 With a jump and a swirl the magical, dazzling fairies spring onto stage generating an enchanted feeling during "A Midsummer Night's Dream" by William Shakespeare. Directed by Cheryl Black, the play was at Rhynsburger Theatre Feb. 20-22 and Feb. 27-March 1 at 7:30 p.m. and March 2 at 2 p.m.
The MU Department of Theatre presented an individualized style to this Shakespeare comedy, through dancing, costumes and special effects that make you yearn for the triumph of true love and marvel at the possibilities of what could happen when natural and supernatural worlds collide.
The fairy Moth (Kelly Jonske) cartwheels as she emerges on stage fascinating the audience. The fairies leap and turn around the mortals, making them seem mystical and unearthly. As Titania (Lynett Vallejo) falls in love with Bottom (Connor Relyea), the fairies giggle and joke with him, untroubled by the problems of the natural world. The fairies give an essence of mystical lightheartedness that makes you want to dance and giggle alongside them.
During the announcement that the mechanics will be performing, Bottom (Relyea) continues to interrupt to declare he can play that part too. Relyea pretends to be a lion with a terrifying roar then changes to a soft hushed roar, as to not alarm the ladies. The mechanics provide moments of humorous entertainment with their banter and purposeful bad acting.
Helena (Dani Mann) chases Hermia (Jennie Pardoe) to find out her secret to win Demetrius' love (Bryson Bruce). Mann's eyes look like they are wild and filled with thirst. Her constant energy gives her character the presence of a youthful woman bursting with hormones, eager to love. The mortals show what it means to be in love, pursuing and receiving.
The characters' costumes are individually tailored to their personalities. Designed by Kerri S. Packard, the fairies wore skintight suits that consisted of bright colors and covered in glitter. The mortal men wore white shirts with collars and had silk belts associated with the Middle East. The mortal women, however, wore outfits resembling the dresses of Greek goddesses. The mechanics looked like they stepped out from the Industrial Revolution. While one mechanic wears a welding apron another is wearing a leather aviator helmet and goggles.
As Oberon (Jean Tartiere) and Puck (Ian Matthew Sobule) cast spells on the mortals and Titania you hear a couple of high-pitched musical notes strung together, as if a magical wand is being used. Also, as they say the spells their voices echo throughout the theater. This echo contributes to the idea that they are magical and otherworldly.
The play's old English and multiple worlds is sometimes difficult to follow. But the theatrically exaggerated facial expressions and movements, as well as, the personalized costumes for each character group, allow audiences unfamiliar with Shakespeare to follow the play alongside experts. "A Midsummer Night's Dream's" magical aspects of movement, costumes and more had you eager to jump on stage and enter their world.
Talk Back:
Did you see the play? What did you think?