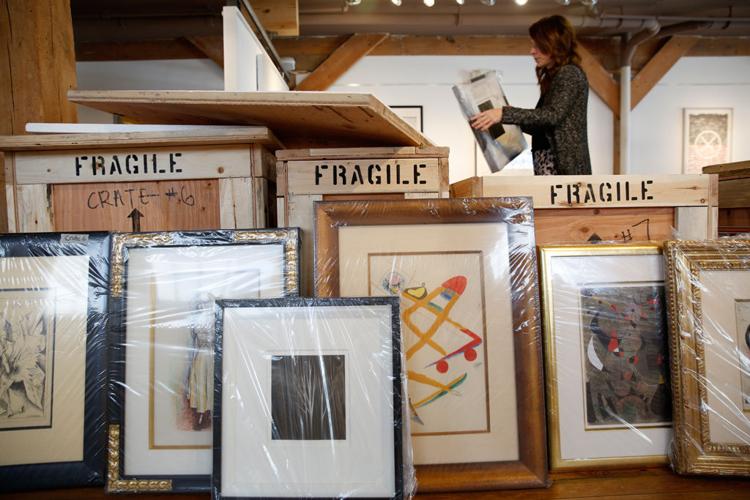 Modern art abounds at the Sager Braudis Gallery's latest show. The exhibit features original sketches, small-run prints and paintings by modern artists Rudolf Bauer, Marc Chagall, Salvador Dalí, Robert Kipniss, Joan Miró and Pablo Picasso. The public reception is Friday evening as part of the North Village Arts District's First Friday art series.
This year's Masters Exhibit presents a rare opportunity for the community to enjoy work from some of the biggest names in modern art. "It's really unexpected in mid-Missouri," says Stephanie Flakne, gallery director at Sager Braudis. "The biggest thing we wanted to do was put on a show of this caliber."
The art for the show, more than 60 pieces, came from the Weinstein Gallery in San Francisco. Each piece costs between $8,000 and $200,000. "We love art, and we know that Columbia loves art," Flakne says. "This gives us an excuse to play with beautiful art, and people get a chance to see artwork they wouldn't normally see."
Jan Schall, the Sanders Sosland Curator of Modern Art at the Nelson-Atkins Museum of Art in Kansas City, provided insight into the artists on display. Consider this a pre-show art history lesson.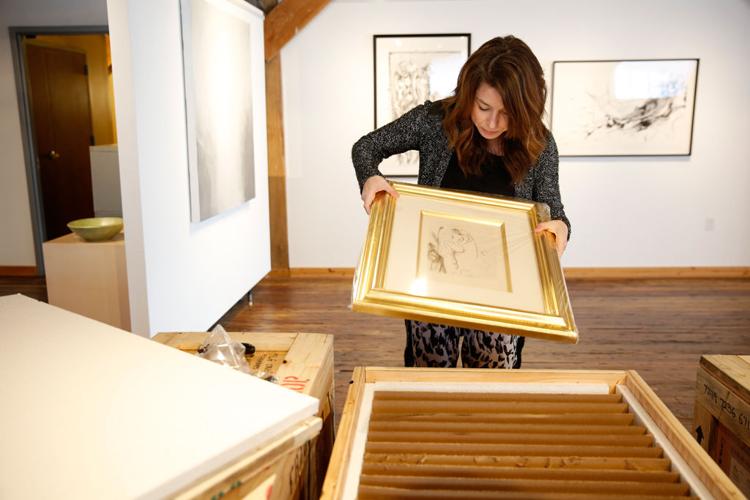 Rudolf Bauer, the forgotten artist
Sager Braudis will have several prints and drawings by German expressionist Rudolf Bauer (1889–1953). Bauer might be the most distinguished modern artist you've never heard of. He worked with Paul Klee and Wassily Kandinsky in Berlin and earned the admiration of Solomon Guggenheim, who purchased hundreds of his paintings. However, their relationship deteriorated after Guggenheim convinced German-speaking Bauer to sign an English-written contract. He ended up signing over all his existing and future works, which ultimately ruined his career. None of his paintings were on display for decades. "It happens frequently that artists fall out of favor while certain artists rise to the top," Schall says.
Marc Chagall, the dreamy eclectic
Marc Chagall (1887–1985) was a Russian-French artist who synthesized elements of Cubism, Symbolism and Fauvism into an other-worldy style all his own. "Chagall is so lovely," Schall says. "People always talk about the childlike quality, but they are dream images. They have a joyful quality, and that makes his work appealing and life-affirming." Sager Braudis has some of Chagall's hand-colored lithographs, one of which is Das Geschenk, German for "the gift." "Picasso tends to be serious, Dalí tends to be outrageous, and Chagall tends to be loving," Schall says.
Salvador Dalí, the boundless surrealist
Spanish master Salvador Dalí (1904–1989) is one of the Surrealism movement's most famous artists. "Dalí was very deeply engaged in revealing the workings of the unconscious," Schall says. "He was always inventing and in the beginning sought to reveal what he called 'the hallucinogenic.'" Later on in his life, Dalí focused on what Schall describes as "more art historical themes." In this period, he created the series of woodcut prints, inspired by Dante's Divine Comedy, on display at Sager Braudis. Schall says the series is "literature through the eyes of a surrealist."
Robert Kipniss, the austere naturalist
Robert Kipniss is the only living artist with works on display at the exhibit. He uses mezzotint (a drypoint printmaking process) to create austere, stark pieces. Largely black and white, the trees, houses and hillsides evoke isolated atmospheres that are moody, introspective and lonely. The gallery quotes Kipniss as saying, "My art is of intensity, of delving, of exploring the soul." Several of his lithographs are on display, each created by a rocker with tiny metal teeth. Flakne says if viewers look closely, they will be able to see the indentations.
Joan Miró, the observer of the heavens
Joan Miró (1893–1983), like Dalí, was a pioneer of Surrealism. "The surrealist movement was an art movement that evolved, in a way, in response to World War I and the irrational forces that caused it," Schall says. "Miró has a playful, dreamy approach, but there's an edge to him." In Constellations, for example, the colors are vivid, and the shapes and human figures depicted almost become a part of the stars. Miró's exploration of the conceptual can be seen in Constellations: 7 Personage Blesse (Wounded Personage).
Pablo Picasso, the cubist giant
Pablo Picasso (1881–1973) was a Spanish expatriate painter, sculptor, printmaker, ceramicist and stage designer as well as a creator of Cubism. "Picasso is, obviously, huge; possibly the highest regarded artist in the modernist era," Schall says. The show has some of Picasso's drypoint prints, including Les Deux Saltimbanques, that differ greatly from his cubist and expressionist paintings. "Saltimbanques' were figures in circuses," Schall says. "Picasso's early work deals a lot with 'outsider' culture: getting to see different ways of living."