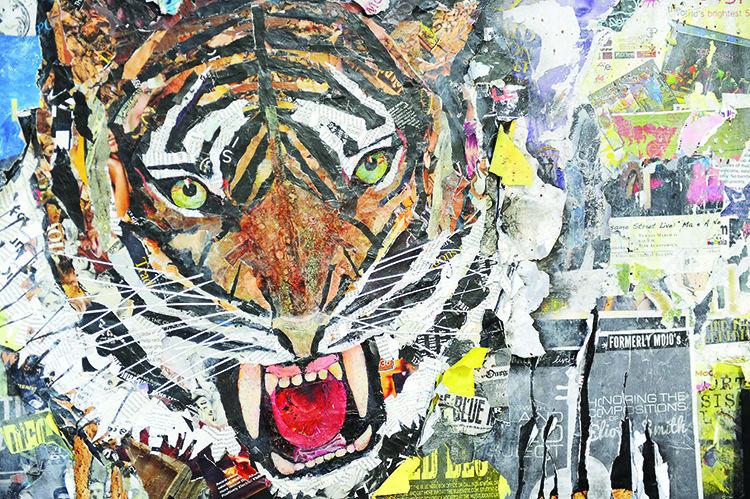 In a disposable, ephemeral world, recycled art becomes something lasting. Whether they're working with discarded bean cans or torn pages from old magazines, these three local artists turn the forgotten into the memorable. 
Lisa Bartlett
A fascination with repurposing old junk began for Lisa Bartlett when she worked as an antique dealer in the early 2000s and ran a business called The Vintage Shop in Columbia. She worked with many different discarded materials including Victorian woods and old hardware. Part of using repurposed material means working to save the Earth, she says. 
As the visual director of the Roots N Blues N BBQ festival, Bartlett has plans to incorporate recycled material into the festival's 10th anniversary this year. She and her team will paint 10 old doors and shape them into guitar sculptures. Recycled trinkets, such as chess pieces, nails and knobs, will add more decoration to the park and raise funds for Blues in the Schools. The organization aims to educate children about the culture and history of American music. 
Josie Sullivan
While working at C. A. Franklin Elementary in Kansas City, Josie Sullivan wasn't satisfied with the low budget she received for supplies. She took to the dumpsters of businesses around town and began collecting supplies she could use to teach her students mixed-media art. 
"I would dumpster dive and go to businesses and say, 'Do you have any scraps like wallpaper, carpet samples, tiles?'" Sullivan says. "I'd say, 'Please, please. My kids need supplies.'" 
That's when Sullivan found her inspiration to repurpose other people's trash to create something new. She moved to Columbia in 2000 and found success with a 2003 showcase at Main Squeeze. Sullivan says the artistic method of using recycled material or ditched items is like working on a puzzle. Each piece has to fit together just right. 
Sullivan has been involved in the Columbia Art League for eight years. She continues her work with children every summer with the city's Career Awareness Related Experience program. She helps young people prepare for the workforce and gain self-sufficiency. "I'm gathering just like I used to, gathering up as much stuff as I can to take in there and see what we can do with it," Sullivan says. "It's great fun to work with them." 
Becky Paneck
How does this former Columbia police officer give back to her community? Becky Paneck makes paper collages. With paper creations, she helps raise funds for charities, such as Love in the Name of Christ, which connects members of the community who are in need with those who are willing to help. She has also helped raise funds for Dogs Deserve Better, a national nonprofit organization that serves as a voice for chained or pent-up dogs. 
"A lot of (my art) is focused on situations in my community because Columbia is my home," she says. Many of her works are made of discarded fliers she finds in town. 
Paneck hopes that with her art, she will help people discover the small things they can do for their communities, such as reusing and recycling. Although she's only been working with mixed-media art for two years, Paneck's collage of a tiger made of National Geographic pages has won an honorable mention at a Columbia Art League competition and was displayed in the 37th Annual Paper In Particular exhibit held at Columbia College earlier this year.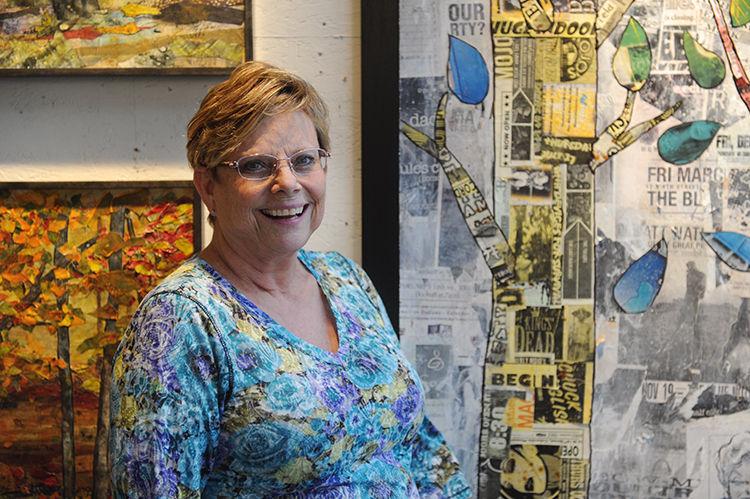 Favorite Finds
Columbia artists Lisa Bartlett, Josie Sullivan and Becky Paneck repurpose material in their art, and they all have their most beloved pieces of trash. 
A chair from a funeral home 
One of the oddest recycled materials Lisa Bartlett has come across is a chair from Parker Funeral Service & Crematory. She doesn't know yet what she will use it for, but she chuckles when describing the dumpster-diving experience. "It was just funny that we got stuff out of the funeral home dumpster," Bartlett says. 
A flattened muffler 
ERGGGGGGGGG! That's the sound Josie Sullivan's car made when it flattened a muffler as she drove through the intersection of Providence Road and West Ash Street. After getting out of her vehicle and seeing there was no major damage, she says she went from "I'm so angry" to "I'm so grateful!" Sullivan would go on to use the flattened muffler as a face for a sculpture. 
Wood scraps and paper 
"I love weathered wood," Becky Paneck says. Her husband works in the 3-D art room woodshop in MU's Art Department, and he always has scraps for her to use. She also loves working with recycled paper, and right now, she's making house-shaped pendants and brooches with it. She plans to raise money for shelters, such as Rainbow House, with the profits.