June is well-known as Pride Month and substantially less well-known as National Men's Health Month, but in the spirit of celebrating the Black experience, we're taking a look at another monthlong celebration in June: Black Music Month.
Black Music Month started in 1979 when Kenny Gamble, Ed Wright and Dyana Williams decided there should be a month to celebrate the creation and influence of Black music. They petitioned President Jimmy Carter to declare that June is Black Music Month, and when he did, the first celebration of Black music took place at the White House on June 7, 1979. Since then, Williams has lobbied and contributed to the passing of House Resolution 509 in 2009, which officially proclaimed June a national celebration of the contributions of Black music to American culture.
Black music is a peculiar term on its own, considering that nearly all of America's music find its origins with Black artists. From gospel and jazz to rock 'n' roll and electronic dance music, Black creators have played a significant role in founding and shaping the music scene we enjoy today. Black musicians in Columbia, such as Symonne Sparks, are adding to the long portfolio of Black music in America by using it for social change and refusing to be bound by stereotypes.
You could call Symonne Sparks, a vocalist for the local band Loose Loose, a jill-of-all-trades, but that doesn't mean she's a master of none. Sparks came to Columbia from St. Louis to pursue a degree in music.
Her classical training from MU has landed her large roles in recent shows by the MU Theatre Department, including Sarah in Ragtime and Glinda the Good Witch in The Wiz. She is very involved in the department at MU, even currently working with them on virtual performances of the musical All the Spaces and So Near, So Far*.
However, her training in opera isn't all she's got. Sparks is also a lead vocalist for Loose Loose, which has been performing in Columbia for the past two years.
"We were all individual musicians who came together to create this kind of collaborative effort of all of our musical talent, and it created what we know now as Loose Loose," Sparks says. "It is pretty much every genre just balled up into one outlet."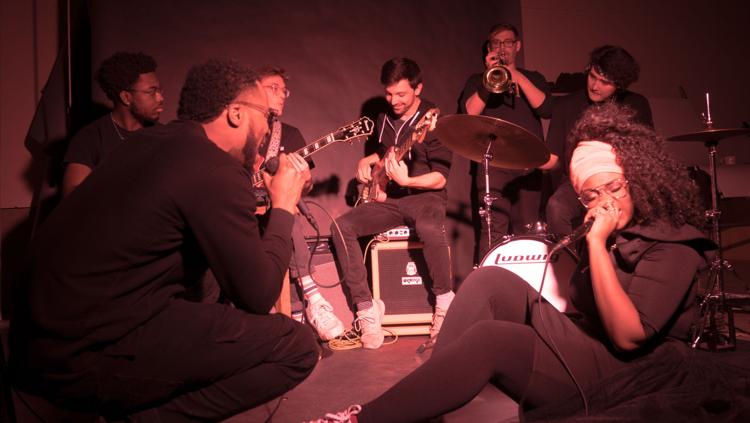 Sparks incorporates all the genres she loves into the songs she writes and performs, refusing to be restricted to just one category of music. Her thought process while performing encompasses a range of all that she is capable of.
"I can add a little bit of soul and a little bit of pop," Sparks says. "With this, I might be able to snag in a little bit of musical theater, kind of change up the tone of my voice. And with this song, oh yeah, I can actually belt out a little bit of my classical training and put some opera in there."
She wasn't always so confident in her versatility. When she began her career in music, she was discouraged by the lack of opportunities for Black women in musical theater. During one of her callbacks for The Voice, she says the judges didn't embrace her unique style.
"They were like, 'I feel like you're more of a rangy singer,'" Sparks says. "And I know what they meant by that. They wanted me to kind of stick to this soulful group when I had something different to offer them. But because of the way I look, because of the aesthetic I present, and because I'm a Black woman, they were like, 'Well, I feel like you should sing soul and R&B and blues and jazz. I want you to sing more of that, please.' ... So that changed what the music world looked like for me."
It's something she faced as a student, too, and it influenced her decision to remain in Columbia after graduation. Her final show as a student with Show Me Opera was Our Town, adapted from the Pulitzer Prize-winning play about a fictional town in the early 1900s.
"It was literally all about white people and ghosts. And I was like, 'Where do I fit in this?' And all the shows are going to be like this," she says. "I'm going to go to New York and I'm only going to be in somebody's chorus line. No, I don't want that. You know, I want my shot."
Still, Sparks knew her worth and knew that she had something special to offer people here.
"I've been in Columbia for 10 years now, but I wouldn't take it back. The people that I've met, the things that I've learned, I now am way more confident in writing my own music. And that came with working with Loose Loose," she says. "Now, if I get the chance to move to New York or to Chicago or Atlanta, or wherever, where there's a different type of music industry, then I will definitely take that."
Since graduating in 2017 and performing on varied stages, Sparks has been able to embrace music as something that is transcendent across all races, emotions and even languages. In this way, music, and especially Black music, is something that speaks to the soul, unable to be confined.
"(Black music) is not called soul music for no reason," Sparks says. "I really think that it speaks to spirit and there are certain songs like, 'Oh my gosh, am I crying?' Yes. Yes, you are. Those are tears that you can't even control because the music does that to you when you sing, when you see people perform. That's why I want to do what I do."
"Music is power. Music is encouragement. Music is the light at the end of the tunnel. Music is everything you want to say and can't say. Music is emotion, music is grief. Music is, it's everything. Right? It's just — it creates every bit of who an individual is because it reaches your soul. It's something you can't — you can't ignore it."
*CORRECTION: The original version of this story included an incorrect show title.
EDITOR'S NOTE: This story has been edited since its initial publication to focus on one local musical artist.
Related Articles