What is it about Missouri that lends itself to mystery? The seemingly endless flat landscape between its three biggest cities? The dark woods of the Ozarks?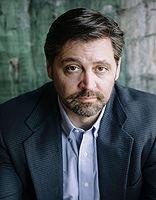 For best-selling author Allen Eskens, it's about the childhood memories, but also partially the heat.
Eskens, who grew up in Jefferson City, created the fictional town of Jessup, which is set south of the capital, in his novel Nothing More Dangerous. He captured the heat of summer as he wove the mystery of the story. "So much is drawn from my memories of growing up, it's hard to separate the novel from parts of myself at times," Eskens says.
The bleak atmosphere in Missouri-based mystery novels and the darkness of some portrayals of southern Missouri — what MU English associate professor Samuel Cohen refers to as "Ozark noir" — is partially aesthetic. There is a "non-scenic ruralness" in many novels set in the region that is used to express it as rife with meth and hardships. It creates a connection between the area and the crime that appears in these novels.
However, it's not all about appearance. Eskens and Cohen cite the influence of racial history in Missouri, which teeters between the South and the Midwest. Tensions in the state have roots in the migration of people from slaveholding regions and the entrance of Missouri into the Union as a slave state in 1821.
Cohen says although some writers don't focus on Missouri's racial past, racism is a common thread in much of the Missouri-based fiction because it pervades the state's history. Eskens says that race also plays a key role in Nothing More Dangerous in the identity of a missing woman.
Nothing More Dangerous, releasing Nov. 14, has a Columbia tie, too. Eskens' protagonist, 15-year-old Broady Sanden, visits the Columbia Missourian archives as he searches for answers about his neighbor's mysterious past.
Eskens will be speaking at Skylark Bookshop at 6 p.m. Nov. 29.
Related Articles