A writer all her life, Sharon SingingMoon, aka Sharon Feltman, moved to Columbia from Wooldridge, Missouri, in the 1980s and began doing public poetry readings with the jazz guitarist Lyle Harris. The two performed all around town, but SingingMoon's job led her to Washington, D.C., and placed her poetry on hold for more than 20 years.
SingingMoon was a social justice lobbyist in D.C. during that time and let her poetry slide to the side, but she never stopped writing — she likes to say she went from writing poetry to writing grants. Poetry has always served as a release for SingingMoon, and after returning to Columbia and retiring she found a creative itch needing to be scratched.
Her first poetry collection, Random Seed, was published in November, and a second collection is in the works. Much of Random Seed centers around nature, the randomness of life, class discrimination and the empowerment of women.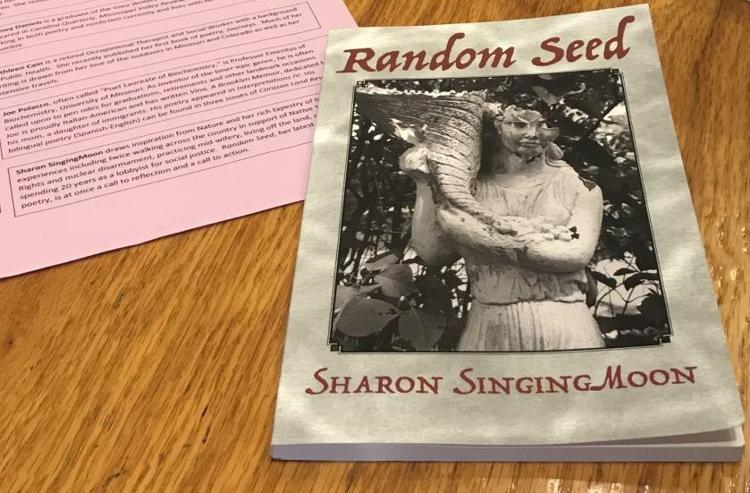 SingingMoon and four other poets will be reading their poems from 7-8:30 p.m. on Thursday at Yellow Dog Bookshop as part of a quarterly reading series SingingMoon organized through the Columbia chapter of the Missouri Writers Guild. Vox sat down with SingingMoon before the reading to learn more about the evolution of her work. 
What inspired you to start writing?
I came from a lower-middle class, rural family. There were a lot of abusive situations, and I think the early trauma caused me to have a unique viewpoint. I think sometimes early trauma can direct a person to view things differently or be more aware of odd things that are going on. Also, the need then to be more resilient and self-reliant as far as sorting out (what's going on). Asking 'Why is this happening?' or 'Why me?' doesn't really help, and it doesn't happen when you're younger. You take it as the way it is and, as you expand your horizons, you realize it's not really how it always is.
Would you say nature is your biggest muse?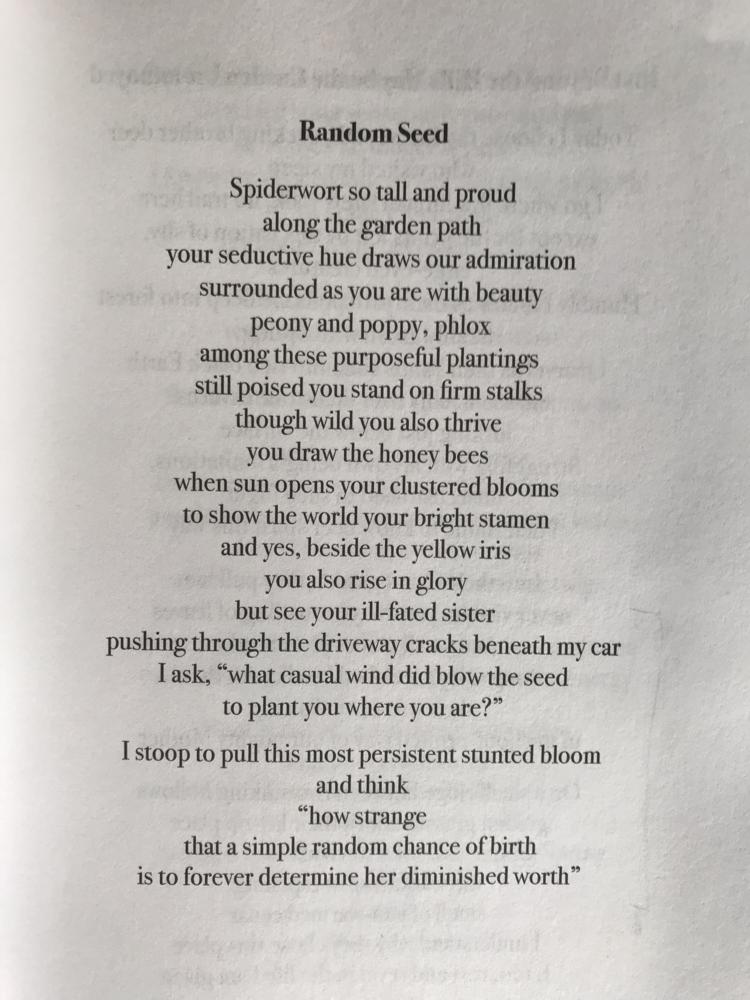 Oh, absolutely. Totally. If you read "Random Seed," the title poem, it talks about spiderwort growing and then the one (flower) that popped up under my car. It's so powerful when something like that comes — because it relates to the immigration issue, the racial issue we're facing. Random luck means you were born rich or born poor; it's nothing that you did that makes you special. Yet we market that as the elite are somehow better. Mostly it's just luck.
What does the creative process look like for you?
I've got to pull my little pad out and make a note. Some things, like the immigration poem, which is long, I was just listening to the news in the morning, and I got so angry that it just poured right out. My creative process is being open to the inspiration and giving myself a chance to live in that boundless space and see what is out there.
What's the poetry scene in Columbia like?
Oh my God, the spoken word scene in Columbia is exploding. There's OneMic at Cafe Berlin; it's been going on four years or so. There's 100 or more people in there to hear poetry and read a poem to the audience. Skylark Bookshop is bringing in poets and authors two or three times a week. Joe, at Yellow Dog (Bookshop) has been doing poetry readings and allowing poetry readings for years. Then there's Orr Street (Studios), I did a reading there with a couple other authors right before my book came out. They have Hearing Voices/Seeing Visions, which is for visual art, spoken art or a combination of both. That's really alive and well. Then you put in the mix of the university and The Missouri Review. There's so much and such a variety. For me, as an artist, it's just exciting.
What makes you want to spearhead efforts to bring together poets in Columbia?
Well, I joined the writers guild. There's a Missouri Writers Guild and the Columbia chapter has maybe 50, 60 members. But it's sort of an insular group and I thought we need to be out there. I had the time, energy and incentive because I have a new book out. So I was like, 'Hey, why don't we do public readings? What's going on, guys?' We had a lot of people signed up, so I thought, well, quarterly, it's not overkill.
Looking at the lineup for Thursday's reading, four of the five poets are women, and in Random Seed, you write about empowering women and how for too long society has placed a value on women in direct correlation with their relationships to men. Do you make a conscious effort to bring in more women's voices to the readings?
A little. For me, it's so naturally what I try to do now that I don't even think about it consciously. I'm not necessarily trying to push women, but I think the balance means giving women a little leg up, if possible.