Whether you know their sound from local performances or have happened across their original songs on Spotify and iTunes, it's hard to live in mid-Missouri without knowing The Burney Sisters. Olivia and Emma Burney are 15 and 12 years old, respectively, but their sound rivals that of any number of the folk-pop groups they admire.
The girls have been isolated at home due to coronavirus concerns, and like many other musicians, they've dealt with postponed or canceled shows and tours. The duo's newest EP, Letter to You, was released April 3, but the party to celebrate its debut had to be nixed, Olivia says. Even so, the duo is keeping busy while social distancing, from enjoying family company to exploring their other passions — for Olivia, painting, and for Emma, sketching and photography. Additionally, the two started regular Facebook Live videos every Saturday at 7 p.m. to stay connected with their fans. Vox spoke to The Burney Sisters to learn more about their lives off-stage and how they're spending their time away from the microphone.
Are there any artists or genres you particularly like?
Emma: I don't listen to a lot of modern bands. I mean, there's The Avett Brothers, and I listen to Sam Cooke a lot. I'm all over the place — just as long as it didn't come out last year.
Olivia: We kind of grew up on pop music, and that's what I love to listen to. I still love Bruno Mars. He never had it auto- tuned or anything. I'm not the biggest fan of his new stuff, but I like the first album, definitely. And Adam Levine — I get so much hate for that because everyone hates Adam Levine, and we love him.
What is school usually like for you? Do you have any favorite subjects?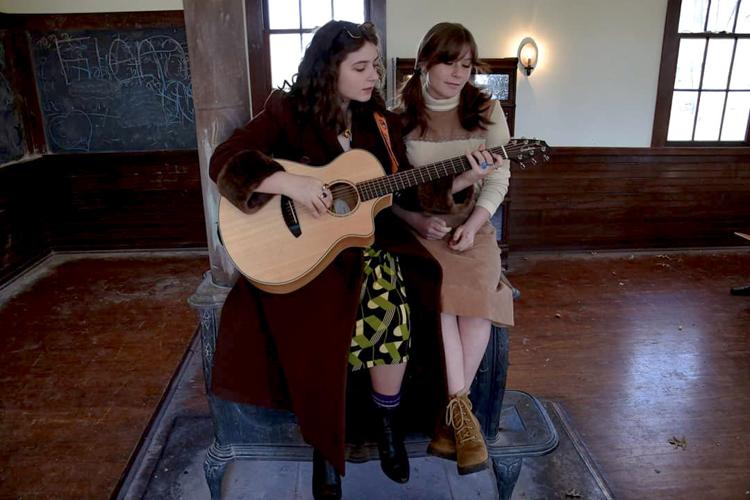 Emma: We are homeschooled, but right now I am learning about different instruments.
Olivia: I'm doing this really cool art history course right now. It's so thorough and crazy. I used to go to school for a little bit when I was younger, but I just feel like it's so much of a better environment where I am because I just feel like so many kids get discouraged from doing music because they're afraid of what other people are saying. I'm still like that, and everybody is afraid of what other people think about them, but I feel like it's less for me.
Your family plays a big role in the band behind the scenes. What does family mean to you two?
Olivia: They are really, really important to it because we've so far been a family business. Our little sister, Bella, just joined the band, and she's learning bass to come and play songs with us. She's 10 years old. And then our mom is our manager/booking agent/merch person, so she does a little bit of everything. And then our stepdad, John Shafer, he runs sound and a lot of our shows, and he also mixed and recorded our EP that's coming out. So we definitely all put in a lot of work for that.
Emma: I feel like I know a few people that are just there alone right now. And I can't even imagine sitting alone all day, not being able to leave your house. So having four other people in the house kind of keeps you sane.
What do you want to say to your fans right now?
Olivia: I know that people were really looking forward to our release parties and stuff, and we're hoping to reschedule them. But if we don't, we really just want to thank them for everything. I know that when we're doing our livestreams, people are using this little online tip jar link, so people have been donating to us every week. It's really, really helping us because we don't have any paying shows until this calms down. So they're helping us keep our living. So we're just over-the-moon thankful for our fans.
Emma: Absolutely.
Related stories