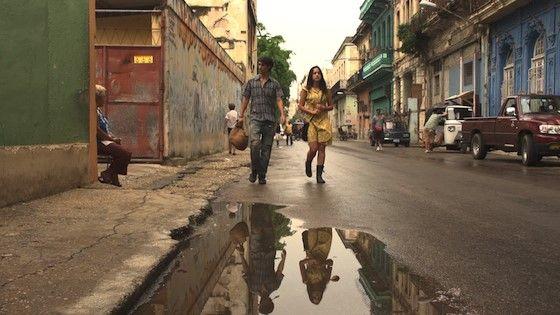 "You're here. I know it."
Maribel went to Havana, Cuba looking for Carlos, her brother. They had always dreamt of going, and since he was gone, there was nowhere else he could be. He was there. She knew it.
On Sunday, Nov. 9, The Citizen Jane Film Festival featured Shades of Blue at Charters Auditorium on the Stephen's College campus.
Shades of Blue was a powerful and heart-wrenching drama that explored the experience of grief for a young woman whose brother recently committed suicide. The depths of a genuine and irreplaceable bond were depicted through her narrative, showing how far one will go to connect with a lost one. Paired with a camera, Maribel travels to Cuba with a one way ticket, exploring all the places she would have went with her beloved brother, constantly seeing his unattainable image. Instead of finding comfort in the old places in Mexico that they had grown to know and love, Maribel copes by finding herself in a new place and taking photos of every moment.
Staying in a host home with her carefree American roommate exposed Maribel to the nightlife of Cuba, but her unlikely friendship with Eusebio, a Cuban local, opened her eyes to the sites she knew Carlos would appreciate seeing. Together, the two ventured into the arts and everyday life of the Cuban people.
The film was shot on location, illustrating the authentic Cuban lifestyle. In many scenes, the picture was dark, because of the absence of light when only natural light is used. But in the daytime outdoor scenes, the sun seemed to illuminate the setting and the vibrancy of the characters. Natural lighting made viewing the film pleasant and calm, even in intensely high-energy scenes.
Shades of Blue was a true ode to culture, infused with the use of rituals and traditions. Most memorable is the egg that Maribel's mother demand she keep with her to keep off negative energy. It was beautiful to see how Maribel kept the egg to help guide her on her journey. The traditional and
non-traditional Cuban music brought Maribel's thoughts and emotions to fruition and were consistently reflective of her psychology through the tragedy she was experiencing.
Shades of Blue is eloquently handled and may touch anyone who has ever experienced grief. It is a testament to love, especially the love of a sibling.