"The start of every great movement is a shared passion," says Angie Busby, one of the lead singers of the band Mel·an·cho·li·a. "And being surrounded by like-minded people can challenge you and help you grow at the same time." That's exactly what happened when a bond between friends grew into a musical collective consisting of Ruby Lane, Mel·an·cho·li·a, Elephant Foot and solo project Always Out of It. They support one another by sharing band members and often booking shows together.
Members of the bands had already crossed paths in Columbia's music scene prior to the pandemic. Busby was involved with* Ruby Lane before the band's shift to psychedelic music and sang with Elephant Foot before they took a funk direction. She recently formed Mel·an·cho·li·a with childhood friend Stella Peters. Forrest Wilson has been a guitarist for every band in the collective at some point, but right now he's with Mel·an·cho·li·a and Ruby Lane. "Since we saw each other three times a week at rehearsals, we could always be around each other," Busby says. "We're just finding a way to keep music alive in the pandemic."
United bands of Columbia
"We're all in the same friend group," says Tavair Tapp, the manager for all bands in the collective. Tapp usually books concerts for the groups, and the combined billing helps to get venues on board. Nick Villhardt, the singer-songwriter who performs as solo act Always Out of It, shares Tapp's reasoning. "It's easier for me to get a show if I have a pool of people who want to play with me," Villhardt says.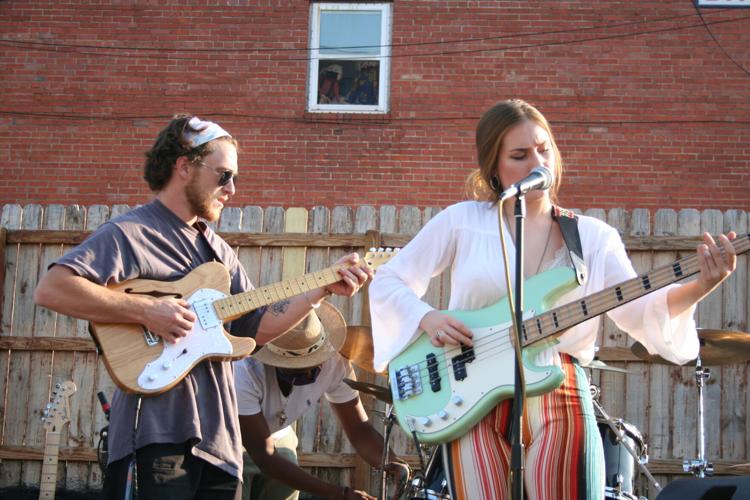 Sharing bandmates means sharing fanbases as well, so booking shows together keeps audiences around for the whole show. "If we're all in these different bands, we might as well play together a bunch," says Dylan Riggs, bassist for Ruby Lane. "The benefit lies in that we all typically draw the same crowd."
In November, the bands put a pause on playing in-person shows due to the uptick in local COVID-19 cases. Riggs says that though bigger concert opportunities fell apart during the pandemic, it allowed them to hunker down and write music. Ruby Lane members used to spend more time writing and practicing sets, but now they can tinker and fine-tune songs for the band's upcoming EP, Riggs says.
Ruby Lane performing at Eastside Tavern in Oct. 2019. They are touching up a eight-track album that will be released by early January.
The tunes, they are a-changin'
Elephant Foot has taken advantage of the spare time to improve its sound. "When we have the opportunity to play a lot of shows again, the sets are going to be tighter, and everything's going to gel a lot more," says Tyler Gerstheimer, rhythm guitarist for Elephant Foot.
The pandemic has also changed how members of the collective approach songwriting. Villhardt says he's gone from writing about real-life experiences to more introspective thoughts. "There's a lot of activities that I used to draw inspiration from," he says. "And now I have to draw the inspiration from whatever's going on in my head."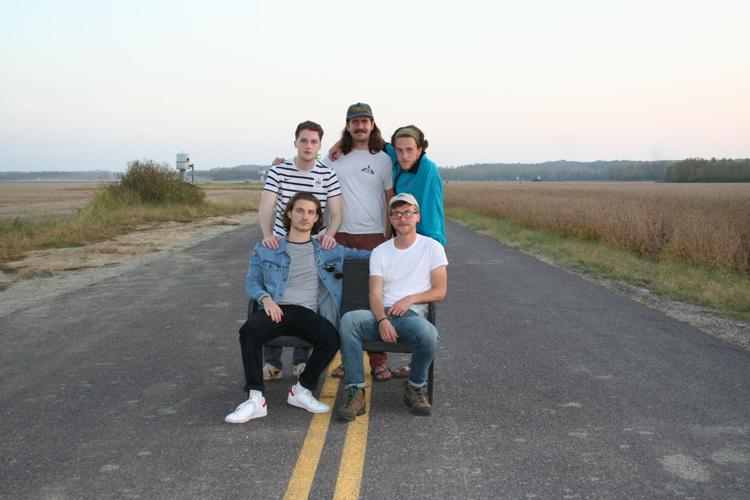 Without audience applause, the band members depend on one another's feedback. They exchange advice on lyrics and harmonies and bounce ideas around. "I think the collective has given all of us a lot of shared confidence," Busby says. "We're creating something together. Every single individual brings their own heart and soul into it."
In an age of separation, these acts have come together in support of their respective artistic endeavors. "It's more of a reminder that we can't rely on ourselves to do everything," Tapp says. "We always need the help of other people."
*CORRECTION: Busby was involved with Ruby Lane by helping with social media. An earlier version of this article misidentified Busby for forming Ruby Lane's band. 
Related Stories