As a manager of The UPS Store in Columbia, Erika Skaggs spends her days ensuring that customers' packages get delivered. During her evenings, though, she delivers something else to a wanting crowd: a distinctive concert experience. After craving a more intimate musical affair, Skaggs stumbled upon Sofar Sounds online and decided to become the newest innovator in Columbia's music scene by opening a branch.
Sofar Sounds is the music enthusiast's pop-up shop. It's an international concert curation company, started in London by Rafe Offer, that hosts intimate live shows in alternative locations, such as someone's living room or a retail store. The catch? In order to attend the show, you have to apply, and only if you're accepted are you allowed to purchase a ticket. The ambiguity doesn't stop there. Guests won't know where the venue is, outside of the city it's located in, until 36 hours before. They also won't know who's performing until they arrive at the show.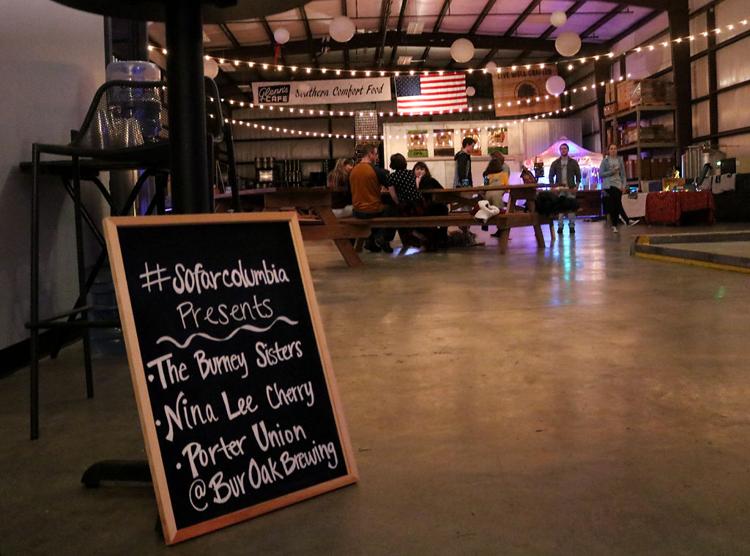 With Sofar's Columbia debut, music-loving locals no longer have to limit themselves to concerts tainted by rowdy crowds, sticky beer-covered floors or the haunting blue lights of phone screens. In fact, at Sofar shows, guests are asked to refrain from using their phones and discouraged from leaving mid-show.
Prior to opening the Columbia branch in January, Skaggs actually didn't know much about Sofar Sounds. She came across its website by chance one day and thought this was what had been missing in her life for the past year.
The Sofar crew, including Skaggs' fiancé, Jacob McGrath, and team ambassador Andrea Jackson, hosted its first Columbia show at Bur Oak Brewing Company in January. There, attendees watched performances by local stars The Burney Sisters, husband-and-wife duo Porter Union and singer-songwriter Nina Lee Cherry. Like Skaggs, Cherry hadn't known much about Sofar when she was asked in December to perform, but she was intrigued. For her, playing in an intimate space for an audience that listens intently without the distraction of phones seemed like a change of pace.
Despite her initial hesitation, she felt that the experience was special because of the inherent intimacy of the show. "For me, it's really important that I have a chance to connect in that kind of environment," Cherry says. And though she enjoys a good show at Rose Music Hall or The Blue Note, Cherry describes Sofar as something entirely different. At a larger venue, the chance of being very close to a performer is slim; however, closeness is expected for audience members at Sofar shows. "We encourage them to get as close to the artist as possible and sit right underneath their feet," Skaggs says.
Beyond Sofar's cool factor lies a potential wave of influence that others are picking up on. Hitt Records co-owner and local music guru Kyle Cook not only approves of Sofar in Columbia, but he also thinks it will have a positive effect on the music scene.
"To book a show in a venue is kind of an intense and corporate-driven process," Cook says. "Instantly they're like, 'How many numbers can you bring in? How much money is going to be involved?'" Sofar alleviates the numbers-driven pressure by giving up-and-comers a platform to do what they love; the company is community-driven, not financially driven. "When you strip a lot of those things away, you can take more chances on having an artist who's not really well-known," Cook says.
Despite the already vibrant music community, Cook is excited for the stability that Sofar could bring. As of now, he says Columbia has a revolving door of bands because of the thousands of college students who live in town. He thinks Sofar Sounds could amplify and strengthen the presence of local acts, which is exactly what it aims to do. Eventually, Sofar hopes to be a staple in the Columbia music scene.
RELATED