Diana Moxon's life has taken her from England to Hong Kong to Thailand to Columbia. Her radio career began with a roadtrip across America in a Chrysler Sebring convertible and a meeting with a BBC producer in Iowa. The producer got Moxon in the door, and she pitched and worked on six freelance stories for the BBC. Later, Moxon left the airwaves to be executive director at the Columbia Art League, but after 11 years there, in 2018, she took on her current volunteer position at KOPN.
Moxon hosts Speaking of the Arts, a weekly radio show about what's new in Columbia's arts scene. And her conversations with local creators haven't stopped because of COVID-19. She's still posting shows every Friday morning. Plus, she's added a new show, One World, Same Boat, airing on KOPN at 5 p.m. on Tuesdays, where she talks with friends around the world about their lives during the coronavirus pandemic.
What led you to go on that road trip across the country?
The idea of driving across America in a convertible just sounded really sexy and glamorous. It was 2005, and I had been living in Thailand. The tsunami had just happened, and I wasn't in Thailand at the time because my mother was dying. I was back in England. I watched all this unfold on the TV in the hospital, thinking, "Holy crap." So mom dies, we have the funeral, I go back to Thailand, and I just think, "I can't deal with this whole country that's in grief right now because I'm grieving too." I'd been there for about three years, and I decided that life is short, and you've got to do what you can while you can.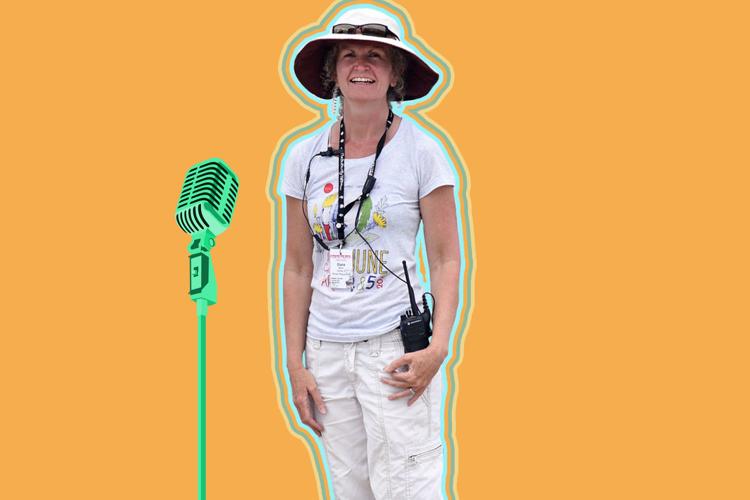 How did you land in mid-Missouri?
I had a press contact in this town called Columbia, Missouri. I had no idea where it was. I couldn't find it on the map. When I left Thailand, I emailed all my press contacts and said, "I'm going to drive through America." She said, "If you ever come to Missouri, why don't you give me a call and come and stay?" Eventually, I was passing through Missouri, and so I gave her a call. The first night I was here, I went out to dinner with her and her husband and their best friend, and I married the best friend.
How has the pandemic affected Columbia's art community?
A lot of people are being really creative about trying to do things from home. We have all the technology, amazingly; it's just how fast can we learn it? What tools exist so we can make our art accessible to people through the virtual world? I'm so impressed by everything I've seen and how creative everybody has been. We're all turning to the arts. Whether it's crocheting or sourdough bread-baking or writing, everybody is creating. It has taken this to show people their absolute need, at a basic human level, to make art and to create.
We want to offer our art for free. We want it to be a comfort to everybody who's stressed and stuck at home. But at the same time, everybody is still paying rent. So how do you walk the fine line between, "I want to give my stuff away for free," and "I also have to pay the bills?"
How did you come up with the idea for One World, Same Boat?
I wanted to do a new show that was fitting for the time. I wanted to reach out to people around the world that I know and say, "What does this situation look like from where you sit?" Every week, I travel digitally around the world, and I check in with people. I do about half-hour chats, and then I distill it down to a five-minute edited audio postcard.
You don't hear me. You just hear the person talking about what the lockdown situation is. What are you worried about? What do you hope for? What are you missing? What's the view out your window? Then at the end, they choose a piece of music that's from their city. Because I can't use music in the podcast without the artist's permission, I have a Spotify playlist that goes with the podcast so you can listen on Spotify to the music that people chose.
Related Stories