COVID-19 has disrupted filmmaking everywhere, and for documentary filmmakers, there are additional challenges. Making a documentary requires filmmakers to know their subjects. To get close. But when a new, contagious virus enters the scene, building that closeness gets complicated.
Matt Schacht, a local filmmaker and owner of Peace Frame Productions in Columbia, says he has noticed the damper that physical distancing guidelines can put on the filming process.
"Intimacy can be hard to achieve, especially if you're meeting somebody for the first time, and half your face is covered up by a mask," Schacht says. "It's uncomfortable. It's awkward. It doesn't physically feel nice. But I think people are getting adjusted to it."
Schacht decided to start a personal project on COVID-19 and PPE. The early days of filming were "frightening," Schacht says, because there were so many unknowns. "We didn't know what kind of danger we were exposing ourselves to," Schacht says. "There were people in full PPE, and there were sick people coming to the door and tapping on the glass," he says. "How do you exist in that environment, do what you need to do as a storyteller and stay safe when the disease is so unknown?" At that time, Schacht says, the CDC guidelines were shifting frequently, and no one seemed to have enough information.
Since then, Doc Society, an organization that supports documentarians and their projects, released guidelines for filmmakers to help them mitigate risk.
Plot twists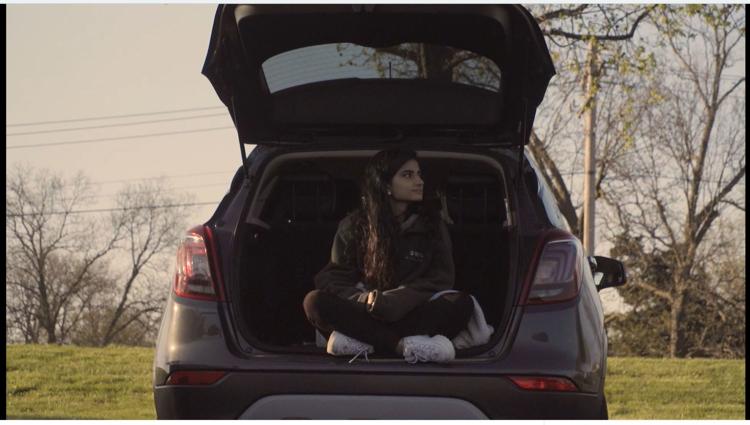 For some documentaries, the pandemic meant shifting the focus of the films.
In fall 2019, Schacht started working on a documentary to commemorate the Missouri Symphony's 50th anniversary. Filming was disrupted when COVID-19 arrived. The story became about how the symphony is continuing its work in the pandemic.
Recent University of Missouri graduate Manuela Kalamboukas, who was completing a capstone documentary film project, also had to change direction. Her original two ideas, one about a hypnotist performer and one about a shopping mall, required large groups of people. Stacey Woelfel, the director of MU's Jonathan B. Murray Center for Documentary Journalism, helped Kalamboukas shift her focus to make the film Second Semester Senior Year about how her younger sister handled missing the important final months of high school. "It really turned out to be a film about my sister because I was here with her all of the time," Kalamboukas says.
A shifting news cycle
Before the pandemic started, Megan Casady, a freelance photographer and documentary filmmaker in Columbia, had been working on a film about abortion legislation in Missouri. That included attending pro-choice and pro-life demonstrations. "Pretty much all of that story gathering has stopped partially from social distancing," Casady says.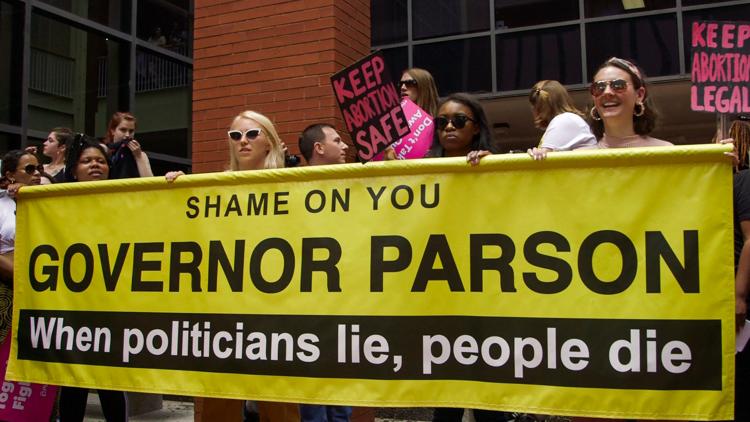 For Casady, there has been an additional shift. With COVID-19 and protest coverage dominating the news cycle, there's less focus on abortion protests. "Right now, there are bigger things at play, especially the Black Lives Matter movement, which is fantastic, and I'm so happy to see change there," Casady says. But abortion is not at the forefront of conversation right now.
"This time last year, H.B. 126 was passed," Casady says. The Missouri bill banned abortions after eight weeks except in medical emergencies and was later blocked in federal court. "There was this 800-plus gathering of pro-choice people in St. Louis, and it was this huge moment — this movement that 'We are not OK with this.' " By comparison, this year, there was no big moment, Casady says.
Post scripts
While her abortion documentary is on pause, Casady has been covering other subjects such as small farms, food sourcing and COVID-19. "I'm making a documentary. I'm not entirely sure the direction," she says.
For Kalamboukas, the sudden adjustment in her senior project allowed her to tell a story that was close to her, and the adrenaline rush from having to adapt quickly was exciting.
"The main thing that I took away from this was to go with the flow and embrace the unexpected things," she says. "I think this was the film I was supposed to make."
Schacht has continued telling the story about the Missouri Symphony, and he says he thinks it was the right option, even in light of health risks.
"We're in the middle of a documentary where the organization that we're documenting can't do the very thing that it does," Schacht says. "We have to go out and cover this right now. It's not like we can just sit back and then try to tell the story afterward."
Related Articles: