Do you ever have those moments where you feel like your phone is definitely listening to you?
That's how I felt when I was discussing with my friends who wanted to be White Claws for Halloween, then about a week later an article about a sexy White Claw costume popped up on my Facebook timeline.
The costume comes from the website Yandy, which sells lingerie, intimate apparel and sexy costumes, especially sexy Halloween costumes. These consistently prove to be successful sources of revenue, as the company was projected to make $15 million in costume sales in 2015 according to Forbes.
The store never fails to make headlines during this time of the year as not only is the White Claw costume trending, but so is a sexy Mr. Rogers costume.
Did I need to know that a sexy Mr. Rogers costume exists? No, I most certainly did not, but there's nothing I can do about that now.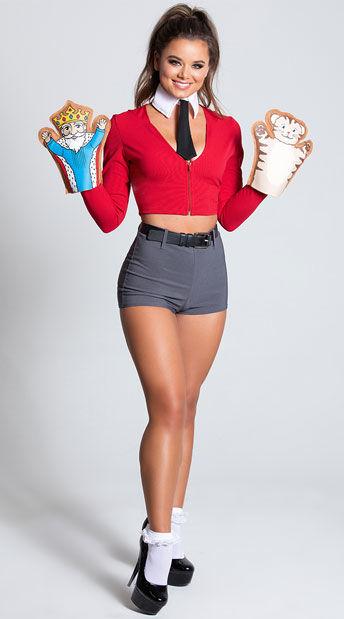 It is also important to note that Yandy was the source of the sexy Handmaid's Tale-inspired costume from last year, which sparked internet controversy leading to the costume being pulled from the site, so I really shouldn't be shocked by anything I find on this website.
Yandy and their sexy Halloween antics got me thinking: who are these costumes for? What is the appeal to sexy costumes that leads to ideas like this?
I consulted some fashion experts, and after speaking with Matthew Pedersen, a professor in costume design at Stephens College and Monica McMurry, a professor in the Stephens College School of Design, it comes down to the idea that basically, sex sells.
"Retailers are meeting a demand," Pedersen says. "These are the clothes women want to wear to the party. They wouldn't be there if there weren't consumers to buy them."
McMurry says that these costumes are what sell because of the idea that Halloween is a time to become someone else.
"Halloween gives you a chance to dress up sometimes incognito," McMurry says. "No one knows who you are. And you could fulfill some of your wildest fantasies."
McMurry also says that the appeal to sexy costumes also has to do with the images people want to take on through the outfit.
"What makes it attractive is that it captures gaze," McMurry says. "It captures a persona and adds and alter ego. It's all about intended images and so you create that image through the costume."
Because looking at weird things online is my idea of fun and I needed a good laugh, I went deeper down the rabbit hole. I remembered that Fashion Nova also has a Halloween section as of last year.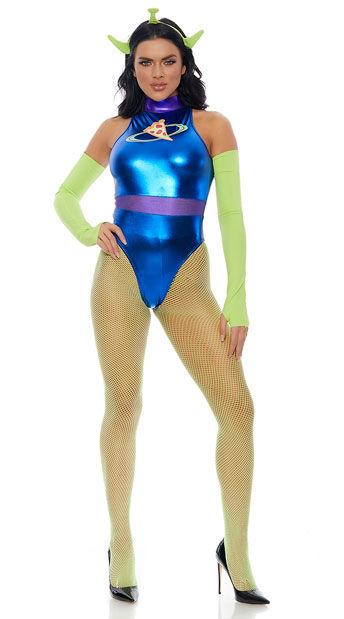 As I scrolled, I realized just how many careers and characters have inspired costumes to buy to wear to a bar or a house party. Fashion Nova has everything from sexy nuns to Buzz Lightyear. My personal favorite out of all of the costumes was Yandy's sexy Toy Story alien. 
I want to be clear. This isn't a preachy, holier-than-thou piece telling you what to wear and what not to wear. Want to dress up as sexy Mr. Rogers? More power to you! If you want to be a sexy Toy Story alien, go for it! If you feel sexy and confident, I'm all for it.
My issue with the White Claw costume wasn't that it was sexy. In fact, I found the costume funny. What got me was that the article mentioned that the word "darty" was etched across the bottoms. Upon visiting Yandy's website and confirming this detail, I felt inclined to report this costume to the appropriate authorities.
Pedersen describes Halloween as a "safe space" for women who want to embrace their sexuality without judgement. He explains how a demand for sexy costumes ties into women being able to make a statement about their sexuality as this is the first time some may have felt like they are allowed to be sexual.
"I feel like there's a lot of young women in this town who have been repressed and it's a really amazing evening to celebrate their sexuality and their body and be wild," Pedersen says. "There's a desire to challenge fear for a day. You have an open playground to challenge these social mores about gender and sexuality."
I agree. Where I find a problem is in the retail and production of these costumes, and this is where I urge consumers to rethink their choices.
According to a press release from the National Retail Federation, Americans are expected to spend $3.2 billion on Halloween costumes this year. What I'm asking is, is a cheaply made sexy Bob Ross costume really worth it? Let me break it down for you.
Unethical Production
Sure, it's not really a secret that the items you buy at department stores or fashion websites aren't made at the highest quality possible. But that doesn't mean we should overlook where companies are getting the clothes they sell us.
"The production of those costumes you see in the aisles are completely unethical," says Pedersen. "So there's that overarching idea that you shouldn't be buying those anyway because they're irresponsibly made."
People are growing more and more concerned about where their clothes are coming from, specifically asking if slave labor and sweatshops that have workers in terrible conditions with little to no pay were used in the production of their threads.
Fashion Nova and Walmart are retailers who have been in the forefront of this discussion on the past. In 2016, a report called out the unsafe and exploitative working conditions of a factory that makes products for Walmart in Asia. The question has been raised about Fashion Nova due to how common unethical labor is in fast fashion and the company manages to have dupes of designer clothing on their website at lightning speed. I was not able to find any information exonerating nor proving any concerns about Yandy or Party City.
End Slavery Now has a list of comapanies that do not use slave labor in the making of their products and you can find many lists online similar to this to determine if your favorite brands are ethical or not. There are also apps like Ethical Barcode where you can scan the barcode of a product to find out more details about where it was made.
Cultural appropriation
We should also have a discussion about racism in costumes and how trying to be sexy goes too far when it comes to someone else's culture. While Halloween is meant to be fun, making someone and their heritage the butt of your joke isn't.
Body Positivity
While we're at it, let's talk about body positivity. If you scroll and compare Yandy's plus-size costumes compared to their standard sized costumes, there is a clear difference on how much fabric is used to make the costumes as the sexy plus costumes seem to be more conservative. Yandy sells 1,053 sexy costumes in the standard size section. There are 149 plus-size costumes.
"They sell those things for different people to wear," Pedersen says. "Show us that. Show me other people will wear these things. I can only imagine walking down those aisles as a plus size woman, or a woman of color or a plus-size woman of color and thinking 'I'm not going to look like that; that's not going to fit me.'"
In conclusion, while I am for sexy costumes as I do not see any harm in them, I think it is worth rethinking where your costume comes from and the messages behind what you are buying.
Some alternatives could be making a costume. If you are great at DIY, then this is a great option for you. If not, look up some ways to use some of your everyday clothing items to make a costume of your own to your best ability.
Also keep in mind that there are ways to be funny without being offensive. There are plenty of ideas out there. A simple Google search can help you determine if something is right or wrong, and if you're wondering if something is offensive or not, then it probably is.
To quote Karen Smith in the Halloween-anthem "Sexy" from the Broadway musical version of Mean Girls, "I can be who I want to be, but sexy." That's really what this all boils down to.
Be who you want to be; be sexy if you want to be, but be sexy, sustainable and unproblematic at the same time.
I still firmly draw the line at panties with "darty" written across the bottom in all capital letters, though.
Related Stories