Ever since she was young, Heather Ripcse's love of knowing how things are made has guided her job choices including the opening of her new store, Hedda, where she sells vintage and handmade clothing.
The curated vintage and small batch garments shop is located on Wabash Alley in the North Village Arts District. Customers can find Ripcse at Hedda from noon to 5 p.m. Tuesday through Saturday.
Hedda's beginning
With tranquil music vibrating throughout the store and a warm greeting from Ripcse, Hedda's atmosphere is welcoming. Soft, natural light showers over 70s crochet vests, Clark Wallabee high tops, clip-on statement earrings and Ripcse's handmade linen tops and dresses. She makes a point to only displaying a certain amount of jewelry and clothing so that customers can see each product's individual beauty.
"Opening a brick and mortar (store) wasn't really exactly what I had envisioned," Ripcse says. "But it allows me to have kind of a stake in the community and be more involved in Columbia."
Ripcse imagined selling clothes throughout her life, but she struggled with whether retail and clothing were important enough. Through the isolation of the pandemic, she realized that, yes, clothing and embellishing ourselves can be an act of self-care and expression.
"I think that when you feel good about yourself, you're just better for everybody around you," she says. "And that's just expressing yourself. People have been adorning their bodies since the beginning of time with beautiful things, and it is important."
For fun and self-care early in the pandemic, Ripcse would drive around looking for estate sales — where the real treasures are found — flea markets and vintage shops to collect items for herself. She was also sewing various pieces and wanted to be able to sell both items that she found and made.
In summer 2021, Ripcse took to hosting pop-up shops to sell her growing collection of found vintage and used goods throughout Columbia. As the setup and breakdown routines of a pop-up were more physically demanding and gave her less time to actually sell goods, she began looking around for studio space. With a bit of good timing in the fall, Ripcse snagged a storefront with a studio in the back.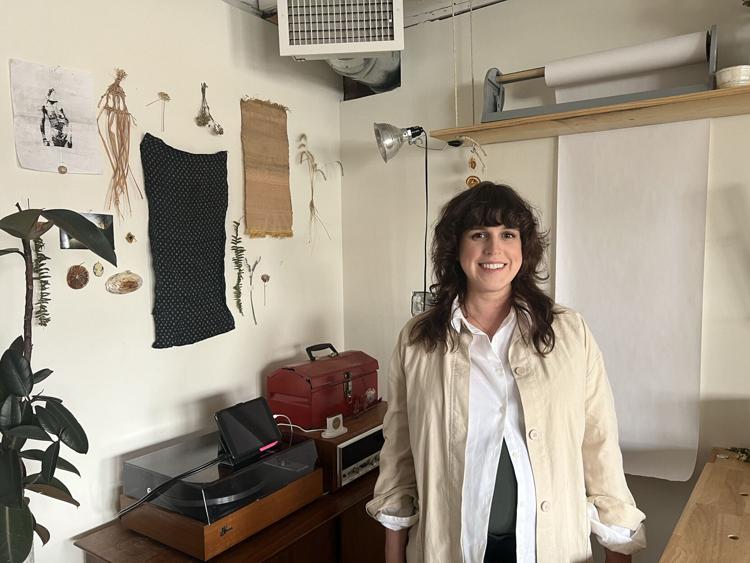 The inspiration for Hedda
Ripcse has been vintage shopping her whole life and uses her self-coined "Hedda-vision" to focus on the quality of fabric and the timelessness of an item when selecting products to sell at her store.
For the clothes she makes, Ripcse is inspired by minimalist Japanese workwear-style fashion. She mainly uses linen and sells several of her handcrafted tops and dresses in the shop. "I want them to be as accessible as possible and do one-size-fits-most," she says.
Ripcse plans to participate in Columbia's First Fridays, free art crawls in the North Village Arts District featuring local artisans from galleries, shops and businesses on the first Friday of every month. She would like to host a different artist at Hedda each month so the artist will have the full attention of those who visit.
Ripcse's motivation to find and sell low-impact and sustainable items at Hedda stems from her roots. Born to a Hungarian immigrant and a Lake of the Ozarks resident, Ripcse learned from both sides of her family the importance of owning only what is needed and taking care of an item for its entire lifespan. 
"It's no secret that the fashion industry is one of the biggest drains on the environment," Ripcse says. "And I think at this point, just with anything, it's kind of sink or swim. We have to do things differently. The world is changing around us in real time.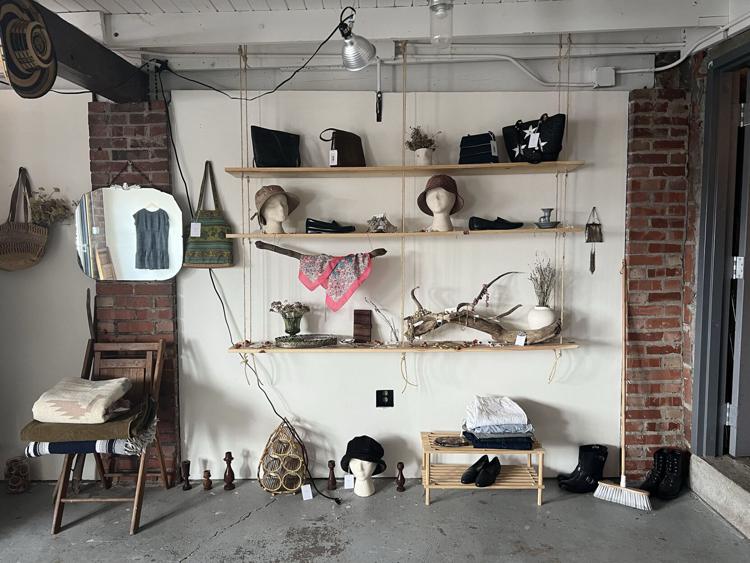 Everything takes a process
Before starting Hedda, Ripcse worked as a salami-making apprentice. Although the process of making salami versus clothing is blatantly different, both require a kind of craftsmanship to create the final product.
"I really like processes — knowing how to do something from the very beginning to the end," Ripcse says. "Like, how do you take a flat piece of fabric and make it into something three-dimensional, that's not only wearable but fits well? And not just with clothes, but with cooking or gardening or whatever."
It took Ripcse's own process to build a space for people who love all types of vintage and clothing. However, she doesn't want to limit Hedda to the "vintage" description. "For me, it's more about the quality and timelessness of the piece rather than the age of it," she says.
Related stories