Missouri weather might be inconsistent, but despite icy temperatures, the world of fashion is launching into springtime. The most couture event of the season, New York Fashion Week, kicks off today, and the chicest of the chic are predicting what new trends will hit the runway. Classic denim looks, animal prints and plastic are all trends floating around the internet from professionals. To get street style like Gigi or Bella Hadid, Kendall Jenner or Karlie Kloss, Vox asked local CoMo fashionistas what trends they're expecting at this year's show.
Pretty pastels
Step aside, millennial pink; new pastels are taking over. Victoria Beckham used a variety of the subdued colors for her spring and summer collections, and now the tones are growing in popularity beyond the runway. Columbia fashion blogger Madeline Best, who runs her own website, My Fair Style, is excited to shop for sundresses in soft colors such as lavender. "I really love everything girly and feminine, so I'm really a fan of pastels," Best says.
Bold splashes of red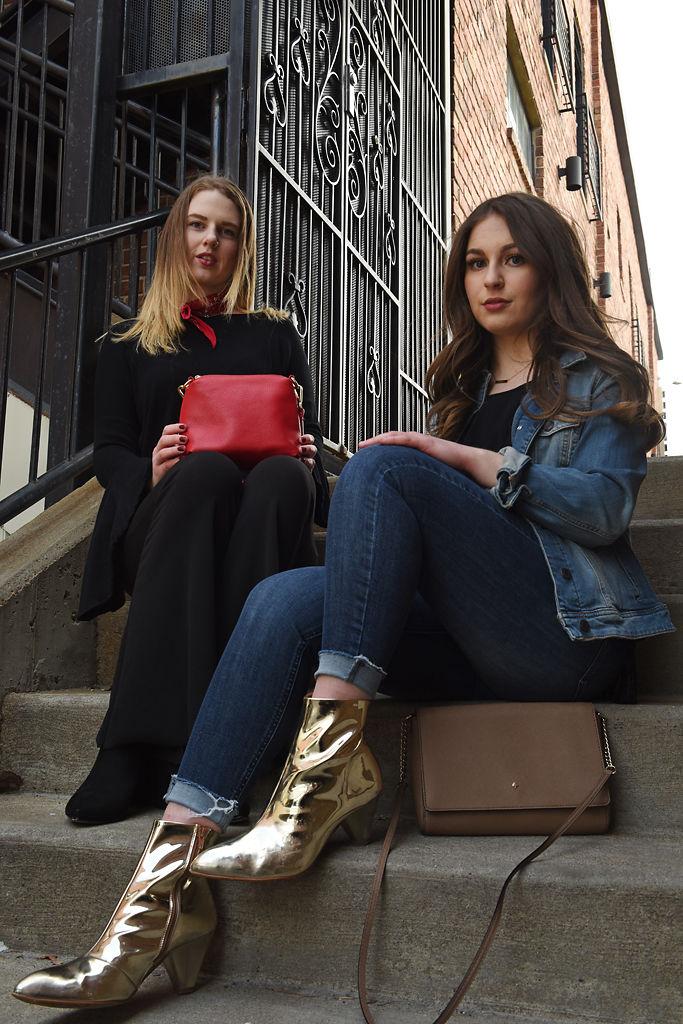 If you're into neutrals but searching for that extra oomph, spice up your look with red accent pieces. Olivia Bleeker, who runs the life and style blog A Drop in the Ocean, plans to rock the trend at NYFW. "I was just planning out my outfits for fashion week, and I'm going to make red the accent color of pretty much every outfit I wear because I'm going to wear a lot of black and then black and white plaid," she says. Best says red is a color that transcends seasons and complements almost any hair or skin tone. "I think a majority of the time I wear red, I actually don't wear it specifically as a clothing item," she says. "I really like to do a red lip, especially if I wear black or neutral colors."
Don't deny the denim
Parachute pants, Jazzercising get-ups and oversized blazers have come and gone since the '80s, but denim is one old-school fad that's here to stay. Maddie Koerner, who uses Instagram to share her style, says her wardrobe is constantly changing, but she currently describes it as upcycled, thrifty and redone. This season, she predicts denim jackets with a fresh twist of modifications such as pearls and embroidery. She especially likes zipper detailing, and she hopes to see zip-around jeans become popular. Best agrees that denim will continue to be a hot commodity. "I'd love to pair a fringe shirt with a denim jacket over it to go out," she says.
Plastic isn't just for Barbie
Designers such as Chanel have already debuted plastic on the runway in Paris this year, so be sure to jump on this haute trend. Koerner says coats, handbags and shoes are just a few items that we'll see headlining this particular look. Bleeker agrees, saying plastic accessories will be the most popular variation of the trend in Columbia. "I actually always joke with my roommates, if that actually does become a trend, there's a way you can get your bags into the football games because you're being trendy, and you're having a clear purse that you're taking in with you," she says.
Good looks on the prowl
Warmer temperatures might soon take fur off the shelves, but wild patterns are far from out-of-style. Animal prints are surging back into popularity this year, so don't miss your chance to make a stylish statement while you navigate the concrete jungle. Best's favorite is cheetah print, and she styles it in belts and other accessories. "I think it adds a little nice pop to your outfit," she says. Bleeker agrees, saying mixing hints of animal prints here and there will be big. "I definitely would wear faux snakeskin or faux cheetah print in terms of footwear," she says. Even wearing a fun animal-print coat makes a bold statement without being too complicated.