It's too cold. You're tired. You don't know what to wear. You just want another mug of hot chocolate.
In winter, the excuses to skip the run or the bike ride come as hard and fast as a Missouri cold front. But a lack of comfortable and weather-appropriate clothing isn't an excuse anymore. Pros craving top-of-the-line gear or beginners just wanting the basics can both find what they need in sports shops around Columbia.
It's time to layer up, throw on the reflectors and get a move on.
Best base layers to kindle core temperature
Top shelf: Ice Breaker tops and leggings, Alpine Shop, $90-110, men and women
Ballin' on a budget: Hot Chillys Bi-Ply crewnecks and bottoms, Alpine Shop, $25, men and women
Sports store owners around Columbia overwhelmingly agree: Layers are essential for any winter workout, whether you're training for a marathon or just lightly jogging around the block. Ice Breaker merino wool base layers provide the ultimate cocoon of warmth, says Liza Babington, manager of Alpine Shop. Try the Hot Chillys Bi-Ply synthetic fabric tops and bottoms to avoid breaking the bank on base layers.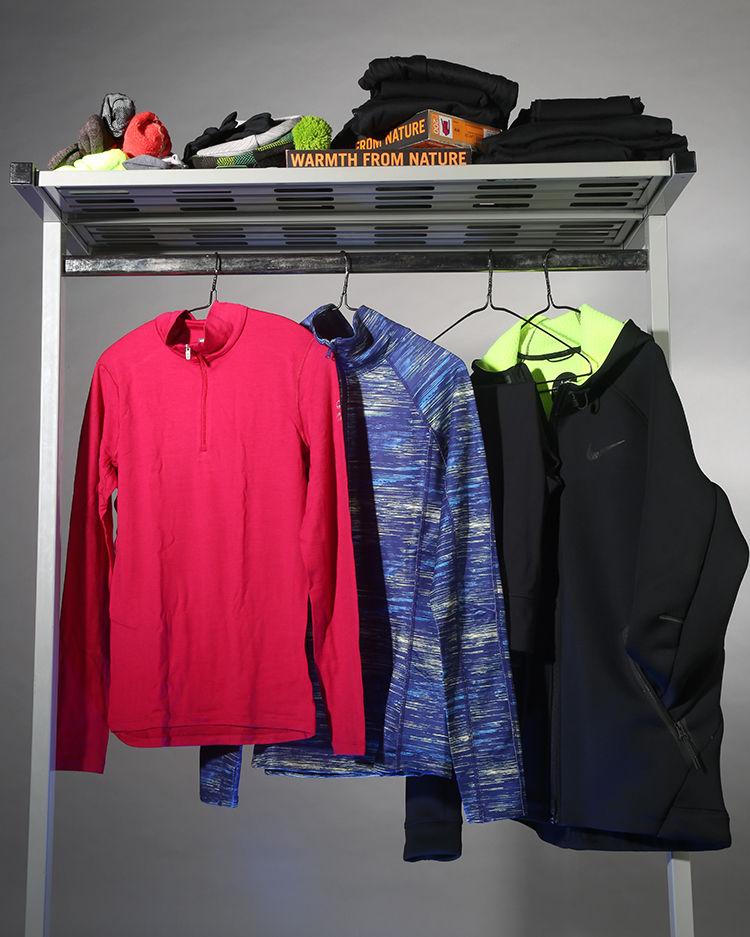 Best top layers for any kind of chill
Top Shelf: Nike Therma-Sphere Max, MC Sports, $120, men
Middle of the line: Under Armour UA Allseasongear 1/4 Zips, MC Sports, $65, men and women
The Nike jacket solves the worst of winter weather problems. The textured fleece interior paired with a slightly slick polyester exterior keeps the cold out and all the warm in. The Under Armour zip quickly wicks and dries sweat, so this top easily transitions among Missouri's unexpected weather changes. "The All season gear is designed to insulate in cold weather but still remain breathable for warmer weather," MC Sports manager John Ehrhardt says. This all-weather jacket keeps you cool when the sun peeks out or warms you up when a cold front moves in.
Best pants to keep blood flowing
Top shelf: Nike Epic Lux running tights, UltraMax Sports, $110, women
Victoria's Secret yoga leggings won't do the trick on a cold winter run, but these fancy pants will. The synthetic interior and warm Nike Dri-Fit material will protect legs from harsh winds and keep them running in the biting cold.
Best hat to prevent frostbitten ears
Top shelf: Smartwool Cuffed Beanie, UltraMax Sports, $30, gender neutral
Middle of the line: Bula stocking caps, MC Sports, $20-30, gender neutral
Body temperature escapes through the head, so a warm noggin is key to a warm body. Made of merino wool, the Smartwool beanie offers a snug fit to hold heat when braving the icy cold. Bula stocking caps are thicker and typically made of synthetic material with a pompom for extra flair. Bonus: Both hats are long enough to guard earlobes from frigid temperatures. 
Best gloves for ultimate warmth and movement
Top shelf: Brooks Drift Glove, UltraMax Sports, $50, gender neutral
Ballin' on a budget: Mizuno Breath Thermo Glove, UltraMax Sports, $20, gender neutral
Mittens are the best option to keep hands warm, but gloves help maintain mobility. The multi-functional finger-savers by Brooks combine the best of both worlds, says Nancy Yaeger, manager of UltraMax Sports. No worries about tripping over laces mid-run or changing bike gears; do it all without subjecting your digits to the cold. For a cheaper option, Mizuno's gloves utilize a signature fabric that heats up when it comes in contact with sweat, Yaeger says. Like hand warmers in a breathable fabric, they keep palms toasty and bank accounts positive.
Best socks to keep feet dry in the slushy snow
Top shelf: Smartwool PhD Light Micro Socks, Alpine Shop, $16.95, gender neutral
Middle of the line: Balega Hidden Comfort Socks, UltraMax Sports, $12, gender neutral
Don't let your little piggies go wee, wee, wee all the way home. Protect toes from the elements with yarn and merino wool socks. Wool works double-duty as a good warm weather sock, too, Babington says. For something a tad less expensive but with a tad more cushion, Balega has a synthetic option.