In The Devil Wears Prada, antagonist and fashion editor Miranda Priestly iconically called out her assistant for thinking that fashion was a pile of stuff. Priestly might have been biased, but she makes a fair point — you really can't disconnect from fashion. It's all around us. It's in our consciences, our cultures and our communities.
Fashion is an integral part of our lives, and it's coming from people right here in Columbia. Some local designers are making an impact that extends far beyond clothing.
Vox wanted to know where this "stuff" is thought up, how it's made and most importantly, by whom. While you flip through this magazine wearing your Under Armour joggers and Mizzou sweatshirt, we've been scouring the area for the next Stella McCartney or Vera Wang. Look out for them on the runways and on Ninth Street, because, you guessed it, they're local.
These Stephens College designers incorporate style and creativity, and make a statement for equality, sustainability and, most of all, personality. They understand what it means to put on your favorite outfit and feel like you can conquer the world. They also get that conquer-the-world outfits have an effect on the planet. Fashion is bigger than ourselves.
Fact-checking fads and bringing you the latest in Columbia couture, we invite you to check out the future of fashion.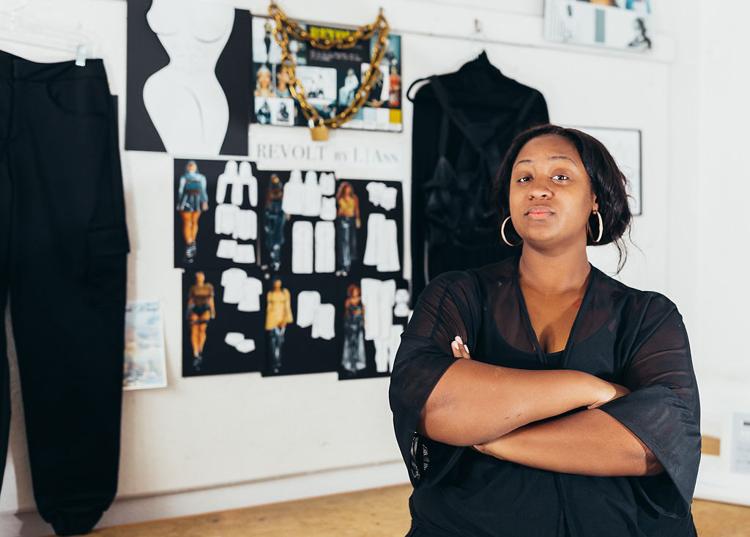 Lenora Brown's collection, "Revolt," is influenced by police brutality toward the black community," Brown writes in an email. The line features clothes for women who are curvy and uses fabrics and colors that accentuate those features. The clothes are accented with embroidery and appliques, which is intricate needlework used to make patterns. Brown, a senior, aspires to become a designer and activist in the future. "I want my work to speak volumes to educate and uplift my community," Brown writes. "One day, I hope to open up my own community center where I focus on the embrace, empowerment and elevation of liberal arts in the black community."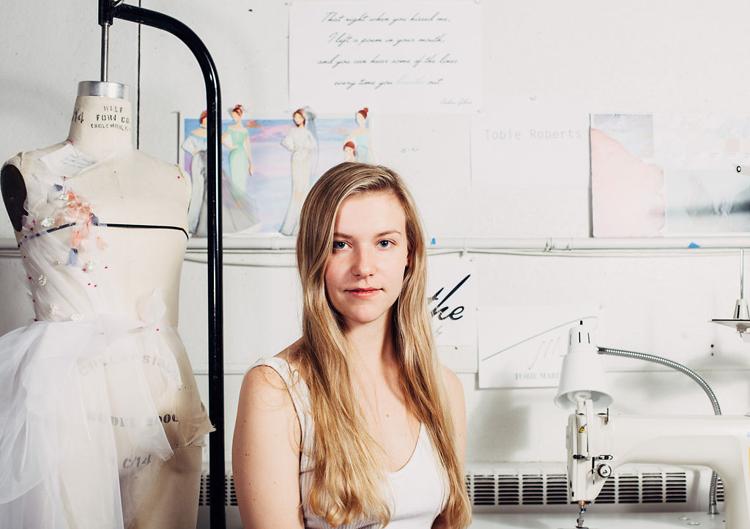 Taking on the world of fashion is hard enough, but taking on a part of fashion that is underdeveloped id even harder. Tobie Roberts, a senior, is determined to create clothing for men and women with disabilities. She was inspired after seeing her mother and grandmother struggle with Limb Girdle Muscular Dystrophy, a disease that causes weakness in the legs and arms. The disease runs in the family, meaning Roberts is already dealing with its effects. In high school, she started a nonprofit called the Green Prom Movement. "This movement is to encourage the donation of evening gowns from pageants and proms to make these dresses and alterations more accessible for lower-income families." Roberts says. Her sister struggled to find a used dress that fit her figure, which inspired Roberts to sew her own designs and start this nonprofit. For The Collections fashion show, she developed a collection of bridal gowns that she titled, "Breathe." It is based on the lyrics of Andrea Gibson's song "Yarn."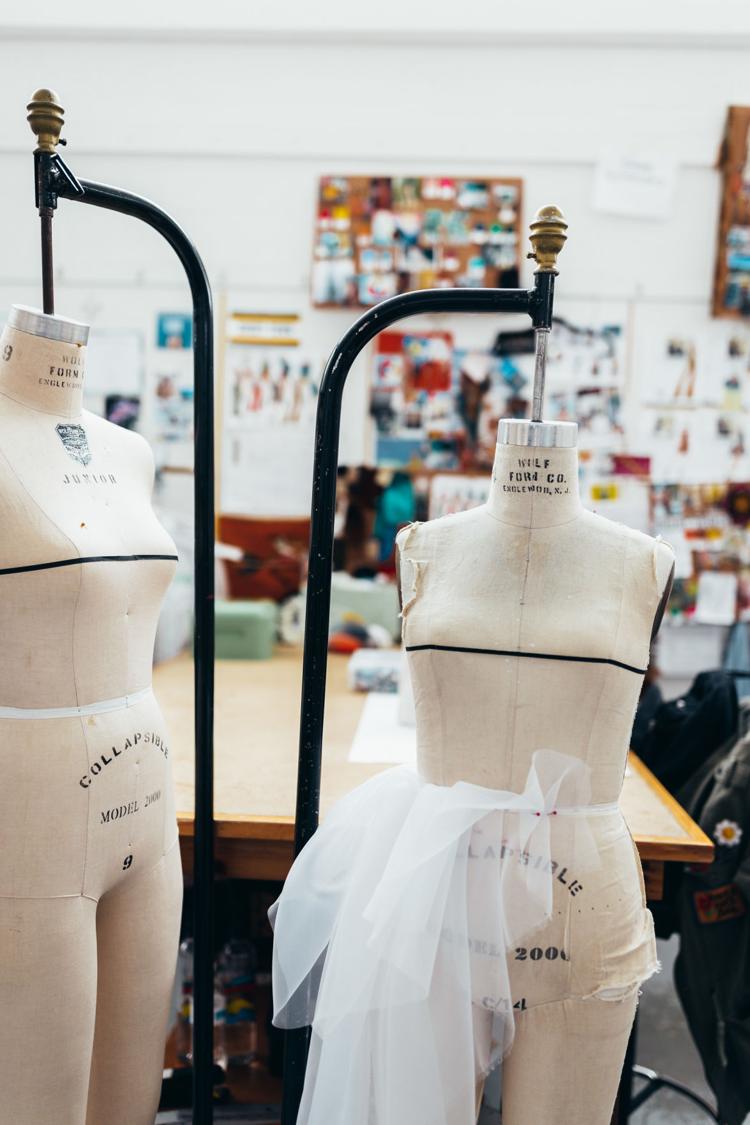 Each gown is designed for a woman with a different disability. "My line features low necklines, hand-beaded applique and gorgeous silhouettes because every woman, no matter what, deserves to feel sexy," Roberts says. She learned the art of hand embroidery and beading at the Chanel factory during her month spent studying in Paris in 2017. MU student and local fashionista Madison Lawson, who has an Instagram following as @wheelchairbarbie, is one of the models for this collection. Roberts' designs make it so Lawson's spinal muscular atrophy never has to come between her and fashion.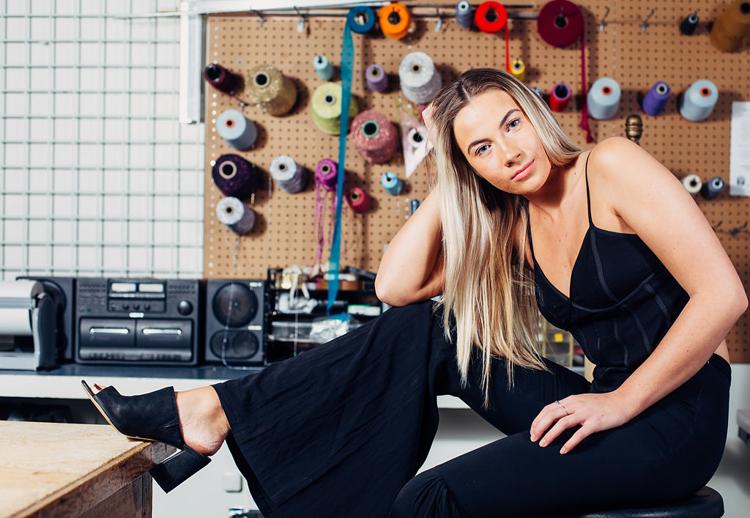 While more traditional college students take introductory courses such as math and science, freshmen at Stephens College jump-start their design education with sewing, drawing and textile classes. "I love being able to design because I can create whatever I want and break the rules," freshman Caroline Lester says. As a young designer, she is challenged with finding a way to differentiate herself. She says she believes that her creative worldview will be beneficial to her in the industry and in creating trends, such as the return of the flared pants. Lester's biggest inspiration is Coco Chanel and her classic designs.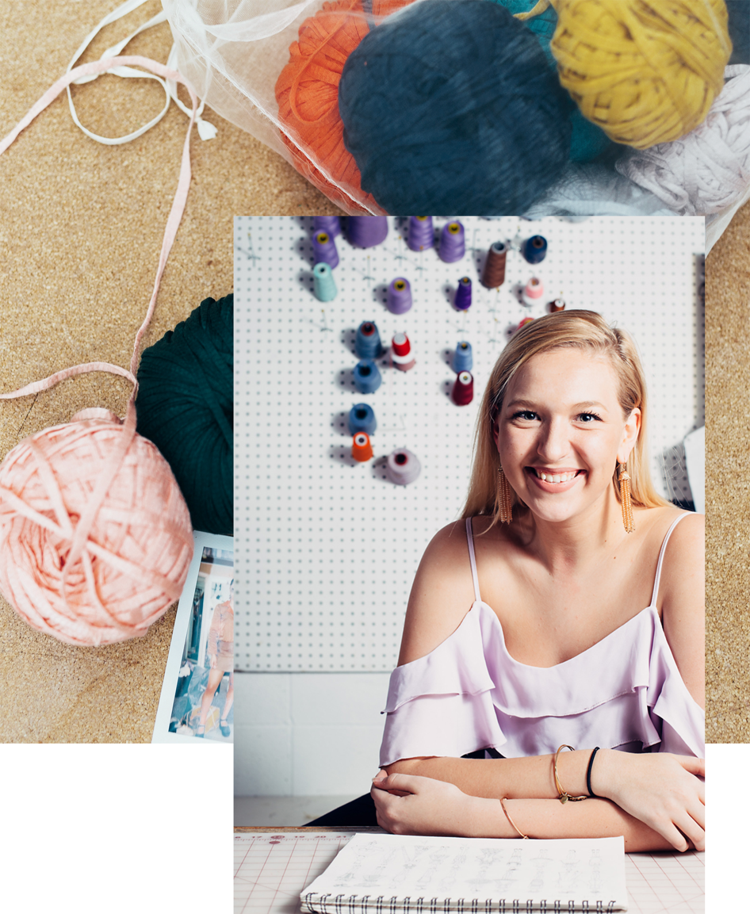 Different colors, shapes and textures from the natural world move Samantha Knaust. She loves creating garments that form a distinct ambiance and mood. "To design is to create a beautiful piece of art in which anyone can express their personality," sophomore Knaust says. Knaust became interested in the process of making clothes because her mom frequently sewed as Knaust grew up. The two teamed up to create her first whimsical homecoming dress. Knaust says she dreams of opening a boutique with custom bridalwear and evening gowns or starting a small shop with children's clothing.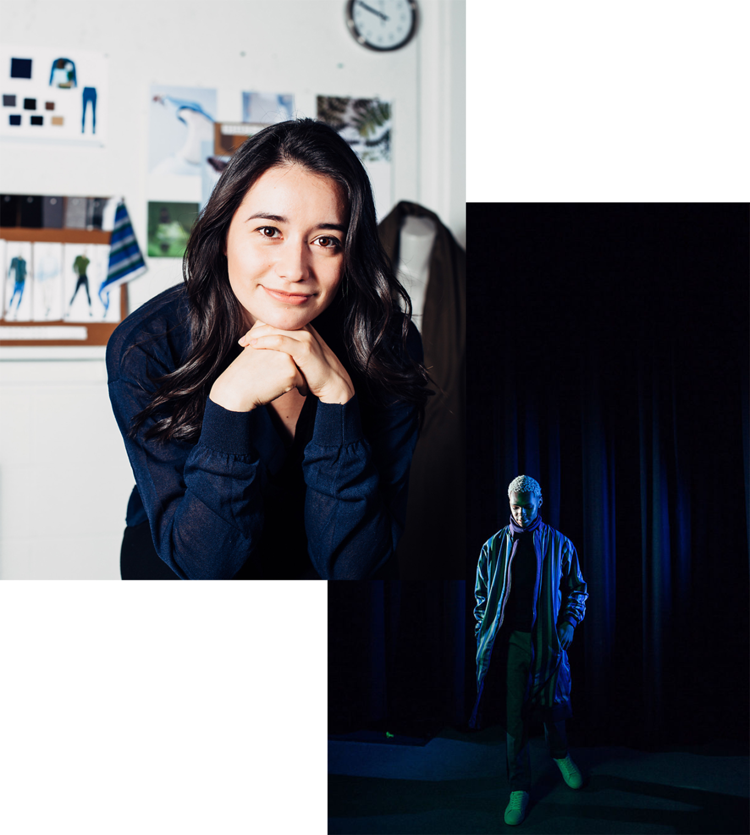 Architecture and shapes influence Fey Chavez as she creates modern and functional clothing lines for men. "My passion for drawing led me to fashion design, because it let me bring those ideas to life," Chavez says. Her green and blue moods boards of earthy tones are a representation of her collection that she revealed in March 2018 at Kansas City Fashion Week. As a senior, Chavez has already had three internships with small designers in New York City and a corporate position with PVH, which owns brands such as Calvin Klein and is one of the biggest corporations in the fashion industry. After a competitive application process, Chavez earned a position in the menswear technical design department and plans to return to the company after graduation.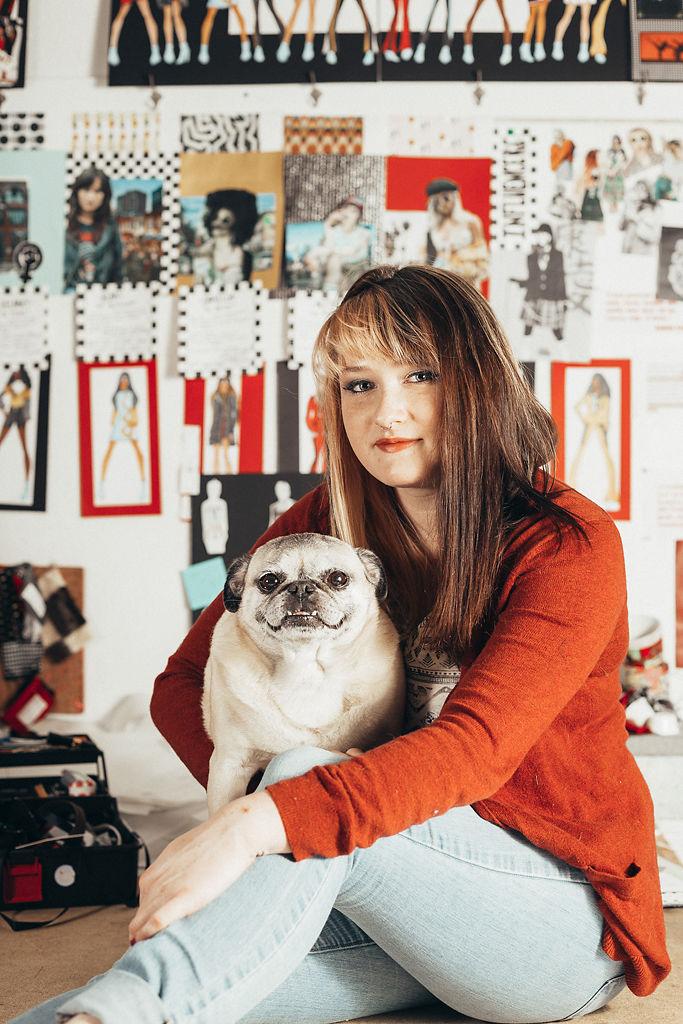 Designing clothing is my passion because there's nothing more empowering than putting on an outfit that makes you feel like you can conquer," Audrey Lockwood says. "Fashion is how we illustrate our personalities and define ourselves. It is at the root of us; it's our identity." Lockwood, a senior, is captivated by pop culture and film by Quentin Tarantino and Wes Anderson. Her mod sketches are inspired by stories with female heroines and fashion from the 20th century. She spends many hours in the studio perfecting her powerful clothing line and always has the supportive company of her dog, Athena. Crafting an apron with her grandmother in high school led Lockwood to start a tailored, vintage shorts business and pursue her dreams. Lockwood has won a scholarship from Young menswear Association's Fashion Scholarship Fund and studied at the London College of Fashion.Her professional goal is to find her niche designing for a creative company and to continue growing her business.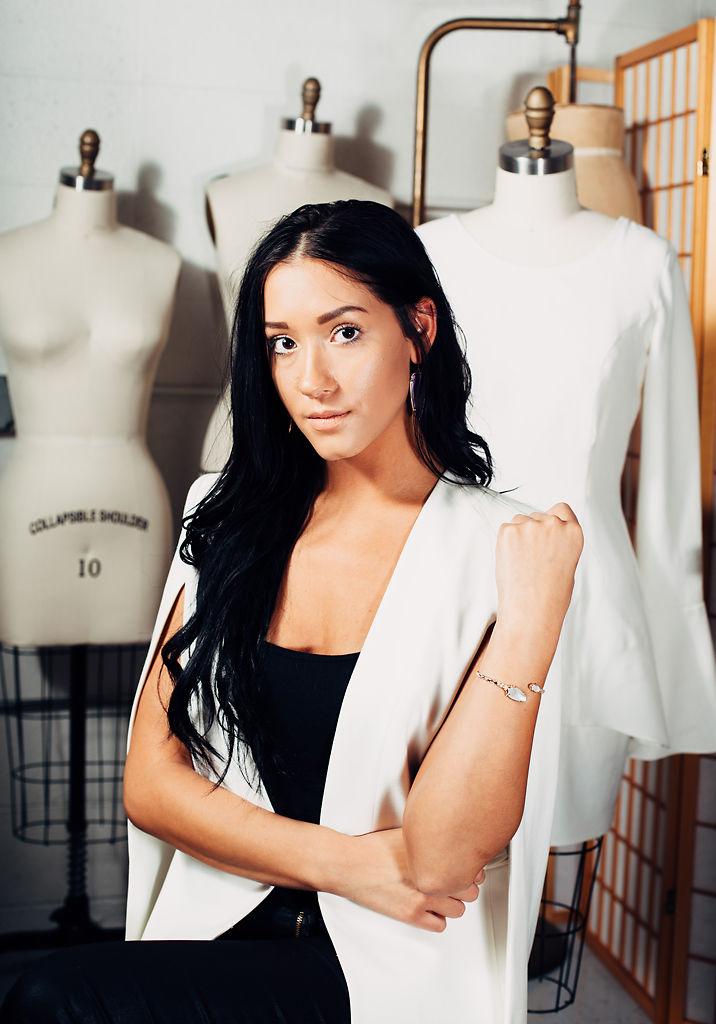 Madeline Buasri, started drawing sketches in fourth grade and has immersed herself in the fashion industry ever since. During high school she worked as a model in Kansas City to learn the behind-the-scenes of fashion and meet designers. Her most recent dress design is based on the idea of white sands and relaxation. She finds inspiration in the flow of the ocean and the glow of sunshine and tanned skin influences the collection. Buasri, a sophomore, aims for her garments to completely change how a woman feels about herself. She hopes to empower women through her designs and own a small boutique in Florida. "My biggest success is actually going to school and pursuing my dream because I am the first of my family to do that," Buasri says. The competitive atmosphere of Stephens College pushes her and gives her an outlet to constantly create.
Related Stories