Swimsuit season will be here before you know it, and even sooner if you're headed somewhere hot for vacation. Luckily, local clothing experts know what you should be wearing poolside in 2018. If you're a fan of the one-piece, don't worry; the timeless suit is expected to maintain its staying power, but this year's version comes with a twist. Color-blocking and patterns are expected to be trending, and athleisure will make a big splash as well. Let's dive in.
Bold colors and patterns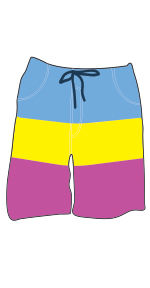 2018 will be the year for patterns and bold colors, such as neon and even metallics, says Nickie Davis, owner of the downtown clothing store Muse. She says swimsuits will feature fruit and marbled patterns, especially. "We're more willing to play with colors in swimsuits than we are in our everyday wardrobe," says Maggie Holper, an assistant professor of fashion marketing and management at Stephens College and the patternmaker for the women's swimsuit company Summersalt. The "matchy-matchy" suits of past seasons are less in style, Holper says.
Color-blocking, the pairing of complementary colors, those opposite each other on the color wheel, coincides with the bold-pattern theme and will be featured on both men's and women's suits this year. Currently, Muse features vintage color-blocked Tommy Hilfiger men's swim shorts in the classic red, white and blue. "Red is having a moment," says Lindsay Beliles, a manager at Britches.
Athleisure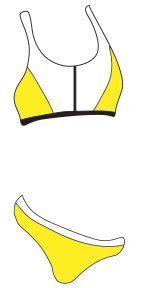 This year, Holper expects to see more swimsuits that are designed to be worn as activewear. Athleisure swimsuits are missing the hardware that marks many other swimsuit styles, such as adjustable bra-type straps or back hooks. Rather, these suits are inspired by sports bras, leggings and yoga clothing. "We are unlikely to go back to the Victoria Secret push-up bikini anytime soon," Holper writes in an email. Men's swimwear is inherently more conducive to activity. Davis says classic knee-length board shorts will remain a trend as well as the shorter short inspired by European swimwear.
One-pieces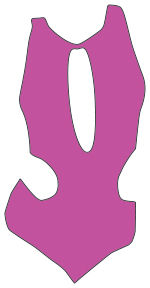 In 2018, the one-piece will endure, Beliles says. But she says this year's one-piece will be more "scandalous." One-pieces are expected to feature cutouts, showing off more skin than the traditional one-piece suit. Davis echoes this prediction, saying she expects to see risqué one-pieces with low backs and plunging necklines. She says she believes the one-piece remained a staple over the past couple seasons because it appeals to more body-conscious people. For those looking for more conservative options, Davis recommends ruched swimsuits or tankinis. Beliles says high-waisted bottoms are another popular alternative to one-pieces.