The True/False Film Fest office is easy to miss. In a second-floor suite near the corner of Ninth Street and Broadway, just above Tellers Gallery and Bar, you don't see it unless you look up. It's a fitting location for a festival that evolved from the head-in-the-clouds idea of two young men in a Missouri college town.
Now, in its 17th year, the fest continues to evolve without co-conspirators David Wilson and Paul Sturtz as its lead programmers — or film sifters and selectors — at the helm of the fest.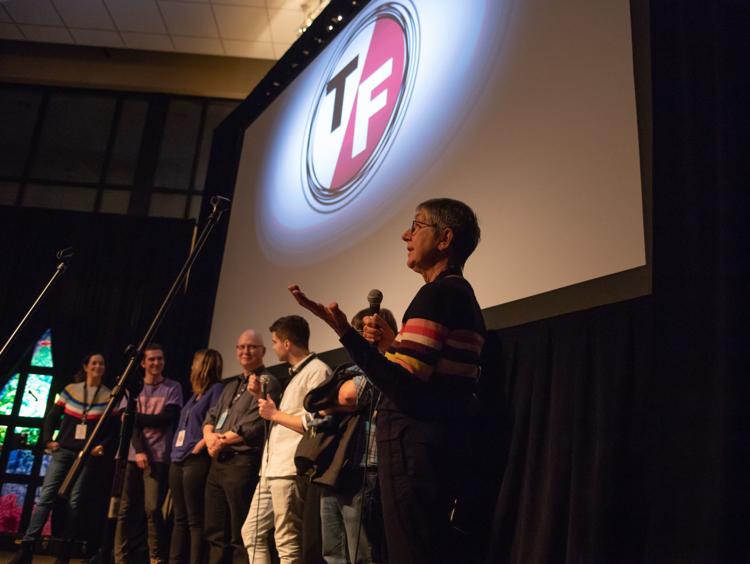 As a Columbia native, I have seen True/False become the weekend-long celebration that it is: an observance of interesting films, interesting people. I've been to March March and watched films at Jesse Hall and the Missouri Theatre. In my high school classes, I've discussed topics sparked by the documentaries. I've observed the community come together at the convergence of winter and spring for about half my life.
In that time, the fest has grown into an entity separate from its creators. And though the founders have stepped back from the fest, many of the core staff who have been involved for years are sticking with it.
After working in various roles for the fest for more than a decade, Camellia Cosgray is now fest director. As director, Cosgray is more involved in the programming process than in years past and is often part of programming conversations.
Cosgray says she doesn't think Wilson and Sturtz would be surprised to hear they left behind a legacy of high expectations for the staff to uphold. Everything from the films to the art to the music to the merchandise is selected with quality in mind. "Because I've worked with them for so long, I've really taken that to heart," she says. "It's true within my heart that I have high expectations for myself. And so I have those expectations for other people."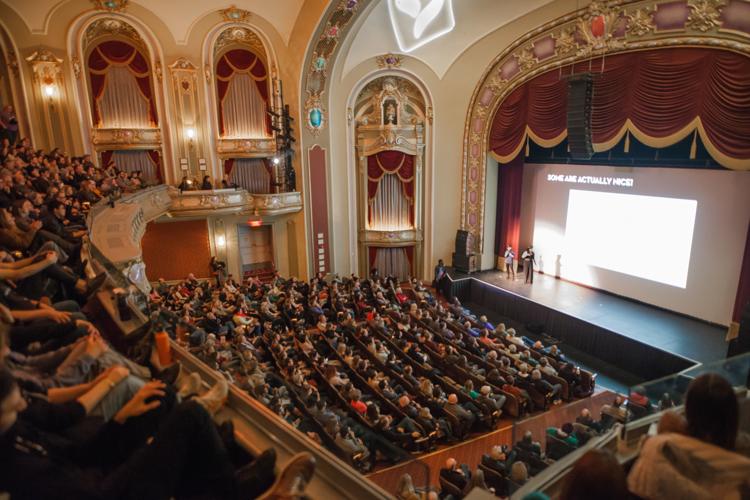 Wilson and Sturtz began the festival in 2004 as a grassroots project cultivated by a shared love of film, according to a June 2018 Missourian article. But, as the entrepreneurial thrill of success wore off and an organized entity emerged, Wilson and Sturtz said they felt a shift they were not prepared for.
Wilson still lives in Columbia, but he told the Missourian he has taken a backseat role so he can dedicate more time to his family and his own filmmaking. Cosgray says he will still be involved in the fest's art direction.
Sturtz left the True/False scene this year to be part of Elizabeth Warren's 2020 presidential campaign and to take on other projects. Sturtz says he knows the festival has reached a point that it can continue without him.
Sturtz and Wilson have often said they never wanted the festival to be about them. They've always wanted the fest to exist independently.
After 16 years of growth and support by the Columbia community, the True/False Film Fest turned a new leaf, and the theoretical torch has been passed to fresh leadership who will work with emerging voices. Although the fest is changing as its founders step away, the shift is more like the start of a new chapter than a sudden disruption. "It's something we've known was going to come eventually," Cosgray says. "I think it was just sort of inevitable that they would both feel the need to do different projects and find something new."
In the absence of Wilson and Sturtz, Chris Boeckmann became the new lead programmer. Alongside him, two newer power players have been introduced into the mix: Amir George and Jeanelle Augustin.
For outsiders looking in, the programming team's job might appear straightforward. But Boeckmann says the process for this festival is different than most and far from easy.
Boeckmann says True/False programmers have some requirements that are unlike other festivals. Many other festivals tend to select films with content as the top priority, but True/False programmers often focus on filmmakers' creative decisions.
He and the other programmers spend a lot of time viewing films. But, there's more to the job than just that. True/False receives thousands of film submissions the team must go through. The programmers look for material that fits their vision for the festival. This includes representation and quality content.
With a relatively new programming team, Boeckmann says it was also important to make sure everyone was on the same page and generally agreed on what excites them about nonfiction film. "The ultimate job is to first come up with what we want to explore in films," he says. "From there, we have to watch everything we can and actually get directors to come here for the fest."
He says they approach documentary film as art. "We're looking for films that help us understand the real world but with imagination."
Augustin is the newest face on the programming team; this is her first year as a film programmer. Augustin primarily studied anthropology and art history in college, and that's where her interest in film began to grow. She took a film course and also worked at a school in Haiti that taught film. She didn't begin a film career until after she finished schooling, but she found she had a knack for it. In the True/False offices on a gray Monday morning, Augustin exudes a sense of freedom and flexibility. An opportunity to move to Los Angeles and to try something new started by landing an internship with the Sundance Film Festival in the grants section of the documentary film program.
Augustin worked at Sundance for about three years before her path crossed with that of fellow programmer George at the Smithsonian African American Film Fest in October 2018. At the time, George was in his first year with True/False. They stayed in contact, and George eventually invited her to be a Ringleader — one of the fest emcees who introduces films and leads Q&As with guests at screenings — last March.
After True/False 2019, George went to New York for a film festival, and that's when he told Augustin True/False was looking for a new programmer. George thought she would be a good fit for the role and was excited to see what her experience and personality would bring to the table.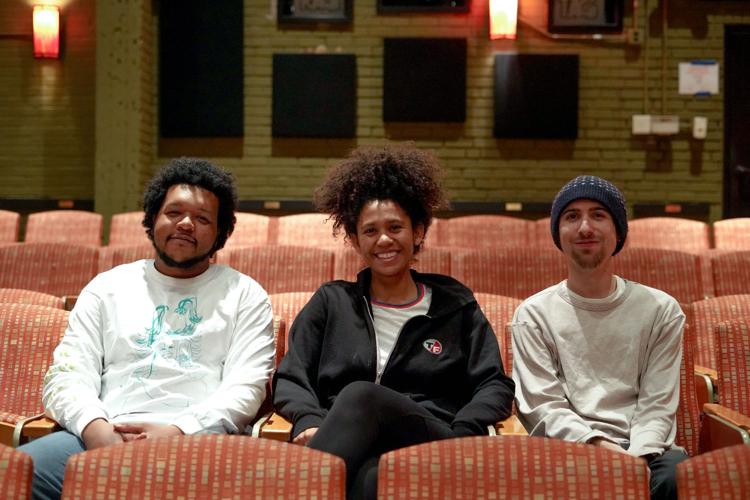 "Both Chris and Amir have a sort of quieter, more reserved energy, and Jeanelle has a more outgoing energy," Cosgray says. "Both are great and useful, but it's nice to have that combination. She really brought a good energy to that room."
Boeckmann says because of Augustin's background with Sundance and art, she brings a perspective to the group that would not be present otherwise. "She has a much more sensitive eye to the potential in films in their rough-cut stages," he says. "It's actually pretty meaningful and results in catching movies that we, otherwise, would not catch."
Although George brought Augustin into the fest mix, he is only in his second True/False programming season. He's not new to the job entirely, though. When the opportunity to work on True/False arose, George had been programming for 10 years with various organizations and festivals, including one he co-founded called Black Radical Imagination, which is a touring short film program that highlights African diaspora stories. He also writes and directs his own films.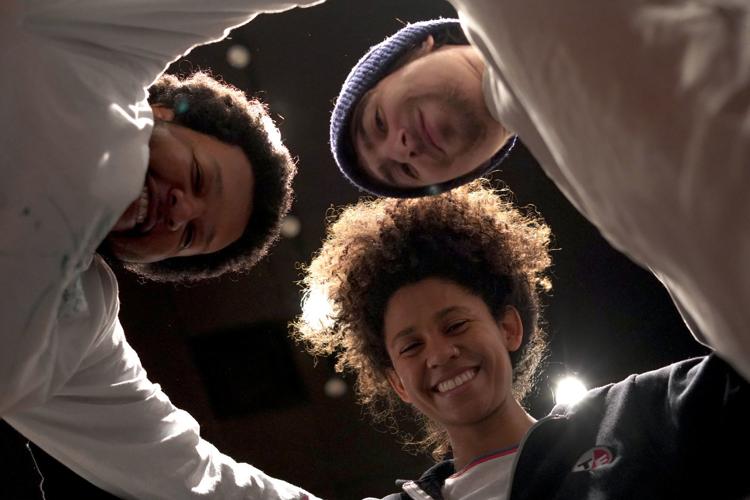 Boeckmann says George has an "ability to draw connections between films and put together programs that flow together." He says George's strengths derive from his experience. "He has a very natural gift at putting films together in series."
George says he believes it is important to be intentional about what is put in front of viewers. When curating films, he says it's good to look for things people haven't seen before and consider the effect a documentary might have. "Programming is an act of care for the art and the artists," he says.
Boeckmann praised George for his sensitivity to creating spaces for conversation and for talking to audience members after showings. "He doesn't put himself above the audience member," he says.
Augustin says the programming team is fairly small. She estimates there were about 20 programmers at her old job, but not all of them worked full time. But with the small size, the team is able to really make the fest its own. "We have the freedom to show what we want and sort of put forward a vision that you can see across all the films," she says. "And also, they are really good films."
Their strengths differ, but Boeckmann says Augustin and George both have a good understanding of the importance of the festival's big-picture goal of creating a lasting discussion and encouraging critical analysis of film and other media. "I hope that when people are encountering stories that they know how to think through how they were made and maybe question them a little bit more," Boeckmann says. "I hope that there are people who are able to interact with and engage with perspectives that otherwise, they wouldn't have."
Boeckmann also talked about True/False's impact on the broader scale of pushing the documentary industry toward inclusivity. He says he hopes that, moving forward, the fest can do a better job of creating a space where people can be more vulnerable and open with one another.
True/False has become embedded in Columbia's culture. Wilson and Sturtz can take an active role in the fest's future or stay on the sidelines, but the festival is already ingrained into the collective mind of the town.
And it's here to stay. The founders might have laid the foundation, but George says the new team is moving the fest forward.
"If you look at the present state of what two people created 17 years ago and how it's still a moving machine, it's a legacy to be built upon," George says. "It's a legacy in progress." 
To view the True/False film lineup, please visit the True/False Film Fest website.
Related Articles: