John Evans was closing up shop on a cool Saturday night in March when he overheard a group of college-aged passersby. "Rock Bottom Comics?" one of them exclaimed, unaware that the store's owner was right around the corner. "No way! What are their hours?" Evans' ears perked up. Revealing himself from the shadows, he said to the group, "Well, their hours are 10 a.m. to 8 p.m."
Their reaction? They kept walking. "I scared them," Evans says. "They probably thought I was a crazy person." Not that this matters to him. As long as more people know the shop exists at 1013 E. Walnut St., he's happy. And with Free Comic Book Day approaching on May 7, he's expecting a flurry of customers. On one hand, he's excited to have more business. But as the store's sole employee, Evans is also feeling nervous.
The annual event, which has been celebrated around the world since 2002, is organized by Diamond Comic Distributors and allows customers to walk away from participating shop locations with at least one free comic book. Evans estimates the store welcomed 250 visitors on Free Comic Book Day 2021 and expects 350 to 400 this year. This will be Evans' first time hosting the event on its usual date, the first Saturday in May, as it was pushed to August in 2021 due to COVID-19 concerns after being canceled completely in 2020.
A new chapter
Evans, a longtime Rock Bottom customer, purchased the shop in early 2020 following the death of former manager and owner James Cagle. His passing was a major blow not just to Evans, a good friend of Cagle's, but to the city's comic book community at large. Shortly after the change in management, the pandemic hit.
Evans kept Rock Bottom afloat during the lockdown by delivering comics and allowing curbside pickup. Still, with low foot traffic, the store wasn't making as much money as usual in May and June 2020. Business improved as restrictions lifted, and sales have since increased by 50% from pre-pandemic levels. Evans attributes this to two things: his adjustments to the business model (before he stepped in, the shop had more than one employee) and the support of loyal customers.
David Beasley has been a Rock Bottom regular since 1998, when he started traveling to the store from his hometown of Mexico, Missouri. Beasley made an effort to support the shop throughout the pandemic by coming in and purchasing comics weekly after lockdown. "This has been my biggest hobby since I was 13 years old," he says. "I'm not letting Rock Bottom go without a fight."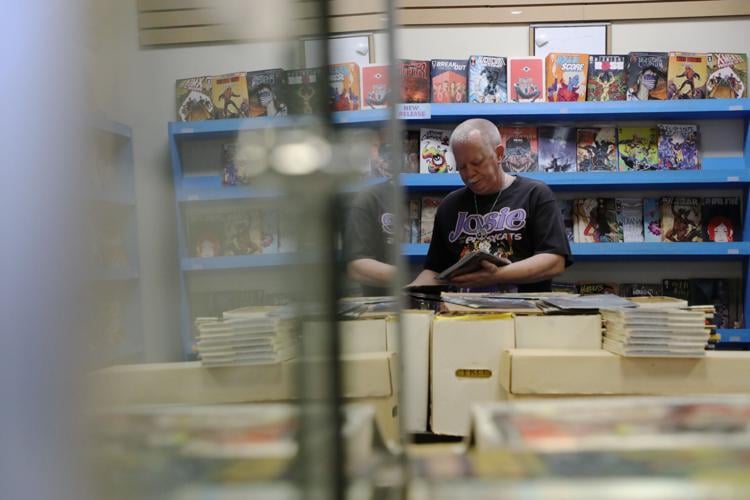 Band of readers
Distant Planet Comics & Collectibles experienced similar hardships in 2020. Co-owner Brandy Cross and her teammates kept the shop at 601 Business Loop 70 W. closed even after the lockdown ended, instead focusing on curbside pickup, deliveries and private shopping appointments. Still, business was lackluster. The shop pulled in about a quarter of its usual revenue by the end of the year. But by 2021, the store's luck turned, and Distant Planet recorded its best year yet.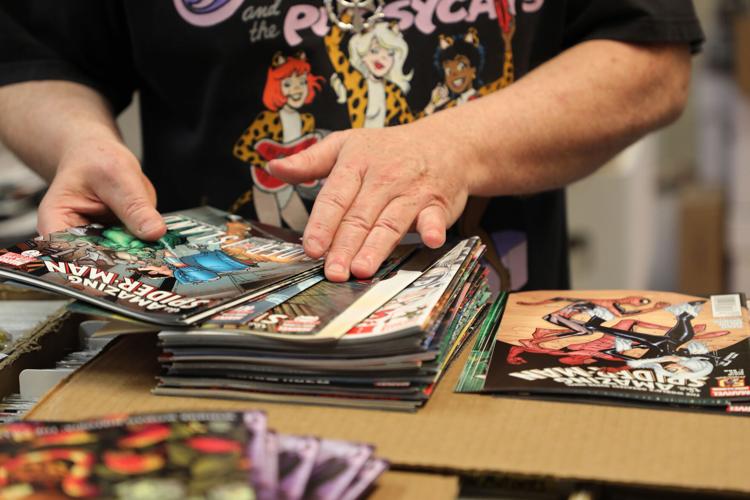 The shop's recovery wouldn't have been possible without community support. Cross says her customers were eager to put money into local businesses last year, often banding together to do so. For instance, if a subscribing customer got sick or experienced other COVID-related problems, other customers would donate money to help keep their subscription box open.
Cross and her teammates are still planning for this year's Free Comic Book Day. In 2021, Distant Planet offered free releases but didn't hold any special events. In previous years, they've hosted food trucks, giveaways and a cosplay contest. Cross is considering bringing back some of these festivities with COVID-19 protocol in mind.
Regardless of how the event is held, Cross anticipates a high turnout and continued success for the rest of 2022. "Customers are looking forward to having something normal back," she says. "It's going to be so nice to just be there with other people." 
Related stories