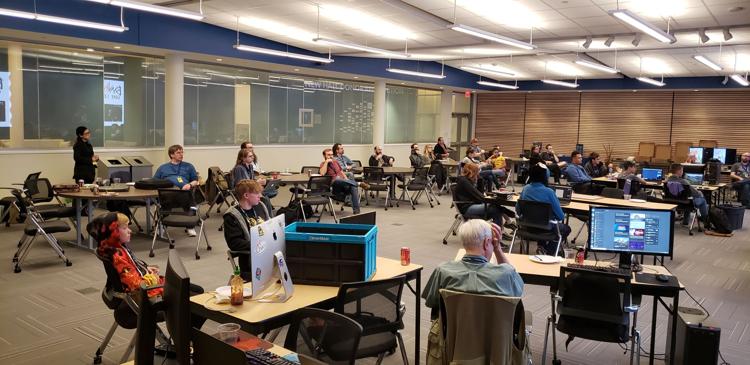 On Sept. 1, 2017, Walker Perkins walked into his first Game Jam, a biannual event where entrants race against the clock to build functioning video or board games from scratch. The event was hosted in Columbia, but these kinds of game-creation festivals and competitions happen across the country.
Sean Lander, a developer at Space Shark Studios and CEO of CoLearn VR, helped start the CoMo Game Dev Association, which now hosts the Game Jams. Lander says Columbia was in need of this kind of gaming event. "We have a ton of people in town who make games … and none of them knew each other," he says. "All of them thought that they were the only ones in town interested in it."
CoMo Game Dev provides resources for its members: a monthly newsletter that goes out to over 250 people, scheduled talks with other developers and more. The association uses Discord, an online software for voice and text chat, so the server's 100 users can ask questions, share their work and see what events are occurring within the local game community.
Rated E for everyone
As an amateur game designer, Perkins wasn't entirely sure how he would match up against his competition. This wasn't his first time making and designing games. He created five or six unfinished games and then began using the programming engine Game Maker. Of these early attempts, Hover Havoc is the only game he considers playable. 
But developing these video games was something Perkins enjoyed, so when he learned about Columbia's Game Jam, he formed a team with his cousin Al Howell and his friend Bob Hibbs and excitedly signed up for the event. It was their first time developing using the Unity program. "We just kind of came to learn the ropes, [and] figure out how to develop in that software," Perkins says.
The board and video games built at Game Jams must relate to a theme. During Perkins' first Jam, the theme was "rituals."
The Jams start Friday evenings, and competitors show off their games 40 hours later through bleary eyes as they drink the last drops of coffee or soda.
Gamers at the competition have just over a day and a half to create a fully functional, playable game. "It's great to go in and judge them," CoMo Game Dev Association President Jay Sparks says. "It's like, how did you even come up with this mechanic and this idea in 40 hours, much less actually accomplish a playable tier?"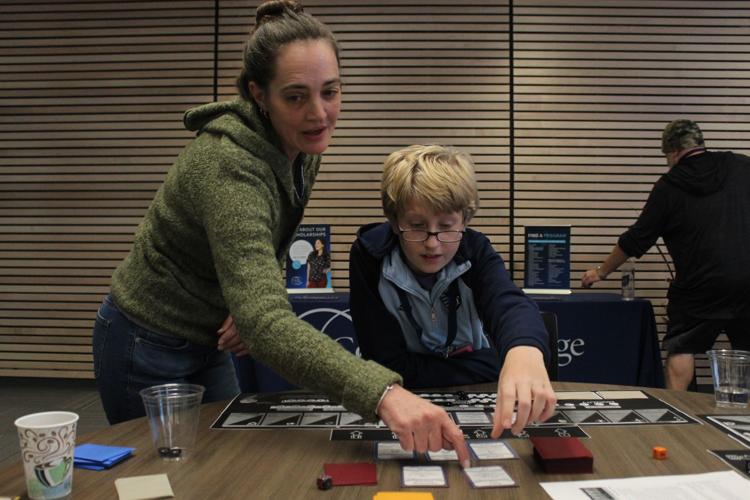 Good game, good game
Prizes for video and board games are awarded at each Jam. During Perkins' first year, his team won the "Best Video Game" award for Handsy, a game where you use a disembodied hand in a side-scrolling puzzle game. The next year, the team earned a second win and launched a company, Bravado Game Studio, based in Columbia, which is currently selling Centroid, its first marketed game.
"Defend your planet from the catastrophic end of the universe," says the game description on its website. "Blast asteroids, avoid collisions, use power-ups — and get a high score!" All movement in Centroid is orbital. The player's ship moves around the planet, as do the enemies. Punnily enough, the orbital game is a "spin" on the classic space-shooter genre. It's comparable to Galaxy Attack or the old-school Galaga.
Perkins attributes his game's success and his professional trajectory in the industry to the CoMo Game Dev resources and support. 
Soon after Perkins created his company, Lander asked Perkins if he wanted to join the board of directors for CoMo Game Dev. He also invited Perkins to be the chief design officer for CoLearn VR, a software that is bringing virtual reality headsets into the classroom to provide more interactive learning opportunities.
Perkins says he knows the gaming community is perfect for anyone looking for support. "No matter your age, no matter your skill level, it's a really open and helpful group of people if you don't know what you're doing," Perkins says. "It's a completely collaborative environment."­­­
Related Stories