For thousands of years, murals have been a way of documenting history and reflecting the values and ways of communities through public art. 
"I would consider cave paintings to be the first murals, if you look at the history of cave paintings and humans wanting to make a mark and document their existence," says Catherine Armbrust, adjunct assistant professor in the MU School of Visual Studies. 
Some murals, such as the recently removed Boone County Courthouse murals by painter Sid Larson, show how murals can represent cultural shifts and changing values. 
Columbia's public spaces are decorated with murals that document its people and the values they want to share. Paul Jackson's prominent mural at the corner of Broadway and Hitt Street reminds Columbia citizens of the beauty and value of nature. David Spear's recent mural of John William "Blind" Boone, an influential Black composer and pianist, on North College Avenue documents the history and importance of Black artists from mid-Missouri. 
Murals provide the opportunity for individuals to connect with Columbia's history and the broader community. Vox spoke with several mural artists about the many ways murals can impact a community.
Engage the community
Although murals can be painted by just one person, they inherently engage the community.
Local artist Adrienne Luther painted a mural this June in Flat Branch Park of children holding hands and playing together. She wanted the mural to be a celebration of Columbia citizens returning to the community as more individuals became vaccinated against COVID-19.
Luther says painting the mural allowed her to connect with other artists as well as Columbia's homeless population.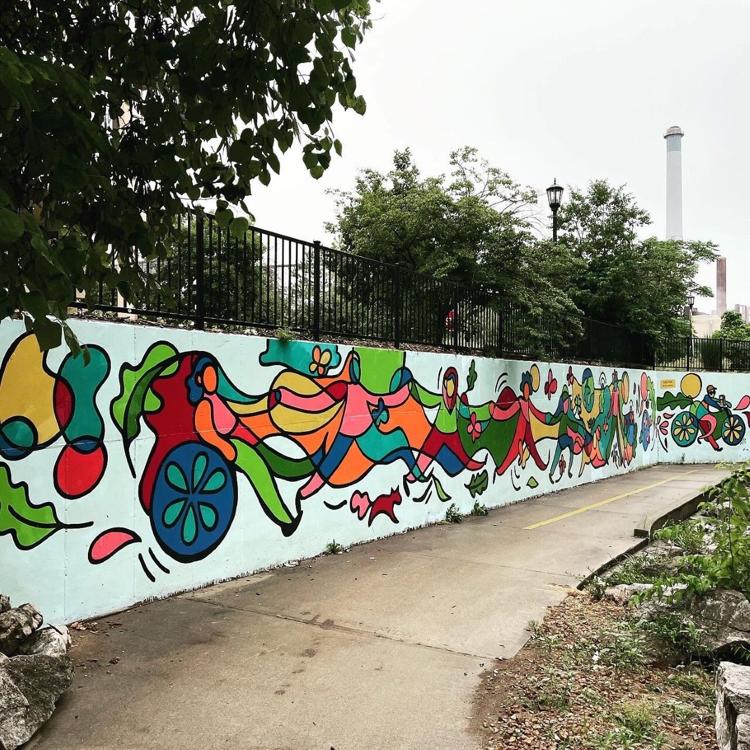 "Even if we all stalled out for about a year and a half, there's still these common gathering places that aren't going anywhere," Luther says. "It was a really nice exercise to do especially because I had some help and I connected with some of the homeless population that lives down there."
Lisa Bartlett, another local artist, has also worked on a mural that allowed her to connect with the community. Bartlett designed a mural in 2011 for the Roots N Blues Foundation's Blues in the Schools program, which worked to teach music history in local educational programs. Bartlett designed the mural, located outside of the Columbia Academy of Music, with the help of local elementary school students. The students drew pictures of musicians on paper, and then Bartlett decided on about ten of the drawings to include.
"That's what's cool about public murals. You get the community engaged," Bartlett says. "We got a construction company that donated scaffolding, and then people from all walks of life came and volunteered to do the painting."
Encourage collaboration 
Luther says mural work also allows her to connect with local businesses in town. During the height of the pandemic, Luther says she worked with many local businesses that used their Paycheck Protection Program loans for art.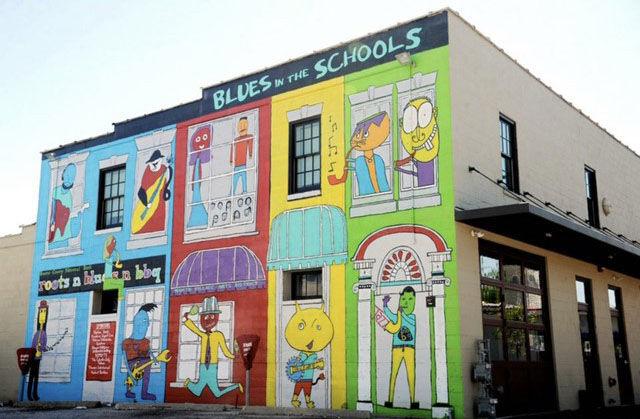 "I've gotten to connect with a lot of the small business owners in town, and it's really felt like such a community," Luther says. "There is a network of small businesses that want to work together to keep each other afloat, and they also want to support local art and have that integrated into their business."
Some property owners and businesses donate walls for muralists to use. For Bartlett's Blues in the Schools mural, local property owner John Ott donated the wall to support the project.
Local artist James Hopfenblatt began doing murals in 2012 when he was asked by a landlord to paint a mural for an art walk event. After the art walk, Hopfenblatt asked if he could paint murals on the sheds on the landlord's property on Rogers Street. The landlord granted him free reign to paint graffiti murals on the sheds.
"Having those sheds and having those walls, I would sometimes bring people that were passing through Columbia that I knew that were also graffiti writers or artists, and I would tell them, 'Hey let's paint a wall together,'" Hopfenblatt says. "It became a place where different people painted."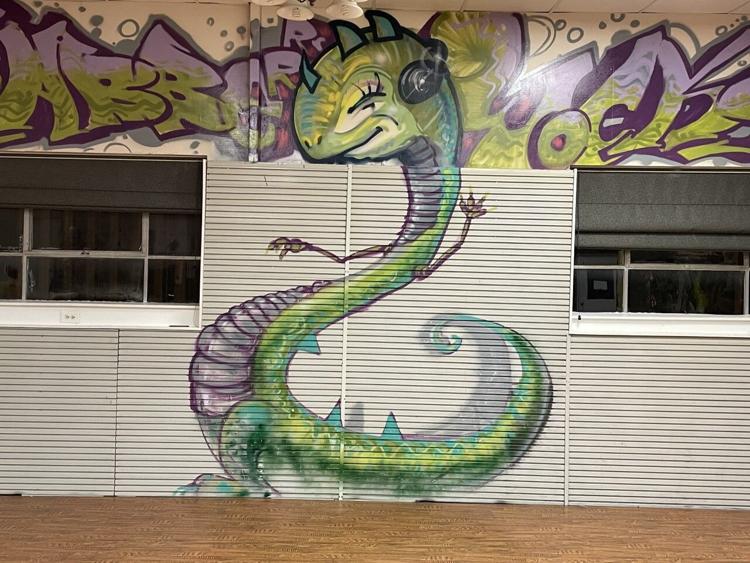 The landlord who owned the sheds has now sold the properties and Hopfenblatt's murals are no longer on display, but he has done other graffiti murals for places in town such as Jabberwocky Studios.
Make it home
Murals are also a way of giving back to the place we live. Local artist Cristina Núñez says that murals can provide spatial awareness and a sense of uniqueness that these spaces would not have otherwise.
"That place is that place and cannot be another," Núñez says. "They give orientation and a sense of place."
Núñez, who grew up in Venezuela, used to do large-scale paintings on canvases, but when she moved to Columbia, she no longer had those materials and wanted a way to give back to her new home. She painted a mural of a vase of flowers outside of local business International Cafe as well as one on a building at Four Oaks Farm.
After relocating several times due to the economic and political climate of Venezuela, she says painting floral murals in Columbia is her way of decorating the city to feel more like a home.
"Anytime I move, I just feel at home when I start painting someplace and when I have plants and flowers around," Núñez says. "Putting big paintings of plants outside is like a plant I'm putting in my new house. It's to feel at home."
Related Stories