MU sophomore Marjai Neal recently achieved something unique to most college students. She sold her poem, "My Dream Home," for $11,000 at an auction.
The virtual art auction was a fundraiser for HALO, Helping Art Liberate Orphans. The Feb. 26 event raised over $650,000. Several pieces were auctioned, including sculptures, acrylic paintings and poems created by HALO kids and alums.
HALO is an international organization headquartered in Kansas City that gives homeless youth the opportunity to express themselves through creative means. Rebecca Welsh founded the organization 16 years ago after she returned to Kansas City from a mission trip to Honduras. There, she'd met a group of children living on the street. Since then, the organization has built the nonresidential HALO Learning Center in Kansas City, operates a transitional living program for girls and started a boys program that focuses on after-school support in Jefferson City. HALO has branches in New York, Mexico, Uganda, Kenya and India.
Methods of healing
Kids in the HALO program are learning life skills, which include studying, budgeting and self-discipline. HALO emphasizes its main pillars of housing, healing and education instead of pressuring children to open up when they aren't comfortable.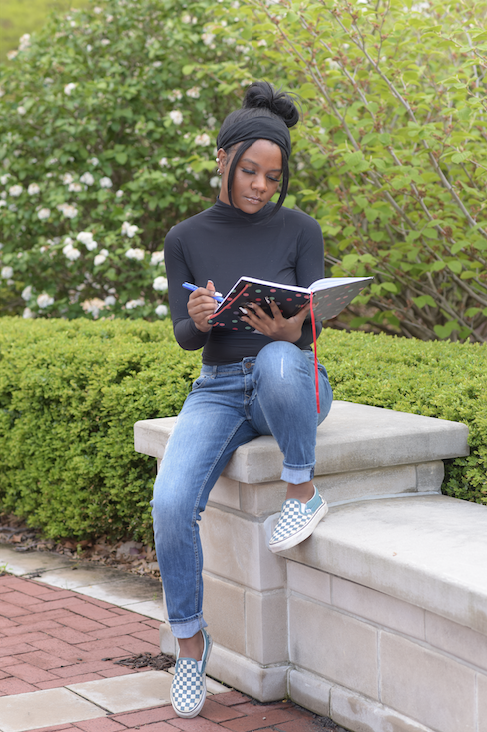 One important aspect of working at HALO is meeting youth where they are and applauding their accomplishments, says program director Carly Schultze. She manages both the domestic and international HALO programs. "We celebrate a lot," she says. "In the same day, we could celebrate a kid that woke up on time and got to school, and later that day we're celebrating a kid that just got their very first apartment."
HALO puts an emphasis on using art to assist with the healing process. "Art is more like a tool that we use for processing trauma nonverbally," says Kansas City program director Alayna Howard. "A lot of the time whenever we're meeting kids that are living in other organizations, by the time they get to HALO, they've had to just tell and retell their story over and over." She manages relationships with community partners by organizing educational or therapeutic programs with agencies that serve homeless youth or by reaching out to youth who aren't affiliated with an agency and providing them with educational and future support.
Over the past three years, HALO has been expanding into the residential side of care through a pilot housing program. HALO's next steps involve a capital campaign that will expand its Kansas City housing, Schultze says. Partnerships with homeless shelters and other agencies taught them that Kansas City needs more available housing to provide better long-term support.
Neal says she still remembers the first interaction she had with HALO over a decade ago, when she turned shirts into backpacks for a workshop. "It was the coolest thing my little 9-year-old eyes had ever seen," she says. "The people were so kind, and you could tell they genuinely cared. It wasn't pity."
After her poem sold, Neal also got an interview with Oprah Winfrey, which was coordinated by Welsh. "I wasn't expecting that," Neal says. "[HALO has] known the things that I've been through and the things that I've had to overcome, so them giving me my roses touched my soul."
Like a family
Even kids who begin the program at an older age feel like they're being cared for. Madison Thurman, HALO alumna and artist, started doing art therapy at the Learning Center at 18 years old. She recalls how the HALO staff nurtured her love for art. They helped connect her with an art gallery and taught her some industry basics.
HALO supports people in a way that makes them feel included, Thurman says. "HALO is just a family all together. Everyone makes you feel welcome. Everyone is there when you need to talk. I can't really say one person is a mentor. Everyone is. They're all there to guide you to where you want to be and they're not choosing for you." 
Related Articles