Columbia musician Lou Nevins has played in a lot of bands in his life, but none are as personal and close to his heart as Fumes. The indie rock music project is the brainchild of Nevins, and In My Skin, Fumes' fourth studio album, was released in November 2019. The band is made up of his friends Stella Peters, Charley Waddill, Andy Rehm, Travis McFarlane, Brock Johnson and Tony Zager. Different artists are featured on each album. Nevins talked to Vox about the songwriting process for this album and what went in to the February album release party.
First there is a spark
Nevins is the lead vocalist and guitarist of the group. "I was always just enamored by people who play music," Nevins says. Growing up in Columbia, his parents played music around the house and took him to live shows. Hearing music on an intimate level early on made Nevins realize that if others were doing it, he could do it, too.
The newest generation
Nevins says Fumes is a name with more than one meaning. Exhaust fumes, vapors or reflections of anger are all within the realm of possibility. Much like the multi- layered name, each album Fumes has recorded has featured different musicians. Wil Reeves owns Centro Cellar Studio near Business Loop 70 and has recorded most of Fumes' songs. He's also seen firsthand all of the different musicians to play in Fumes over the years. "Initially, these are songs written in a certain way that gives it legs to evolve," Reeves says. "But Lou himself has certainly evolved; the cool thing with Fumes is incorporating Stella into it."
Stella Peters is the newest addition to the group. She and Nevins met at a karaoke bar, and Nevins asked if she'd like to be on the album. "It's almost like her voice was always meant to be there," Reeves says.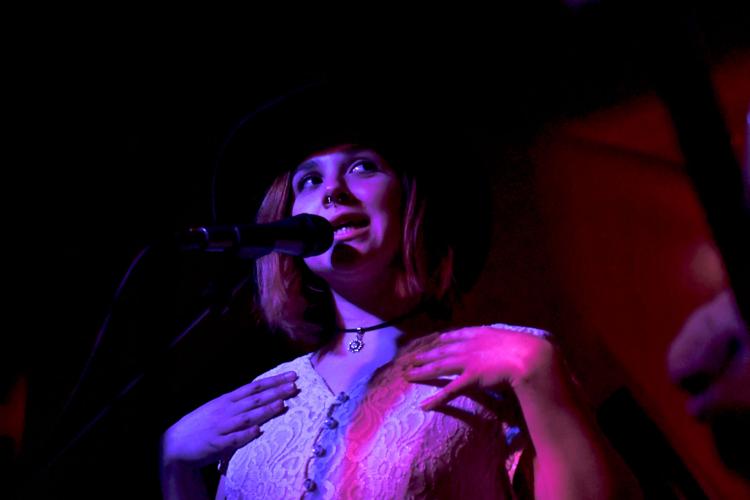 Lyric therapy
Fumes is a departure from the other bands Nevins has been in. He describes his past bands as much more rock 'n' roll while Fumes has a more mellow sound. This band is also the most personal project Nevins has worked on, and he describes the songwriting process as a sort of self-therapy. The title track, "In My Skin," is a slow-burner of a duet, with goosebump-raising lyrics like "It's OK if you kill me as long as you wear my skin." In contrast, the album opener, "Them All," is an upbeat ballad about embracing one's feelings.
Playing in a personal space
Although Nevins has played hundreds of shows in his life, Fumes only started to play live in the past year. Nevins says Fumes has played about 10 shows in Columbia, mostly at Cafe Berlin and Cooper's Landing. The band's album release party was at Cafe Berlin Feb. 28, a comfortable and familiar (and available) venue for him. Concert-goers got their own copy of a CD and a digital download for going to the show. Fans old and new crowded in front of the stage and swayed along to the new songs.
You can stream In My Skin on Bandcamp now. If you missed the album release party, no worries. Fumes' fifth album is already underway.
Related Stories