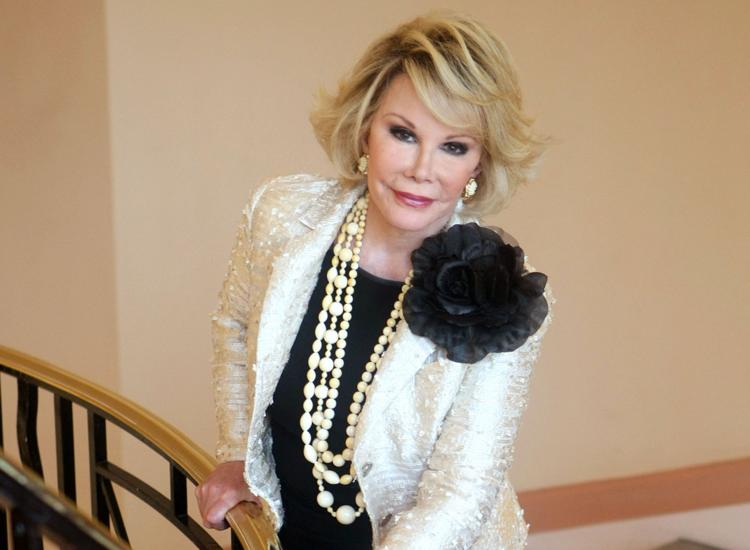 On Thursday, comedian Joan Rivers died because of complications from a routine procedure on her vocal cords.
Rivers, 81, is remembered as a legend who broke barriers for female comedians and made audiences roar with laughter from her outrageous, no-apologies humor. She's best known as being a former host of "The Tonight Show," starring in the reality show "Joan and Melissa: Joan Knows Best?" with her daughter Melissa, and, of course, verbally ripping celebrities' outfits to shreds during red carpet interviews and her show "Fashion Police."
However, Rivers truly was in her element during her stand-up routine. I was lucky enough to see Joan Rivers perform stand-up in March 2013 at the Missouri Theatre.
Before then, I had always considered myself a fan of the comedian. But after that performance, I realized I had just witnessed one of the greats.
Fittingly dressed in black and gold, Rivers wowed the audience from the beginning with her high-voltage smile and jarring one-liners. Her stand-up had the perfect balance of laughing with you (always at the expense of a celebrity) and laughing at you. "What? You think I wore this black and gold for you? I do this for every school," she delivered with an eye roll.
She was 80 years old when I saw her, but she had the vitality, spirit and wit that even I, at 21 years old, lack most of the time. At one point, she even climbed on top of a piano to demonstrate, well, one of her cruder jokes.
The audience was packed with two groups of people: older fans who remember Rivers from her "Tonight Show" days, and college-aged students who worshipped her co-hosting gig on "Fashion Police." What's amazing about her stand-up is that despite the audience's variety in age and previous exposure to Rivers, every single person was literally heads-back, hands-clapping, nose-snorting laughing. Her routine was electrifying, and in that moment, it seemed like she would be doing it forever.
I'll always cherish that 90 minutes I spent in the same room as a legend. Luckily, Rivers has left behind red carpet interviews, documentaries and numerous best-selling books to keep her fiery spirit alive.
[gallery type="slideshow" ids="59719,59718,59717,59716,59715"]
Photos courtesy of AP
Joan Rivers and her impressive career have inspired and affected her fellow comedians and stars. When Melissa Rivers announced on Thursday that her mother had passed away, an outpour of dedication and reactions from celebrities flooded Twitter feeds.
What are your favorite memories of watching Joan Rivers and what did you enjoy most about her?