In March, KOPN faced a choice: automate or temporarily go silent. "I realized, 'crap, we're not going to be able to have volunteers in here,' " KOPN's general manager Tim Pilcher says. Unlike most modern radio stations, KOPN typically operated with someone in the studio 24/7. Pilcher says around-the-clock, manual operation is rare in radio, but choosing not to automate fit KOPN's philosophy of involving community members in radio production.
"As a community radio station, part of what we do is train people and give people a voice to be on the air," Pilcher says. "Why would we want to go automated when part of our mission is to give people access to the airwaves?"
Powered by people
KOPN's designation as a community radio station means it depends on a staff of about 80 volunteers — about 80% on-air and 20% behind the scenes — as well as funding through donations and grants. In contrast, commercial radio is primarily funded by advertising and produced by paid staff, which allows for a more rigid broadcasting schedule.
But in mid-March, the pandemic forced KOPN to automate to protect the health of its volunteers and staff. Pilcher bought automation software and prepared KOPN for remote broadcasting. The station was automated by the time the city's stay-at-home order went into effect March 25.
At first, KOPN needed to rerun old programs to fill time slots, but within a couple of weeks, Pilcher says the station was regularly producing new content. Pilcher developed protocols for volunteers to produce their programs at home, and, by April, he was devising a plan for production to resume in the studio. KOPN volunteers have had the option to record their programs in-studio on an alternating weekly schedule.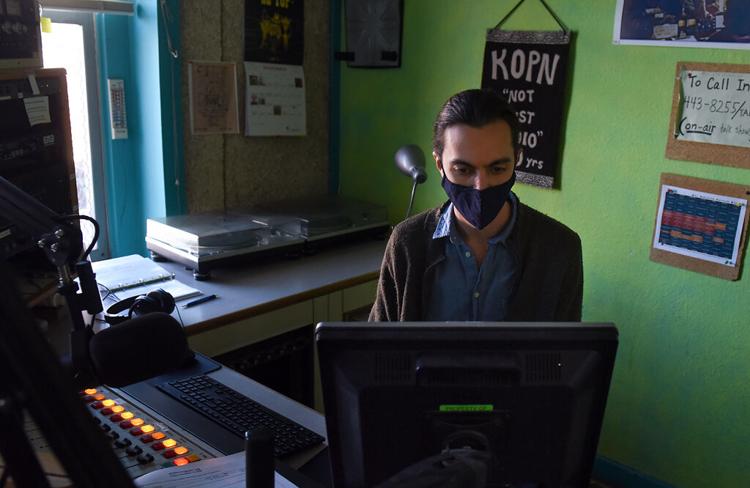 Live...from home
Diana Moxon, host of KOPN's weekly program "Speaking of the Arts," is one volunteer who has continued recording from home. She says her biggest challenge has been achieving consistent sound quality, but there have been multiple silver linings overall in her experiences with remote radio.
Producing her program remotely, she says, has allowed her to interview guests from outside Columbia who would not have been able to travel to the studio. "In terms of getting a hold of people, in many ways it's easier because all they have to do is be on their computer at a certain time," Moxon says.
Pilcher says he has also seen positives to remote production. Producing at home has prompted many volunteers to develop new recording and editing skills, he says, which has led to better programming at the station.
KOPN has also been able to debut new shows since the start of the pandemic forced the station to move to a hybrid model. Dr. Elizabeth Allemann, who has volunteered at KOPN for about 15 years, hosts "Your Health Matters" with a few other local physicians. The program invites guests from the community and around the world to discuss public health and its challenges.
After the pandemic hit, a friend recommended that Allemann host another show to help the community understand the pandemic. Allemann says she pitched the idea to KOPN, and the twice-weekly "Community Pulse" program was born.
Allemann says her goal for "Community Pulse" has been to keep people informed by providing a local source for updates on the pandemic. Local policy makers, public health officials and the Columbia Public School's superintendent have been among the show's guests to discuss topics that have ranged from safe gatherings during the pandemic to the benefits of education outdoors. Allemann says the community has responded to the program with interest and gratitude. She says she predicts that "Community Pulse" will last for at least another year, but she is taking things one day at a time.
"It's possible that the community will feel well enough informed about COVID that they won't need these things, but the science is evolving all the time," Allemann says.
Keeping radio on
Despite the economic impacts of the pandemic, Pilcher says KOPN has not faced funding issues. Its primary source of funding comes from three annual pledge drives. The June drive, which normally lasts a week, lasted just one day this year because volunteers were unable to be at the studio to answer phones. But Pilcher says the station raised $15,000 more than its goal of $20,000 during that June pledge drive.
"I think part of this is because when the pandemic hit, the community started to see the value of KOPN and community radio," Pilcher says.
"When you're at home, one of the things you can do is tune into your community radio station." Pilcher says that listeners can hear the community's music, ideas and interviews. "On KOPN, it's a relationship," Pilcher says.
Related Stories