When Lizzie Germann left Columbia for Los Angeles, California, in 2014, she expected to eventually work her way into her dream job as a TV show writer.
She didn't expect to be at the mercy of a film industry where success is based around backdoor deals and personality instead of merit.
"It's so much more about who people want to work with over their actual skills," Germann said. "There's like a constant quid pro quo going on. I feel like the whole industry is built on that idea that people do things to owe other people things in the future."
She spent five years working entry-level jobs in hopes of networking with industry insiders and getting a writing position. She was still not getting the opportunities she hoped for, even with a graduate degree in screenwriting from Loyola Marymount University. She later snagged a job as a studio's mailroom assistant but eventually decided to return to Columbia.
"I thought it was in my best interest to not participate for some amount of time, you know, to move out," Germann said. "I knew that there was a film industry [in Columbia.] There are people doing things here, and I knew that I could at least find people out here who might be interested in working with me."
Germann's decision to return to Columbia is indicative of how smaller film industries can be viable options for filmmakers. Matt Schacht, owner of Peace Frame Productions, said the local industry offers great experience for young filmmakers like Germann, as well as a more welcoming environment for a long-term career. He said many Columbia locals are willing to support filmmakers' endeavors.
Within a month of arriving in Columbia to pursue filmmaking, Germann found work through a series of projects with Schacht. One of the projects includes a documentary about the Missouri Symphony. She said getting opportunities here was easier than in L.A.
"It's not like it's not hard out here," Germann said. "Production is always hard and writing is always hard. One thing I found out how to do in L.A. was just find people and find names."
While Germann sees smaller film industries as a great place for young filmmakers to start their careers, Schacht sees it as a place to settle his roots.
As the owner of Peace Frame Productions, Schacht has worked in Columbia throughout his career. He believes the local film industry suits filmmakers "who know the kind of film they want to make or want to remain dedicated to their craft." He said the local film industry has the potential to grow, but it needs leadership to bring projects together.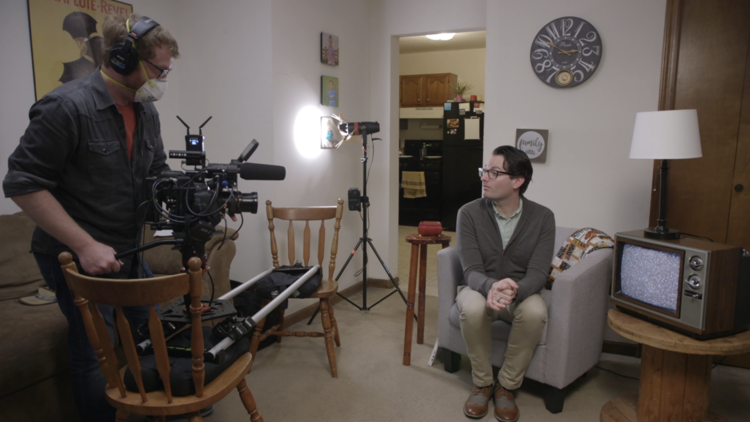 "Feeling like you're part of the film is what's going to make Columbia excited about filmmaking. Maybe [it's] a story that features local places, local people that you know about that you see every day," Schacht said. "I don't think that that has happened yet consistently. When it does, I think this film industry that we're talking about, it could grow a lot more."
Adam Boster, who worked in L.A. for 10 years, is another filmmaker who has seen the benefits of local filmmaking over the traditional Hollywood industry. As a Poplar Bluffs native, he has been working to cultivate the state's independent film economy for the past two decades.
"I'd like to be able to build the dream of filmmaking where I live and not have to uproot myself and my family to some other part of the country just to pursue this industry," Boster said.
MU film studies professor Michael Coleman said one of the challenges the local film industry faces is people leaving for bigger industries.
"People are coming here to go to school and then they're looking for jobs elsewhere and then leaving town," Coleman said. "If people were to stick around, we would have to create jobs here within that field, you know, but until people stick around, there's really no point."
Despite the smaller scale of the local film industry, he said he has seen an increase in the film community in Columbia over the past six years. He believes there is still a market for local, independent films made outside of the traditional studio system.
"One thing that local filmmaking provides is an opportunity to see stories that are being told, specifically with a kind of Midwestern attitude, or dealing with things that are relatable to our experience as people being from the Midwest," Coleman said. "In that sense, I think that local filmmaking is extremely important."
He believes part of the increase in Columbia's film community stems from the popularity of the True/False Film Festival and MU investing in programs like film studies and documentary journalism. The True/False Film Festival attracts filmgoers from Missouri as well as those from across the country and world, but the interest goes further than an annual festival. Ragtag Film Society has been screening independent films in Columbia since 1998.
Independent films are gaining acclaim nationally as well. For example, "The Wake of Ire," directed by MU IT faculty member Brian Maurer, won the Indy Film Festival's Best American Spectrum Feature Film Award in 2018.
Boster has worked to foster Missouri's film industry by creating films that utilize local talent and are shot in the state. This year, he created streaming platform GreenLitGo as a way to help independent filmmakers fund, complete and sell their films directly to audiences. Since moving back to Missouri, he has directed films like "Lost Treasure of Jesse James" with a team of 400 local volunteers.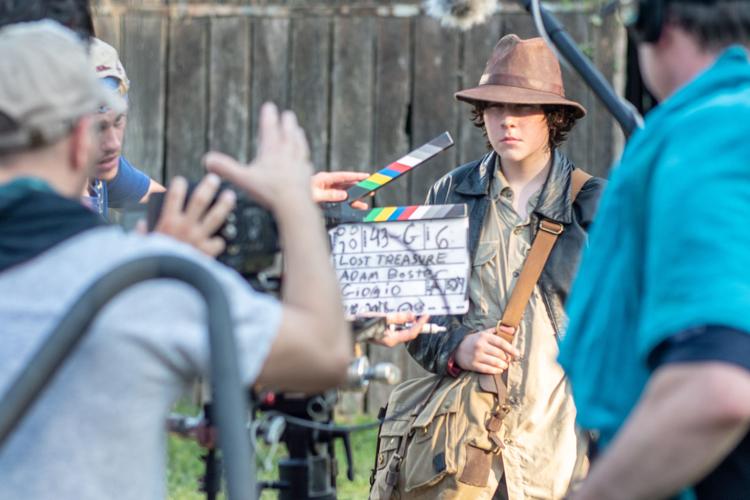 "If we can continue to produce content that's marketable and the public actually purchases it, then we can give Hollywood a run for their money," Boster said. "With one film we're not going to be able to create an entire economy, but that's why we're making other films."
His goal is for other industry leaders to see his initiative to create successful films in Missouri and be inspired to do the same. While Boster is well-established in his career, Germann is gaining experience in Columbia's film industry in hopes to return to a bigger industry like L.A. again.
"I think a pure artist, if you will, cares about always being better and challenging themselves always. You might have to engage in the bigger industry at some point if you want to do that," Germann said. "I kind of think I did this in reverse. I think I engaged with the industry early on, and if I continue to make films, I hope to get to a point where I have to engage with it a bit more later."
For now, Germann and Schacht are filming their Missouri Symphony documentary while practicing social distancing. They plan to release it between 2021 and 2022 and hope to offer a local screening.
Related stories