Director and MU assistant professor Kamau Bilal's short film Baby Brother follows his youngest brother, Ismaeel, who returns to his family home in Columbia via Greyhound bus.
Ismaeel, the short's protagonist, can't seem to catch a break. Upon his return from "the city," his mother tells him he needs a haircut. He resists. With the weight he's gained, he says, a haircut will "make [him] look like a little chubby boy."
At 23 years old, Ismaeel is the youngest of three brothers. The film follows his clinging to the sort of recklessness and adventure that comes with childhood. During his stay, Ismaeel breaks a drinking glass, a lawnmower and a car. He seems out of place in the home of his youth.
In one scene, Bilal's Canon c300 watches Ismaeel repeatedly jump off the roof of the house. He eventually breaks his heel bone.
"When you're young, there's the sense of invincibility that you have," Bilal says. "You think the world really is your oyster, and you can take it and have it, but time passes really quickly and sneaks up on you in a way."
Ismaeel explains his fracture to the doctor. He was "trying to relive something I was doing when I was younger and then failed."
Bilal filmed for a year and a half with his brother, and the film captures the painful experience of resetting one's life. Ismaeel is no longer a child, but he is in his old room. A close-up shot of a wasp trapped on a windowsill describes how Ismaeel feels without words.
One of the only outings the brothers take from their home is to a concert. The musician on stage repeats, "I'm gonna be something." The audio plays over a resting Ismaeel, as if the mantra repeats in his head while he moves recklessly through a new life.
In an interview with Vox, Bilal recalls his own experience moving back in with his family as a 20-something. "I went home, and I remembered everything just looked different," Bilal says. "Who was this person that I used to be that I am no longer?"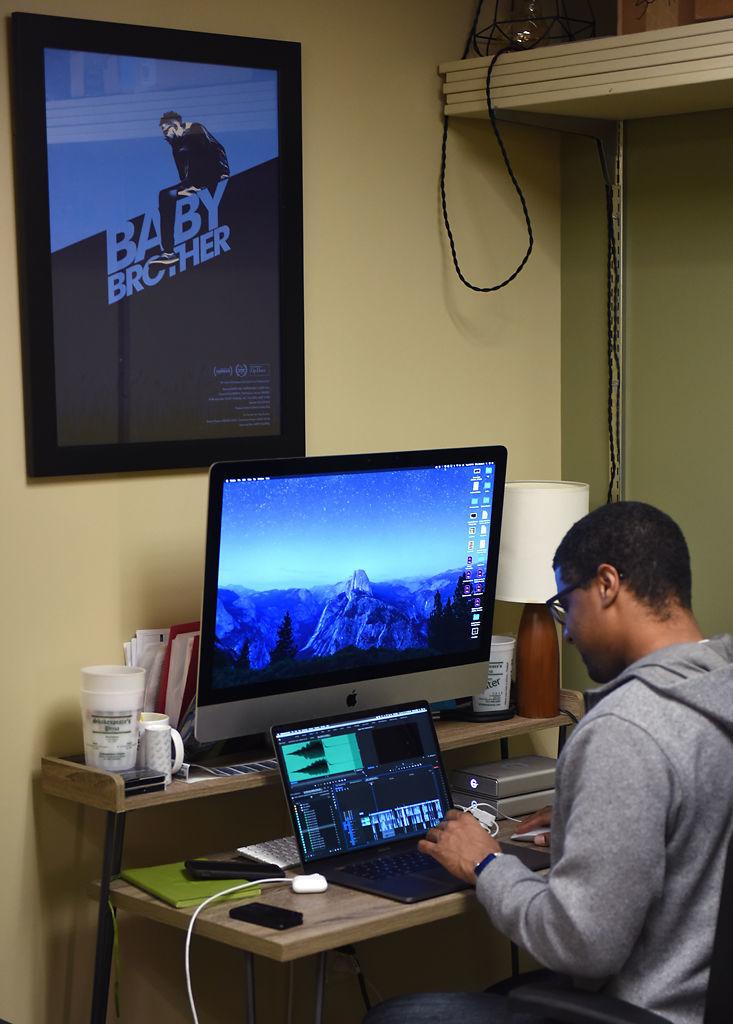 Ismaeel has a grounding moment of reflection when holding Bilal's newborn child. In an intimate scene shared between uncle, nephew and brother, the camera captures Ismaeel's surprising response to the pureness and fragility of new life resting in his arms.
The child reminds Ismaeel of the passage of time and the inevitability of change. After several minutes, he says: "There I was thinking I got all this time. I thought I was gonna be a teenager forever."
Though the film was first released in 2018, the context of quarantine and graduation give it a particular sense of urgency, poignance and relatability — even down to an eventual at-home haircut.
Although Ismaeel saved enough money living with his parents to move to Chicago in 2017, at the start of April, he, like thousands of Americans, lost his job and was forced to move back home.
Bilal visits his baby brother often and says Ismaeel likes living among the trees and out of the congestion of the city for a change.
As many people struggle with being cooped up at home and others find themselves needing work and having to reset, Ismaeel's pursuit of peace in Baby Brother shows beauty and frustration in a trying yet temporary time.
Bilal himself has struggled with the feeling of hopelessness during quarantine. He's working on writing a fiction project. Early on, he wondered why he wasn't inspired to write like he had been before. "I put a lot of pressure on myself and was really hard on myself too," Bilal says. "But life has actually changed. I think it isn't a time to write, but it's a time to reflect."
For many, quarantine has meant a loss of something, whether it's a job, a birthday celebration or hope itself. Baby Brother reminds its audience to take the pressure off and accept change.
Ragtag showcased Baby Brother Bilal's two other documentary shorts, Crown Candy and What Kind of Man, on May 14. The films and the Q&A are available to watch here.
Related Articles