The scrolling credits at the end of a movie can be one of the most exciting parts of a film for crew members without acting roles.
This is something Dustin Hawkins of Retro Hawk Productions knows well. His latest directorial project, Eat Organic, which was filmed in Columbia on Oct. 8, incorporated the behind-the-scenes work of many local volunteers. The film is based on the premise that processed food has turned most of the world into zombies; only people who eat organic remain human.
To pull off this project, Hawkins teamed up with many talented Columbia residents, including makeup artists, actors and a fight director. He also worked with local haunted house company NecroPlanet. Hawkins plans to enter the final product, which will be about seven minutes long, in a few festivals and screen it at Ragtag.
Hawkins says working on the project was exciting. "Everyone around you is so talented and intelligent in their own way, and you get to be around all these people," he says. "It kind of feels like it rubs off on you a little bit."
Phillip Meece, fight director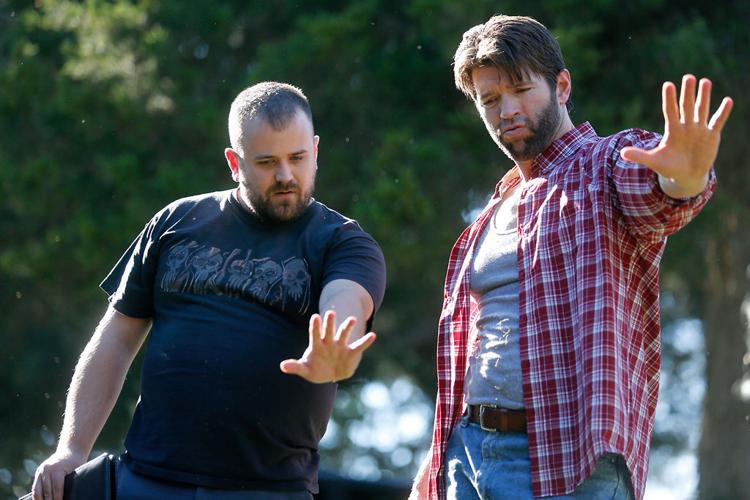 After learning the craft of fight direction and completing an internship with the Society of American Fight Directors, Meece added it as an emphasis to his theater degree at William Jewell College in Liberty, Missouri. He later became a combat medic to gain real-world experience. It's important to Meece that fighting be portrayed as traumatic. "When violence is portrayed unethically or irresponsibly, I feel like it harms society's view of violence and makes it easier for people to jump to violence without fully understanding the consequences," he says. Meece is back in school with plans to enter the medical field as a paramedic or physical therapist, which would supplement his fight directing work. This project is the third that Meece and director Dustin Hawkins have worked on together. About 80 percent of the film involves the main character fighting zombies. Meece can create a real, workable version of Hawkins' vision. Hawkins says, "I'll tell him the Hollywood version of what I want, and he'll give me the real life version."
Hailie Nickels, makeup artist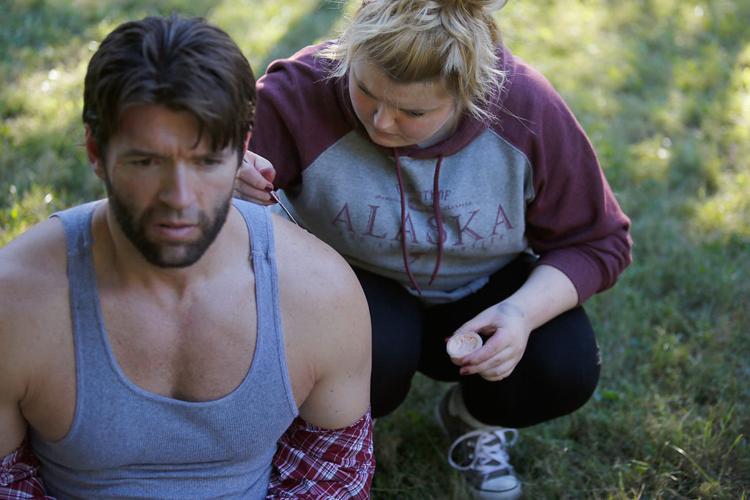 Nickels began designing makeup looks when she turned her friend into a mannequin with half of its face melted for an event at her high school. She started the project by doing research on the internet, where she still finds inspiration. As a self-taught makeup artist, Nickels says she uses YouTube and other online sources to develop techniques, as well as a lot of trial and error. Nickels works at NecroPlanet in addition to her work in film. Eat Organic was her first experience as head makeup artist on a film project. Communication among the other makeup artists was key; she gave them references for how she wanted the zombies to look. "It has to be cohesive," she says. By day, she pursues a criminal justice degree with a psychology minor from Columbia College. As for her future with makeup work, she would like to stay with NecroPlanet and continue to branch out with side projects such as film work. "But for the most part, I kind of want to keep it casual," she says. "I don't want to go super all out with it because I feel like I would kind of lose the passion for it if I did."
Larry Collins, actor, runner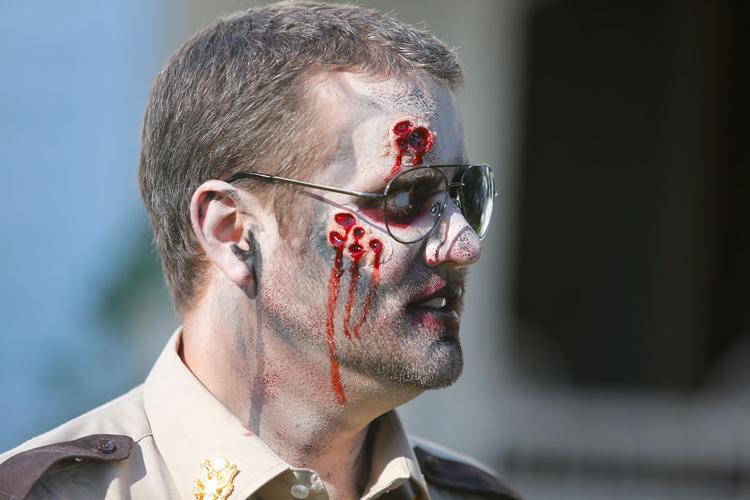 Collins began acting in middle school and enjoyed being on stage. Now, he works at the Truman Veterans' Hospital in Columbia and acts in theater and film on the side. Collins plays Zombie Cop in Eat Organic, but he also worked as a runner by helping at rehearsals and gathering materials. He's held numerous behind-the-scenes jobs for other films including sound, writing, filming and assistant directing. Collins says he's learned the different skills through a lot of trial and error. "Getting perspectives from every different kind of job there is for filmmaking gives you a healthy respect for what you need to bring to the table, what you need to do, what needs to happen to make this whole film project that you imagine in your head come to life," he says. Collins says his approach to a project is similar as an actor or a crew member; he wants to know the director's vision. The experience also affected his work as an actor. It taught him how to project his voice in the direction of the boom microphone.