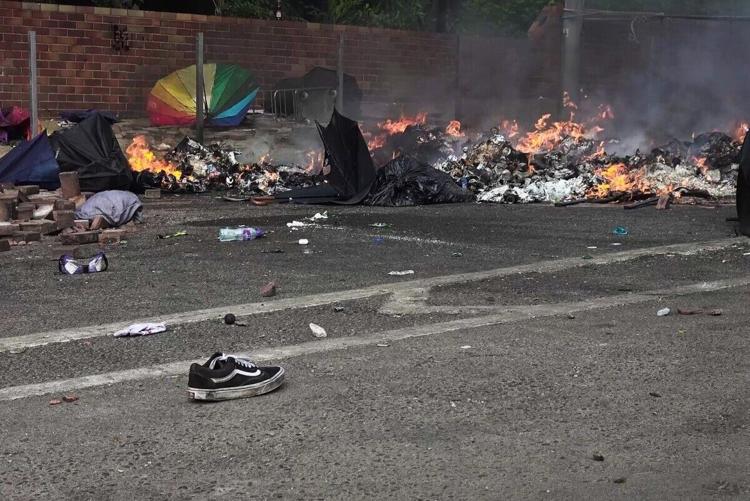 Inside the Red Brick Wall is a documentary film covering the 2019 protests that occurred in Hong Kong at the Polytechnic University. Students protesting a controversial extradition bill ended up in a standoff with the police, protesting the bill and advocating for freedom and democracy. The film was shot completely in first-person, by a group of filmmakers who remain anonymous to protect their identities from the police and the government. The film won the Hong Kong Film Critics Society Award for Best Picture of 2021 and was featured at this year's True/False Film Fest.
The cinematography in the film is excellent, putting the viewer directly in the middle of the protests. Barring one interview with a protestor who shares his concern for his life and his preparedness and willingness to face death, the film places the viewer as if they were one of the protestors at the university.
The film takes the viewer through the initial standoff and clashes between the two groups, showcasing the police playing songs with titles like "Surrender" and "Ambush from ten sides" that were used as an attempt to demoralize the students trapped within the grounds of the campus. The clashes are shown from right in the middle of the battleground, with filmmakers and other photographers/journalists asking for the names of those in the process of being arrested by the police, in an effort to deter any disappearances that could potentially take place after the fact, as canisters of tear gas and rubber bullets fly past the cameras.
After multiple attempts are made by the protestors to break through the siege of the university put on by the police, the exasperation and desperation of the protestors can be felt. The protestors use a self described "leaderless way" during the protests, with multiple members of the group utilizing megaphones to voice their opinions and ideas on what to do next.
And, while they are all unified in their cause, there are multiple voices and opinions voiced by the many trapped inside of the university. There are those that wish to break free as soon as possible, seeing no alternative other than attempting again to break through the barricade by force, and those who see holding off inside as long as possible as the only option.
The amount of footage gathered from the protests is astounding, and the choices of what to show to illustrate the brutality of the police and the resolve of the protestors is spot-on. Viewers can feel like they are getting an unrestricted look into what really happened during those days by being placed directly in the midst of the protests through brilliant footage and an intensely personal look at the trauma experienced by those protesting.
The next screening of "Inside the Red Brick Wall" is 8:30 p.m. May 8 at the Executive Drive-In.
Related Articles