Farris Knudsen gives a casual shrug when asked about his design portfolio, as if it were typical for a 22-year-old college student to have crafted cover art for rising and established rap stars. After using Instagram to send Photoshop fan art to rappers emerging in the SoundCloud music scene, Knudsen, who studies graphic design at MU, began creating album covers for artists — first Lil Uzi Vert, then 21 Savage and Gucci Mane.
In December 2015, Lil Uzi Vert was the first to notice Knudsen's talent. "Fire," the rapper responded on Instagram to a digitally manipulated portrait of himself, which Knudsen had made to fit Uzi's trippy style. Knudsen says he went "full fanboy" and saw this as a crucial opportunity. He told Uzi to let him know if he ever needed design or art direction, and the two exchanged personal phone numbers. This sparked a design career for Knudsen that he never expected, expanding his portfolio to include the following four covers.
"Money Longer"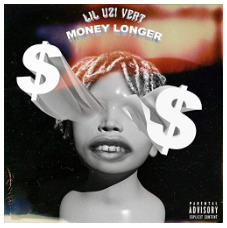 Two months after discovering Knudsen on Instagram, record producer Don Cannon asked him to do one of his first covers for Uzi's early single, "Money Longer," which dropped in February 2016. Knudsen's only direction was the title. He wanted to incorporate his own digital manipulation style, so he decided to create another portrait of Uzi but with dollar signs bouncing out of his eyes, like an old cartoon. This single was about Uzi realizing how much money he was going to make as a rising rapper, and Knudsen wanted to communicate that. "You have to get in their brain in a sense and keep in mind what type of album they're trying to create, what type of vision they want to set for it, and just get in their shoes," Knudsen says.
Lil Uzi Vert vs. the World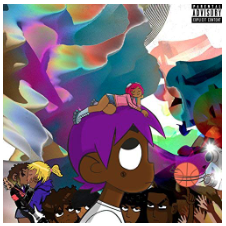 A couple weeks after Knudsen designed for "Money Longer," Uzi asked Knudsen to do the cover for his mixtape Lil Uzi Vert vs. the World. Inspired by the movie Scott Pilgrim vs. the World, Uzi wanted comic book-esque animation style similar to the film. Knudsen brought his vision to life with abstraction, featuring saturated colors and cartoon versions of Uzi and the rapper's girlfriend.
As the mixtape gained more recognition, so did Knudsen. Record producer Metro Boomin followed him on Twitter after Uzi gave Knudsen a shoutout on the platform for his artwork, and Knudsen sent him a message. The two quickly bonded over their shared hometown of St. Louis, and a few weeks later, he asked Knudsen to design the cover for 21 Savage's Savage Mode.
Savage Mode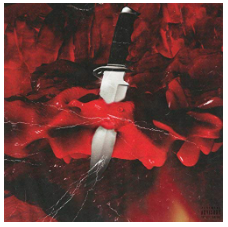 For Savage Mode by 21 Savage, Knudsen was simply told to create something red and bloody with knives. This gave him freedom to incorporate his own ideas and style. The cover features red tones and a hint of black, reflecting 21 Savage's dark music. A knife tears through a wave of psychedelic rose petals, and faded white lines are scattered throughout to create a vintage look. "I was a big 21 Savage fan during the time, and I thought his story was just so incredible and still is," Knudsen says. "That album alone really sent him into the mainstream, and I'm just glad I got to make a piece that was seen by that amount of people and had the results it did."
Droptopwop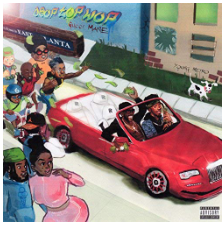 Metro Boomin, again impressed with Knudsen's art, asked him to do the cover for Gucci Mane's mixtape Droptopwop. Knudsen was instructed to base the cover on rap group Clipse's 2002 album Lord Willin'. Because Knudsen wanted to incorporate a drawing rather than Photoshop effects, he worked with Jared Calder, an artist he found on Twitter. Knudsen acted as art director, providing Calder with the essential thematic elements and guiding him through the process. "It was awesome because when you get to collaborate with another great artist on a cover and have the same concept in mind, it turns out a lot better," Knudsen writes in a text.
Two years after receiving that first response from Uzi, Knudsen is focusing on creating a more substantial career as a graphic design artist. He says he appreciates all he learned from being thrown into the process, but he wants to get more creative and branch out from the music business and the risks related to freelance designing.
RELATED