Apparently, I've been living under a rock for the past month — because Imagine Dragons has been teasing the Nov. 9 release of its fourth album for weeks, but I had no idea until I got the notification for it that morning.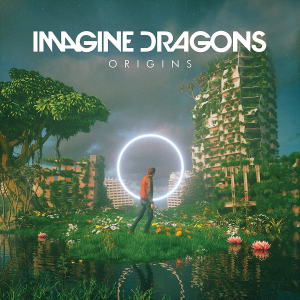 I became a fan of the band in 2012 when it released Night Visions and toured the album the following year. I saw them at a small venue in Dallas, and it still stands as the most fun concert I've ever attended — and I've seen Beyoncé. The band has an energy that you don't often see, and you can feel their emotions in every song.
But despite their status as the top streaming rock band of the year, Imagine Dragons continues to get mixed reviews. The Vegas-based band is known for crossing genres, and Origins can barely be categorized at all. From the dubstep vibes in "Digital" to the cool summer jam of "Cool Out," the album is all over the place.
That's not necessarily a bad thing, but many music critics are bothered by it. As someone who likes a broad range of music genres, I enjoy that aspect of Imagine Dragons. But genre-specific listeners might only like a few songs from Origins.
The 15-track album starts with "Natural," which was originally released as a single in July. "Natural" is very much the catchy, classic radio-rock anthem. It's a battle cry about being strong emotionally and mentally, but the music sounds familiar and overplayed.
The record's strength, though, is in its lyrics. All four members — Dan Reynolds (singer), Wayne Sermon (guitarist), Daniel "Platz" Platzman (drummer) and Ben McKee (bassist) — have been vocal through the years about personal struggles with mental health. Their music often tells the stories of their battles.
"Zero" was released Sept. 19 as a single from upcoming Disney film Ralph Breaks the Internet. It has a pop-like, happy tune that counteracts its very real lyrics about mental health ("Let me show you what it's like to never feel / Like I'm good enough for anything that's real / I'm looking for a way out"). It's heartbreakingly relatable whenever you feel empty and emotionless inside.
The final single, "Bad Liar," narrates the story of Reynolds' fluctuating year with his wife, singer Aja Volkman. After seven years of marriage, they had announced a pending divorce in April. But the day the song was released, three days before the album, they announced they were dating again. Volkman also helped write the song earlier this year. The electropop ballad beautifully tells of masking pain from a lover ("Perfect paradise, tearin' at the seams / I wish I could escape, I don't wanna fake / Wish I could erase it, make your heart believe").
"Bullet in a Gun" is my personal favorite from the album. The song is moody and unpredictable — but in the best way. It's lyrically powerful in discussing Dan Reynolds' depression, his bipolar disorder ("I'm high then I'm low, low / Stop then I go, go") and the pressures of fame ("To make a name, you pay the price / You give your life, no other way"). Toward the end of the song, he sings, "You only care about fame and wealth," then screams "Sellout" repeatedly. Whether the band is tearing down fellow artists or self-reflecting isn't quite clear, but it's compelling either way.
Origins is truly an album like no other. Even as a sister album to Evolve, it's highly impressive that the band was able to spin out 15 new tracks just a year later and before its year-long international tour of the third album is even complete. Critics might say the music is too mainstream, but the lyrics continue to outshine everything else on the charts.
Imagine Dragons knows how to have fun doing what they love while also pouring out their emotions discussing deeper subjects. Overall, the mixed genres and the mixed reviews don't get in the way of this great album, and I look forward to the next one.