Wearing hoodies and sweatpants, roommates Ian O'Neill and Andre Steward sit shoulder to shoulder on a couch in their apartment. Steward's hoodie is light gray with a font resembling slime. It reads, "SlumBums." The two Alpha Kappa Lambda fraternity members met during O'Neill's freshman year at MU.
O'Neill was introduced to some other members, who all were interested in rapping and making beats, including Steward. He began freestyling as O'Neill played beats on others' equipment. "I don't think anyone else in that room was like, 'Send me that beat you just played,'" O'Neill says about meeting Steward, who graduated last year. Before long, Steward was asking O'Neill for one beat after another, and eventually O'Neill moved into the fraternity house. "Then it just kind of snowballed from there," he says.
And that's also how Columbia's rap scene has developed.
Avid music fan and local artist manager William Walters threw a music festival in his backyard called Porchella in October 2019. Because of his prior experience jumping gates to avoid paying for a large three-day festival, Porchella was free to its over 250 attendees. "I wanted to create a platform that was big enough where people could come and just hear the music," he says.
Vox compiled a playlist of Columbia rappers. Listen to it on the Vox Magazine Spotify.
Walters had been managing a few artists at the time, but he realized he didn't want just one artist to blow up. "The thing that we're missing is the platform, that thing to bump everybody." One of SlumBums' earliest performances was at Porchella, where the duo met many connections they keep in touch with over social media.
"Everyone's against an algorithm," O'Neill says. "Why would we not comment, 'Oh, hey, this sounds cool.'"
Columbia is a melting pot. It has its own local culture, but the city is filled with college students from all over the world. That leaves it with a stew of different lifestyles, ideas and passions that spills into the souls of its residents.
"Everyone's just different in Columbia," says local rapper Anthony Chitwood, or Mighty Daxter. "Nobody wants to be normal here. And that's so cool."
Our nation's rainbow-haired and face-tatted rap scene has its specific look and lo-fi sound. Yet in the middle of the country, Columbia's scene strays far from having a group uniform, besides maybe a hoodie. With the nearest big cities being St. Louis, Kansas City and Chicago, lots of traffic meets in Columbia, as do rappers. This is what local rapper Nicholas Horton, or HFGhost, says makes the Columbia scene unique. "Everybody's going through," Horton says. "[The scene] is constantly changing, constantly evolving."
"There's not that one sound directing the whole wave," Walters says. "It's like if Vincent van Gogh and Salvador Dalí and all these artists just started battling it out. It's hard to say which one's better. None of them have the same style."
Having lived in Columbia for the majority of his life, Chitwood knows most local rappers. "We all talked about how we got to stick together to come out," Chitwood says. "In Columbia, it's way too small to compete against each other, and we got to come together."
Some Columbia rappers were lined up to play shows and festivals last year, but it was all brought to a halt by the pandemic. But SlumBums jumped at the opportunity to have a distanced and masked-up show last October with MU's Campus Activities Programming Board. Walters is planning another Porchella in April at a large outdoor venue and inviting more than twice as many artists as last year. Steward says SlumBums is looking forward to meeting new rappers and hearing them perform. "I think we are going to see a lot of different, out-of-the-box stuff coming from a lot of people that we aren't used to," he says.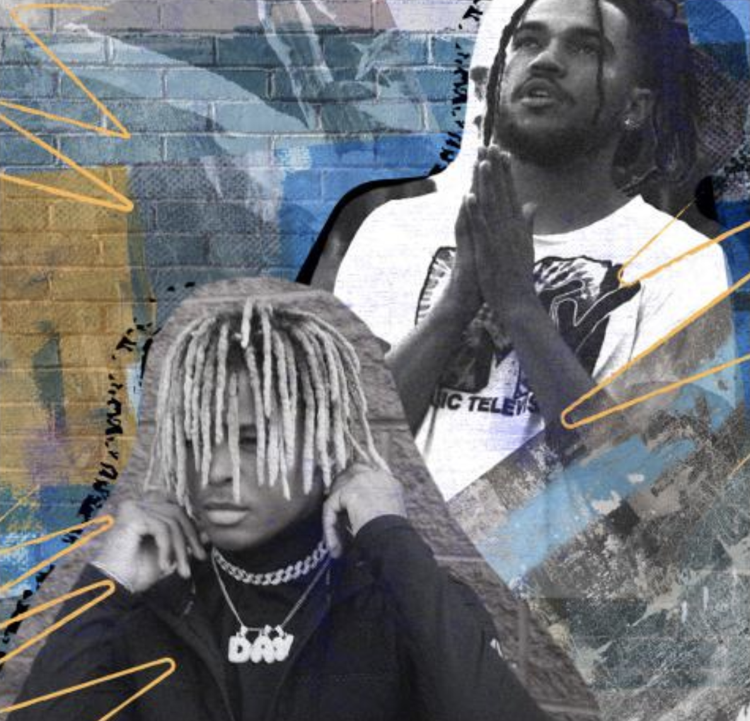 The rappers are taking the free time to make music and plan shows. SlumBums has recently been spending time in the studio with Horton, and the group is working on music together. Steward says the scene will be a whole different experience when everything can reopen. "People are thinking creatively how to do things outside of the next performance because we weren't able to perform for so long," he says
Just like in that fraternity bedroom in 2018, that's the Columbia rap scene. Columbia's rappers are asking one another to send them a beat or liking another's post on Instagram. Even through the pandemic, the scene continues to grow through a desire to see others succeed.
"I think everyone kind of brings their own pieces," O'Neill says. "Like a potluck. Everyone's bringing their own dishes to the table, but we're all trying to eat." 
Related stories