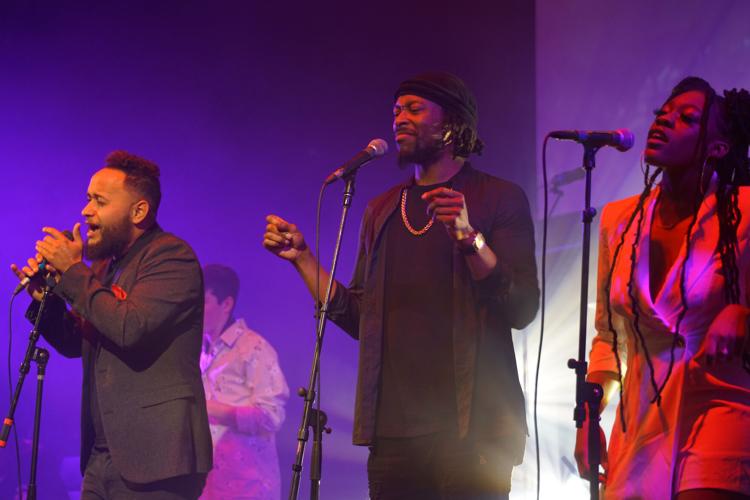 On a weekend night under purple and magenta lights, a crowd anxiously awaits one thing: soul music. A tune explodes from a trumpet, and a strong drumbeat fills the room. The concertgoers shuffle closer to the stage, swaying along as the first singer belts out a hearty verse from a classic R&B track. This is Soul Sessions.
Every month, Missouri music lovers gather to experience live soul music, often accompanied by food and drinks. The event is fueled by the Mo Soul Collective, an ever-changing group of artists. Soul Sessions, creatively directed by musician Josh Runnels, began in September 2021 at Pressed. Since then, the event has expanded over the span of eight shows. In addition to the live music and featured visual art, the sessions host vendor tables run by local business owners. Some of these guests will be at the city's Juneteenth celebration.
Here are the stories of a few individuals who make Soul Sessions happen.
The Vibe Curator: Martin Solomon (DJ SOL)
On the long list of talent at Soul Sessions, Martin Solomon uses his passion for music and ability to read a room's vibe in his role as DJ SOL. Solomon found his love for music growing up outside Philadelphia, where his mother's large vinyl collection matched his tape collection. His tapes were filled with song recordings from either the radio or local events. "I grew up within music just from an 'I love it' standpoint, collecting it standpoint, making my own CDs, burning CDs and doing all that type of stuff," Solomon says.
He met Runnels while recording together , then Runnels asked him to DJ an upcoming event. Since their meeting, Solomon has performed his remixes at each session, changing up the playlist to match the crowd's mood with songs to get them moving. The event has created a space for Solomon to listen to and perform soul music in mid-Missouri. "What was missing was the opportunity for everyone to connect to one place or at least just meet people and then connect that way." Solomon says. He will be performing at the Juneteenth show.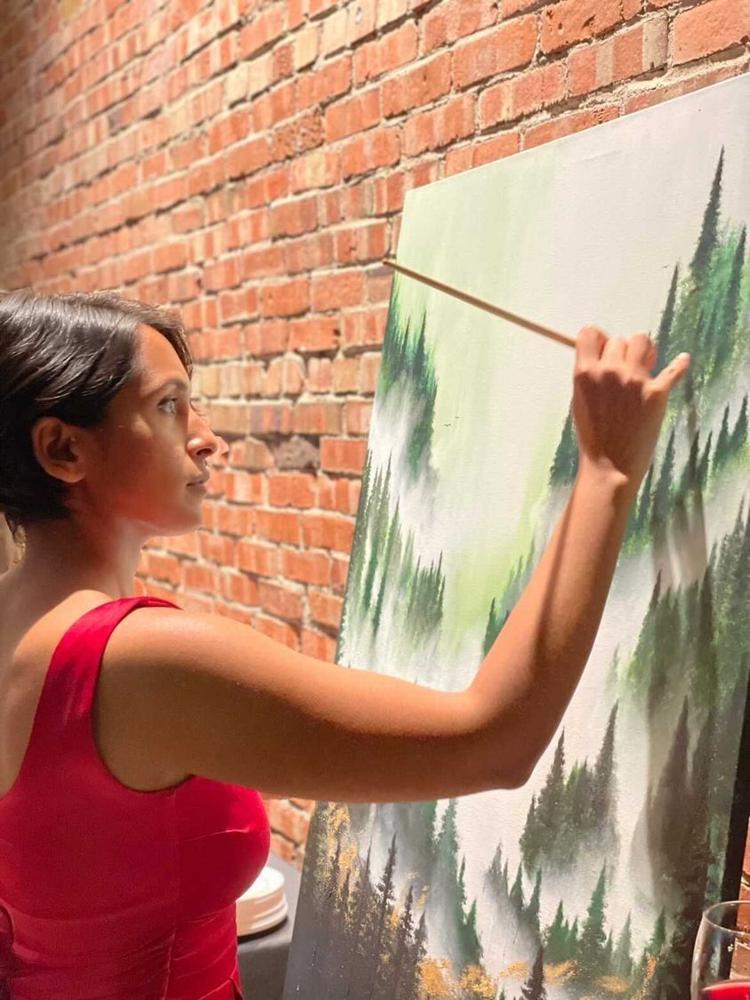 The Artist: Bini Sebastian
When thinking about a soul concert, live painting likely doesn't come to mind. Visual artist and MU doctoral student Bini Sebastian's work, often inspired by grief and loss, disrupts that belief.
Originally from India, Sebastian's family moved to Dallas when she was 3 months old. Sebastian has found inspiration in her struggles with cultural norms and identity. "A lot of that is just figuring out what does it mean to be authentically me and to express my spirit authentically, despite, you know, what I've been through or what other people tell me I can or cannot do," Sebastian says. Art allows her to share her experiences with others. Outside of Soul Sessions, she also performs spoken word poetry.
Soul Sessions has given Sebastian a place to exhibit her artwork while discussing her cultural identity and spiritual journey. At a previous event, she painted a mural of a forest live. Although nerve-wracking at times, painting — and performance in general — has provided Sebastian with a sense of healing. "Yes, we have triumphs, too, and we're still here," Sebastian says. "And we're gonna still keep going; things are not perfect. But we're here in creating together in community with each other."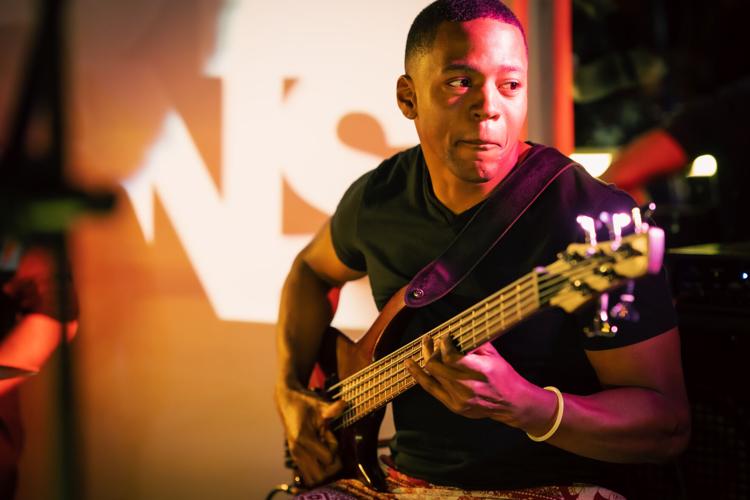 The Rhythm Maker: Alex Rideout
Music has been on Alex Rideout's mind since learning to play drums at age 4, although he ultimately found his calling at 12 when he started playing bass guitar. The St. Louis native has since been infatuated with bass and has played in a variety of local bands, such as Austin Jones and the Bootheel Boys and Mangosteen. In addition to performing, Rideout writes his own music. "Music is definitely probably the top (passion)," Rideout says. "I've been doing it all of my life." Outside of music, Rideout spends much of his time outdoors with his girlfriend and dog, and playing football in a competitive adult league.
Rideout has performed at Soul Sessions since the first show at Pressed and has seen the growth to bigger venues such as The Blue Note and The Atrium. Soul Sessions gives the Black community a space to enjoy soul music outside of bigger cities such as St. Louis and Kansas City. "We have a lot of great singers and groups come together — poets, dancers — and it's very performative," Rideout says. "But at the same time, it's also very social, like you actually say 'hi' to the people around you," Rideout says. "You get to meet a lot of new people."
Soul Sessions is a space to enjoy soul music, dance and art, but it has proven to be much more than that. It also allows community members to convene and express themselves unapologetically. 
Related stories