Walking into Rose Music Hall on Thursday night, I tried to size up the stage. You'd think it would be hard for just two people to fill up the space, but I wasn't about to underestimate The Cerny Brothers.
Originally hailing from Illinois, the brothers (yes, they're actually brothers), Bob and Scott Cerny, had stayed in L.A. for a bit before settling down in Nashville. Their honest, earnest, Roots-to-the-core sound landed them the title of Rolling Stone's "New Americana Artist You Need to Know" earlier this year.
As the sound of Bob's banjo plucked its way from backstage into the hall before the show, I wondered if they'd live up to the title.
Before the show started, the brothers were an unassuming duo. They'd enter the hall and mingle through the crowd while sizing up the atmosphere and eyeing the stage before the show. While they regularly toured with blues guitarist and vocalist Christone "Kingfish" Ingram, who Scott eagerly described as "a guitar prodigy," this stretch of the tour was with the alt-country artist Justin Townes Earle.
Opening for a different band than usual can come with some difficulties. For one, it prevents the brothers from knowing the typical audience beforehand.
This often leads to changes in the set list, sometimes even while in the middle of the performance.
"It's like when you first meet someone," Bob says. "Like, 'Do you want pizza?'" They're having to put the feelers out to figure out what the audience wants right after meeting them.
Because I take pity on those who missed out on this performance, I've recreated the set via Spotify playlist. Follow along as I take you through The Cerny Brothers' journey of "Looking for the Good Land."
Heart in a Bottle
From the beginning, The Cerny Brothers established their M.O. for the night: high energy, infectious tunes with a lyrical honesty that makes you want to give a second listen.
"Heart in a Bottle," from their album Sleeping Giants, showcases the brothers' ability to take their audience through heavy dynamic changes at the drop of the hat. While it starts out fairly modest, almost immediately we are thrown into a heavy jam. 
I was amazed that such a loud sound could come from just two guys. Outside of pure passion, a lot of the decibels come from the many technical abilities of the musicians. Scott in particular seemed more machine than man on the stage; an amalgamation of instruments and soul, often handling three or four instruments at once.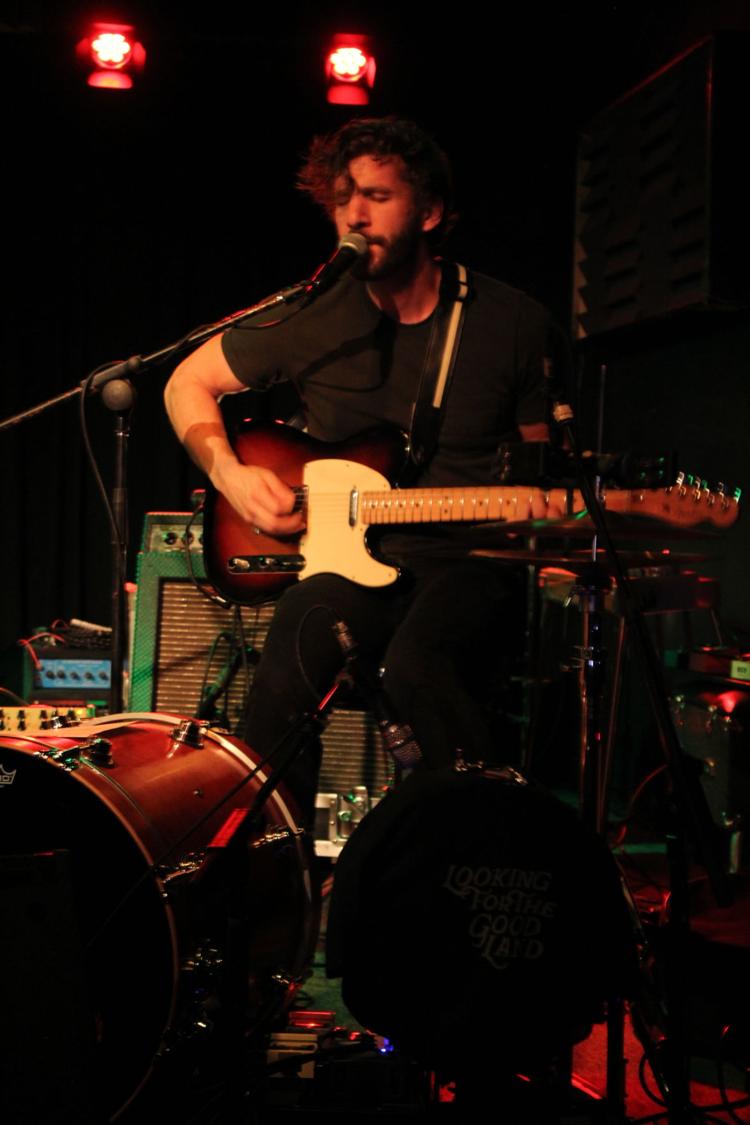 "I play foot drums — a bass drum, a snare drum, a high hat — while I'm playing guitar and singing and, you know, sometimes playing harmonica," Scott says. "And then, my brother will play a lot of piano, he also plays banjo and he'll play foot crashes.
"We sort of have like a full drum set, it's just sort of spread out between the two of us," he says.
Nightburn
Their second song, "Nightburn," keeps the steady strength going. Gradually, people migrate toward the stage from the bar. Their energy infects the crowd, their beat echoes in foot stomps and nodding heads.
This song first showcased what I think of as the magic of the duo — easy-going jam session of two people who grew up playing together. Bob smiles at his brother as Scott's guitar solo begins. It feels natural, intimate and inviting.
They say they've been enraptured with music ever since they can remember.
"From a very young age," Bob says, "we just had this need for self expression." While their parents weren't musical, they had a upright piano in the home and began taking lessons when they were around 11. They grew their musical education with MTV and recommendations from college friends.
With how jam-friendly their sound is, I honestly thought they were just improvising as they went along. Listening to them felt like sitting with friends at a casual, bring-your-own-cymbal get together. But that sound is actually carefully curated.
"Everything we do is super, super rehearsed," Scott says. While he hopes to one day be able to let loose and improvise on stage, the worry of wrong notes keeps him at bay for now.
Drinking Gold
Before they began their next song, the brothers took the time to introduce themselves. They joked about their name and how often its victim to misspellings.
"'How do you spell it?'" Bob says he always hears that question on the show floor.
"We were told to get a big banner," Scott says. Continuing with their friendly and open vibe, they invited the audience to come talk to them after the show.
"We're sometimes not as awkward as we are on stage," Bob says. "Sometimes just as much." The duo act as their own roadies and marketers. They set up, tear down and sell merch themselves, which opens up a lot of opportunity for audience interaction.
"Me and my brother love meeting people," Bob says.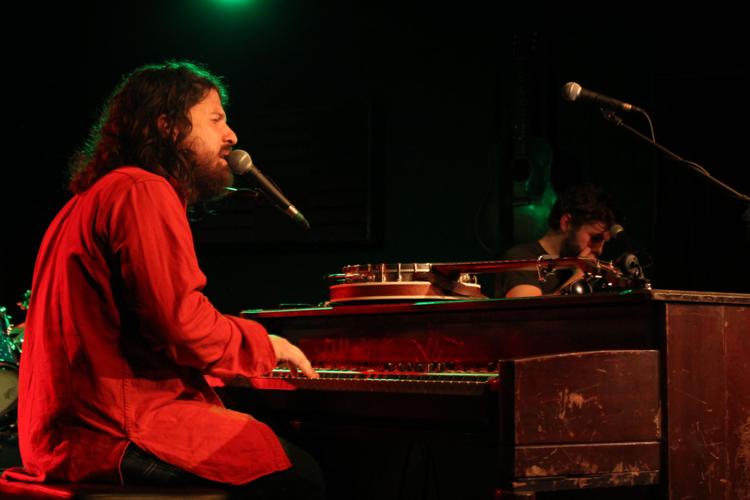 While a lot of their sound so far had been soul-pumping, with a strong pulsing beat, this next piece started a lot softer. Rolling Stones compared them to The Avett Brothers, and I'm inclined to agree, but this song in particular, with it's mellow banjo arpeggios, sounded like something off an Avriel and the Sequoias album.
Scott's soft harmonies create an almost haunting atmosphere that entrances the bar-goers. Although even with a softer vibe, the duo still built to a climactic chorus. 
It's impossible to ignore these two because of the sheer decibel power of their music. Over and over again I found myself asking, is this sound really just from two people?
Porch Lights
One of my favorite aspects of this band is their storytelling. Songs like "Porch Light" call forth a universal experience. Their music is meant to speak to people.
"Even if we're playing like a small show with like, you know, 50 people," Scott says, "it's like, almost every single person is like telling us after we're done, 'Hey, I really liked that I really appreciated that.'"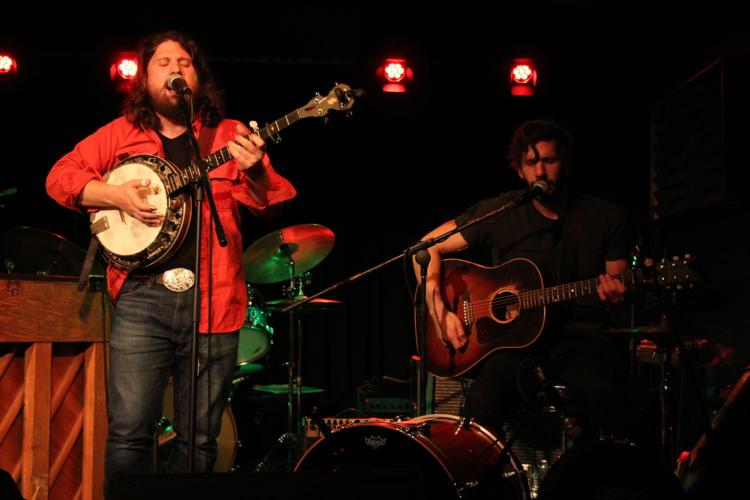 While they make sure that their sound comes from themselves and not what people want from them, they still work to make sure their message is understood. 
"It's a challenge sometimes," Scott says of when the songs don't land right. "I don't know that people are getting this the way (we) want to." As they've grown as musicians touring across the U.S., they've gotten better at landing their targets.
"It feels like I feel like three weeks on the road, we can grow more than three months at home," Bob says, "because we're sort of exposed to some large amount of things all at once."
On stage, they smile at each other. The crowd is enjoying it. The magic is there.
I Wanna Love You
Just when I thought the energy couldn't get higher, Bob pulled out a beautiful desperation to his voice. I struggled to find a word to describe the energy of the duo. I kept arriving on "earnest," but I feel the word carries a naivety that the traveling duo doesn't possess. It's the open, vulnerable honesty of Roots music that begs to be listened to.
"I Wanna Love You" almost had a pop-level bop to it, between the catchy refrain of "oohs" and the pulsing drum. But the lyrical brevity separates it into the Roots genre.
Like many of their songs, "I Wanna Love You" reflects on what isn't quite there yet. Looking for the Good Land in and of itself is a search — for what might be, or what could've been — where you with you were, but aren't. 
"A lot of the songs are sort of about coming to grips with that struggling," Scott says. "Just honest songs about what it's like to try and do anything."
Moon Above the Desert
Sometimes songs tend to take off with a life of their own. "Moon Above the Desert" is one such hit. Scott says he was surprised by the popularity of it.
"I think it's hard, as an artist you never know to a certain extent how your music is affecting people," Scott says, "but it's cool now with social media. People will literally just tell you." 
"Sometimes we think, oh, everyone seems to like this one," Bob adds, "and then the next couple weeks: 'Oh, people are really resonating with this one.'"
A lot of these songs are from their latest album, Looking for the Good Land. The album is a collection of songs built around their travels and the people they meet along the way.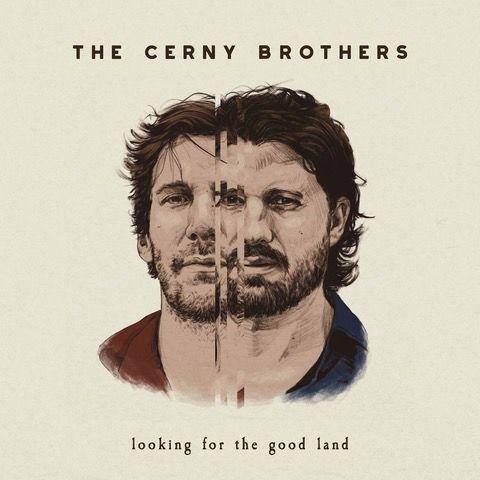 From big liberal cities to small conservative towns, the songs are an amalgamation of what it means to search for the American Dream today.
"They're all songs that were kind of born from the road because we we wrote a lot of them, not necessarily while traveling, but they were kind of inspired by all the different types of experiences that we had, of people we talked to," Bob says. "So that's what there is a sense of, you know, "looking for the good land."
"Sometimes it can feel like wandering around, even though you have a direction," Bob says. 
Ghost
My personal favorite, "Ghost" featured a much more mournful tone. Once again proving his versatility, Scott took piano and lead vocals for this song.
The Cerny Brothers are a bit wary of slow songs with an untapped audience —  they cut their teeth at L.A.'s bar scene, struggling to be heard over the cacophony of the audience. If you don't have a strong hold on them, a slower song is just a period for the listeners to talk.
In times like that, it's hard not to just rush through the piece, trying to finish up as quickly as possible. 
"We're just up here trying not to mess up," Scott says. While it can be disheartening to lose the interest of a crowd, that wasn't the case tonight; The Cerny Brothers had already captured the heart of Rose Music Hall.
While this was the tail end of the set, the brothers are never one to miss an opportunity. Bob calls out to the sound producer, "Can we do one more? Two more?" They fight for every gig they get and don't plan to waste a minute of it. 
To the crowd's enjoyment, the brothers get the green light for a few more songs.
Bullshit
With a heart akin to "American Pie," "Bullshit" is from the brothers' Spotify EP Common Sense. 
The energy is back in full swing, with Bob dancing on the stage even as he taps on the foot snare. His long hair is sweaty, plastered to his forehead after so much time on stage. I worry that his feet might fall of by the end of the night.
Like their music, Bob is all unbridled energy, barely contained by skin and bone. He gives everything he's got the audience.
"When you're on stage, and there's people in the room," he says, "you can see their faces and I mean, there's just nothing like that. Nothing like it."
Laugh at the Devil
For their final hit of the night, The Cerny Brothers made sure to go out with a bang. Bob tore up his piano, working up and down the octaves like a man possessed.
Scott worked equally hard, shredding up the guitar. The brothers' eyes met across the stage: This was it. This was a good night. The crowd hailed them with applause, feet thumping on the wooden floor of the hall. An excited fan tried to walk up the stage immediately to talk to them. 
"It's almost like every night is different, but every night is the same," Bob says. "I really started thinking about that philosophy where it's like, life is like repeating ... Sure the situations change and you know, the details may change, but you're having the same conversation with the same people and you're going through the same struggles."
It's that philosophy that birthed Looking for the Good Land. And maybe that's why, in a crowded music hall full of strangers in the middle of America, The Cerny Brothers didn't feel like strangers. They felt like old friends.
Related Stories