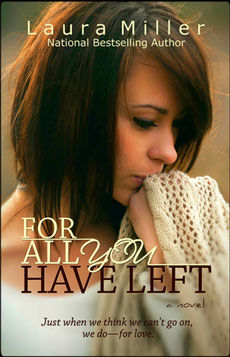 The romance genre carries with it images of paperback pulp. These books line grocery store shelves with cover after cover featuring flowing satin robes and abs of steel softly lit as if shot through Vaseline-covered lenses. That's not Laura Miller's style.
The brand of romance Miller creates is more innocent than the typical fare. Beyond just soap opera drama, Miller writes love stories. Think more Nicholas Sparks and less Harlequin romance.
Miller published her first book on construction paper and bound it with staples. She was 8. At 12, Miller wrote about junior high sports for her local paper in New Haven, Mo., and her writing has evolved since. She also self-published each of her three novels.
A former journalist, Miller published her debut novel, Butterfly Weeds, in 2012. The book broke into Amazon's Best Sellers list in October of that year. Miller's latest novel, For All You Have Left, was released in February.
"For All You Have Left is really a small-town romance," Miller says. "It's really close to my heart. It was inspired by different places and circumstances I've dealt with in my life."
Set in Columbia, Miller's novel tells the story of Logan Cross. Four years after marrying her high school sweetheart, Cross finds herself at a pivotal point in her life and in the midst of falling for boy-next-door Jorgen Ryker. But both are hiding secrets that might keep the two from being together. "It really tells a story about first love and true love and battling between those two," Miller says.
Raised in small-town Missouri, Miller knows provincial life well. She describes a magic found in the familiarity of small communities, something that she hopes to capture in her novels. "Everyone knows everyone else, and they become your family, whether you like it or not," she says. "That's where I grew up and where I came from, so it's easy to write about small towns and small-town life."
Miller moved to Columbia for college, where she earned a degree in journalism from MU. Her career in business journalism would turn to creative writing, but Miller still credits reporting for the research skills she needs to craft detailed worlds for her characters. Fiction is a completely different animal for her.
A time came when Miller had to choose between a stable career as a reporter or taking a chance in the uncertain world of publishing. During this time, the author's husband, Neville Miller, whom she met while running track and field in college, was there to provide support.
"There was certainly a creative side of her that she wanted to explore," Neville says. "And it's really hard to do that after you've spent hours on hours reporting on council meetings." It's rewarding for Neville to see all of her daily research and marathon writing sessions come together. He sees her detailed writing style as a testament to a creative yet organized personality.
In its opening weeks, For All You Have Left has been greeted with glowing reviews from bloggers and critics. Erin Spencer, curator of the Southern Belle Book Blog, praised her novel for delivering a beautiful love story without the raunchy trappings typical of the genre and for Miller's descriptive language.
"She just makes you feel like you're living that moment," Spencer says. "She just puts so much detail into everything."
Vivid elements translate into strong characters, and Miller's individual style repeatedly surfaces in reviews. Nancy Flores of the romance review blog Nancy's Romance Reads praises Miller for creating a singular story that's still relatable to the reader. Erica Chick of Gutter Girls Book Reviews notes Miller's skill at crafting an emotional read that finds beauty in tragedy.
Still, Miller is hardly content to just sit back and simply receive praise. Not even a month after her most recent book release, she says she already has another in the works. Although she's reluctant to give too much away at this point, Miller knows she's ready to tell another love story.