We understand. Not everyone is a music fan, especially when it comes to the blues or country music that you'd hear at the Roots N Blues N BBQ Festival. Maybe you're that person who sets world records for "fastest at changing the radio station" when hearing a folksy croon come over the speakers. Perhaps you're the type of person who wants to listen to music at home through headphones instead of at a live concert among a throng of excited fans. Or, quite possibly, you just don't know what to expect from a local fest as unique as Roots N Blues. 
Whatever the case, there are plenty of reasons you might give as to why you're not listening to Roots N Blues artists over the course of the festival. But do not worry your sweet, anti-song mind: The event has more than just music to entertain attendees. Whether you're waiting on the next performer to go on or you just aren't a music lover, here are five great ways you can spend a weekend at Roots N Blues N BBQ without even humming a tune.
1. Shop the craft vendors' stands
The craft vendors at Roots N Blues know there's no better way to spend a weekend afternoon than shopping, and being in the middle of a music festival shouldn't stop you. This year's festival features 16 craft vendors selling everything from vintage clothes and jewelry, such as Maude Vintage, to handcrafted soaps and scented goods, such as Makes Scents.
Although most of the vendors are run by Columbia businesses, some crafters travel from states away to attract new customers over the course of the weekend. "I do about six festivals all over the country — East Coast, Telluride, Colorado, sometimes," says Ron Hostetter, a Washington, Missouri, resident who sells handcrafted cutting boards, folk art instruments and festival flags at his stand, Gypsy Wagon Wares. "But this is close to home, so why not?"
2. Explore the art displays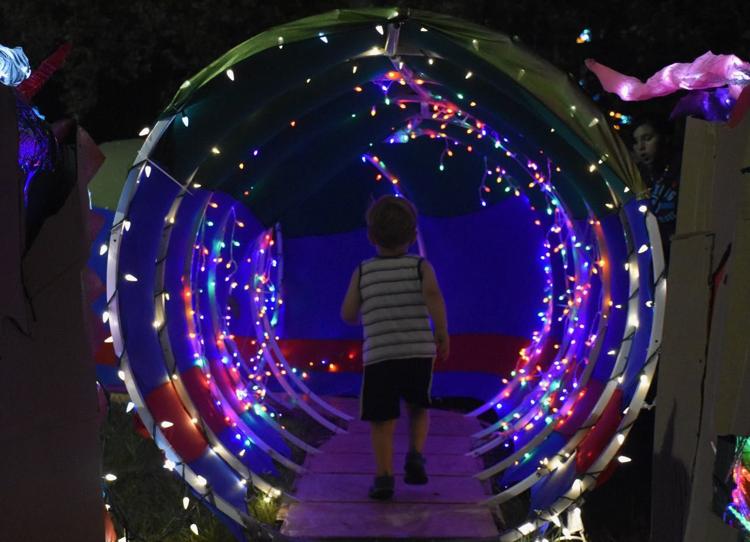 Along with all the art for sale, there are plenty of paintings, sculptures and crafts displayed across the festival grounds. Stephens Lake Park has been transformed for the weekend of Roots N Blues: A dragon crawls along the ground across from the Missouri Lottery Stage, fairies string lights at the entrance to the festival and trees bear crazy-colored spirals and fixtures from their branches — not to mention all the painted guitars and music murals decorating other areas of the park. Why not take some time this weekend to step away from the music and see what kinds of artwork are hiding around you?
3. Contribute your own art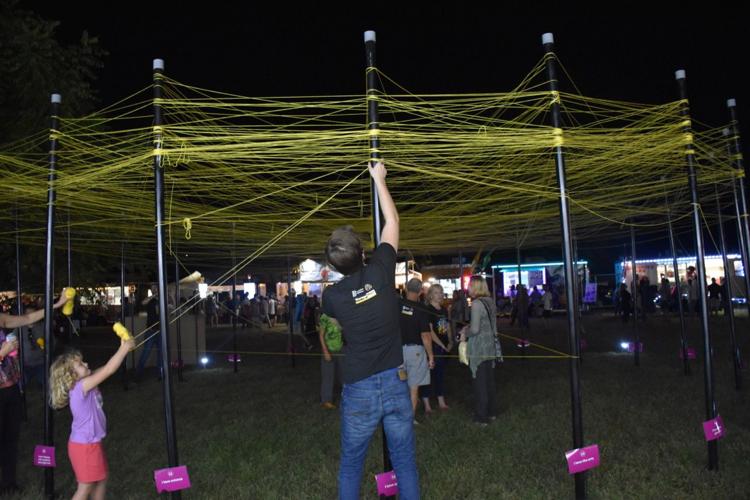 There's plenty of art to look at around the festival grounds, but how about contributing your own touch to one of the displays? The StorageMart string art display is back again this year and offers visitors the chance to wrap yarn around a series of poles to represent various elements of their personalities. The result is a web of yarn that builds over the course of the weekend to bring a feeling of "togetherness," StorageMart volunteer Rod Perry says. "Whatever race, religion or political belief you may have, it expresses yourself so everybody can be themselves." 
4. Ride the Ferris wheel
Of course, what would a festival be without a Ferris wheel? If you're willing to wait in a line and aren't too scared of heights, this ride is positioned perfectly to give you a great view of the festival grounds once you reach the top ... and a perfect backdrop for those obligatory Roots N Blues selfies.
Additionally, if you have little ones that need to stay closer to the ground, some of the art displays nearby are interactive, providing entertainment for every age.
5. Taste the food
Although you can keep yourself plenty busy for a few hours without listening to the music at the Roots N Blues N BBQ Festival, you can't ignore the "BBQ" in its name. It's practically impossible to escape this event without tasting at least a bit of food from one of the 22 food vendors in the park. Even so, your options aren't nearly as limited as the moniker might suggest. Tacos, gyros, snow cones and funnel cakes are all available, and many stands even offer vegetarian dishes. We suggest Not'cho Ordinary Taco, VooDoo Sno or Smokin' Chicks. Whether you're a fan of classic pulled pork or just want to try something new, you'll find plenty to eat and drink at this year's event.
Related stories