Women's naked bodies have long been a major focus of Western art. The female form is often celebrated as an object of beauty, but when we look back on history, we see that women rarely have been in charge of how they're portrayed. When it comes to such representation, it's important to think not only about who is being represented but who is creating the representation, says Kristin Schwain, associate professor of art history at MU. Depictions of naked bodies in art, for example, can reveal a lot about the role women have historically played and the values of artists and audiences.
The exhibit Objectified: The Female Form and the Male Gaze, on display through July at Columbia's Museum of Art and Archaeology, is meant to start a discussion about the portrayal of women in art, and it's making a statement that museums should confront objectification in art. The inspiration for Objectified rose from the #MeToo Movement, which encouraged people to share their stories of sexual harassment and assault. Alisa McCusker, the curator of the exhibit, compiled this collection to draw attention to issues of objectification, and Vox took a deeper look into three of the original works.
 'Cassandra' by Max Klinger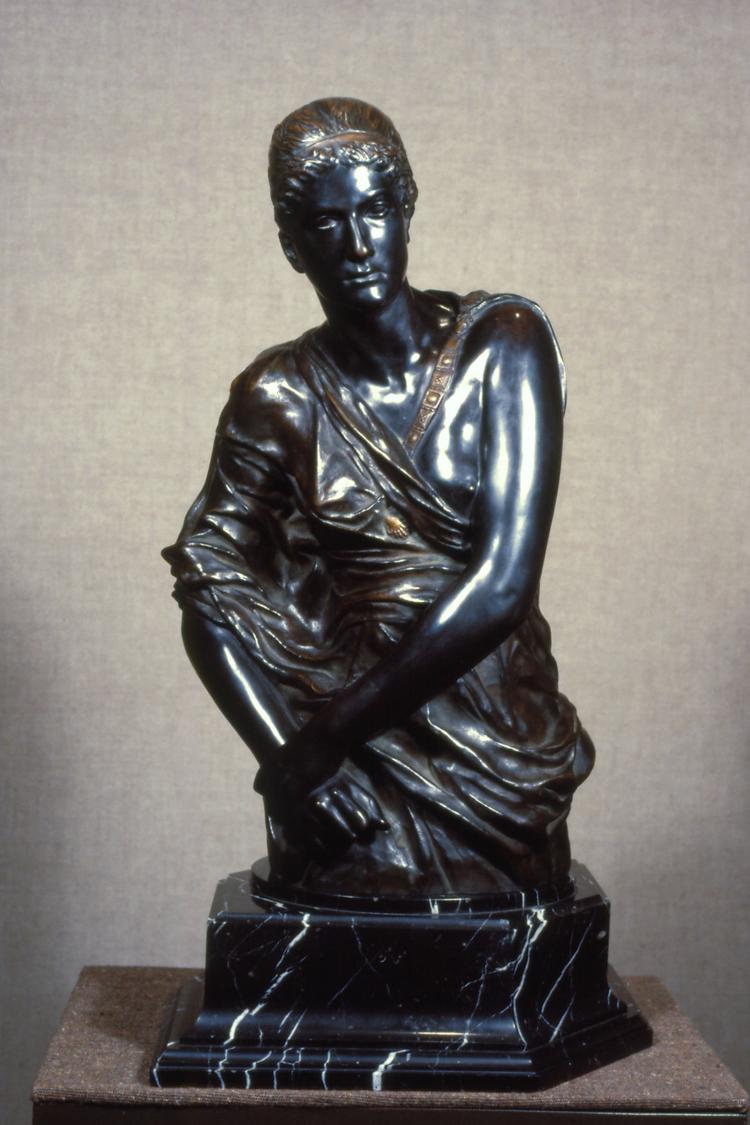 The bust Cassandra depicts a character from Trojan War legend. In the tale, the Greek god Apollo desires Cassandra, and he promises if she has sex with him, he'll grant her the ability to see into the future. She refuses, and he curses her by giving her that power but with a caveat: Nobody will believe what she sees is true. She is viewed as a madwoman, later raped and taken prisoner.
The story depicts "heroic rape," which is when assault is used as a tactic in warfare to make a statement of power in many mythological legends, McCusker says. Cassandra's tragedy also mirrors some of what victims of sexual assault and harassment experience today. "Part of the refrain we hear from victims of sexual harassment or sexual abuse is that even when they spoke out, they were dismissed," McCusker says.
'Study for Susanna and the Elders' by Thomas Hart Benton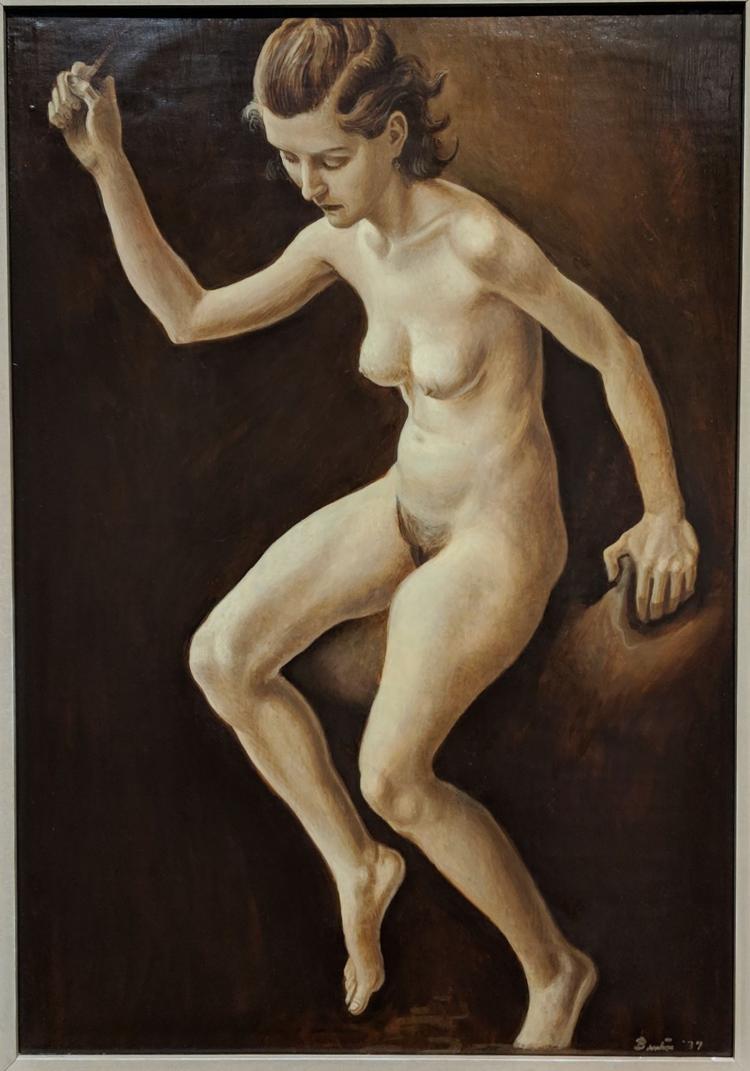 The Old Testament story "Susanna and the Elders" describes two elders who try to blackmail a woman into having sex with them. When the woman refuses, they tell the town she tried to seduce them, and she is sentenced to death. But the town discovers the truth, and the elders are put to death instead.
Although this painting seems to criticize a system in which a woman is watched without her knowledge, a letter from Benton shows he objectified his model: "My boy — what a skin, what a blood pulsing skin — just enough yellow in the belly to make the 'tits' look pink. We don't find models like that anymore." The artist was a product of his time, McCusker says, and part of the point of the exhibition is to ask ourselves what we might have inherited from this attitude in our own culture.
'Untitled' by Pablo Picasso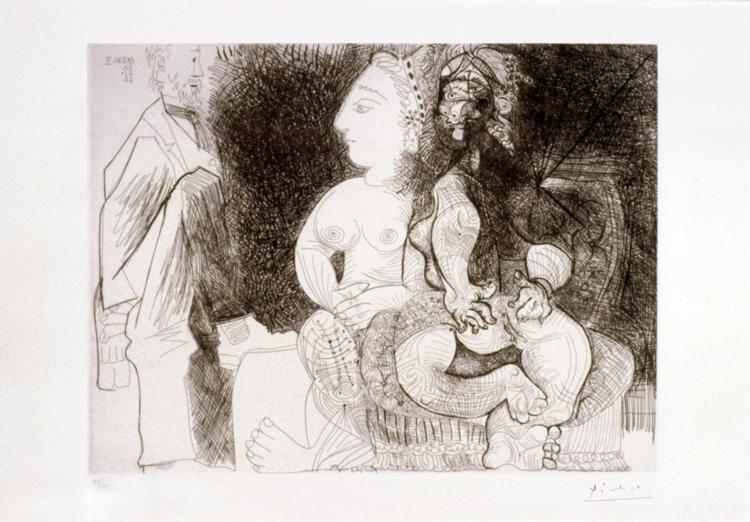 This work is an etching inspired by a monotype Picasso owned depicting a brothel scene in which a male customer looks at women on couches "displaying their wares." Patrons are invited to choose a woman based solely on her appearance.
Picasso was notorious for his poor opinion of women, yet he is considered one of the greatest artists in history. "What he does to women's bodies (in his cubist style) is really horrific," Schwain says. "He tears them apart, and he puts them back together in grotesque forms." This gets at the key question the exhibit poses: How does looking at a work of art change once we know more about the artist? When you start to learn more about artists' personal lives, it can be difficult to separate their actions from their work. 
'Blind Venus' by Katherine Sherwood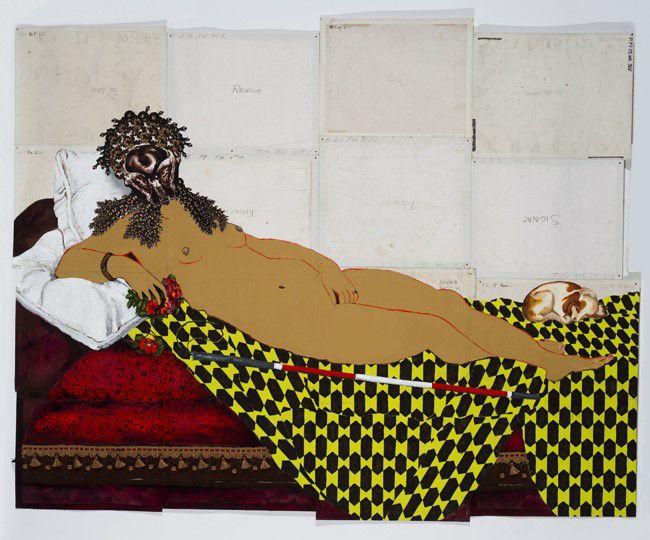 The newest piece in the collection, this work reimagines the famous nude painting Venus of Urbino by Italian Renaissance artist Titian. Titian's version depicts a beautiful woman lying naked on a couch, her entire body exposed except for her genitalia, covered by her hand. She looks directly at the viewer, seemingly aware of how desired she is. In Sherwood's recreation, she paints herself lying down. A white and red cane placed in front of her indicates that she is both visually impaired and hearing impaired. 
The most notable change in the new piece, however, is the detailed face and hair, which was created from MRI scans of Sherwood's brain and head. The images of her brain are layered on top of the painting and create an almost alien-like look. This relates to Sherwood's struggles after a severe stroke, and it addresses ideas of disabilities and ideal beauty. 
'Surprised by the Hunt' by Kenneth Hayes Miller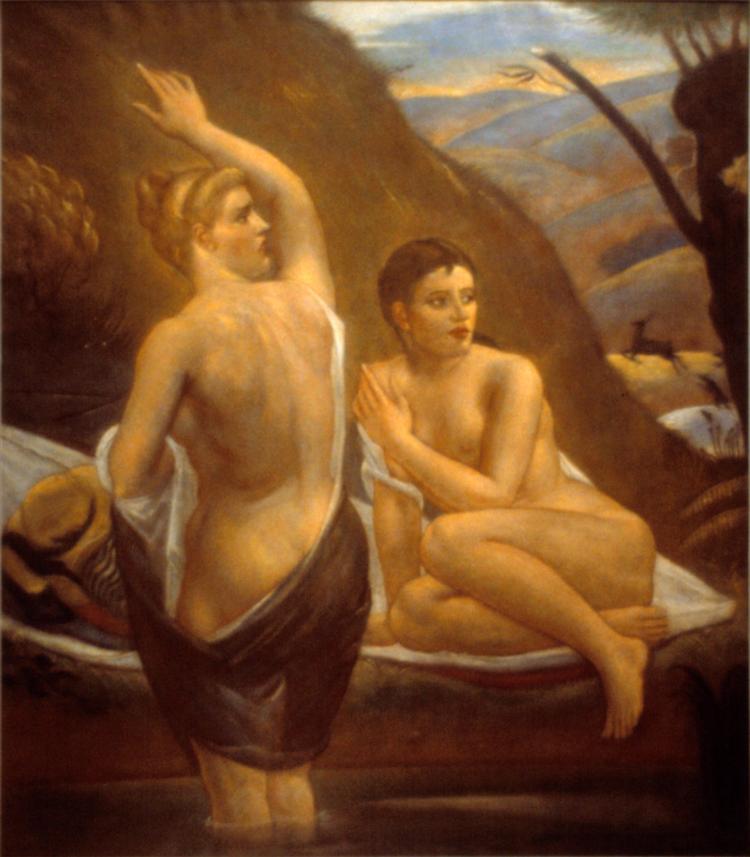 Although this piece was painted in the early 20th century, it shows two nude young women in a forest in the style of Diana, the goddess of the hunt. The women depicted are surprised by a man named Actaeon while they are taking a bath. In the painting, the viewer can see period clothing from the 1920s rather than classical garments typical of mythology. "It's essentially removed from any context of the classical mythological world," McCusker says. "This is now just a nude taking a bath because why not?"
This begs the question: How is this image still relevant to 20th-century culture? Why are these women bathing naked in a forest sometime around 1920? And is the painting's audience as guilty as Actaeon? "We're in this position of this sort of outside observer, but it puts us in the position like Actaeon in that, we're implicated," McCusker says. "We're guilty of seeing this ourselves."
Related links