Music is an emotional experience for those who make it — and those who listen. It's easily accessible, incredibly diverse and can be intensely personal. Music speaks to people on a deep level, making it a vital medium during the pandemic.
Hitt Records co-owner Kyle Cook says he saw people deal with the pandemic differently. "A lot of people were trapped in their homes, so they were coming to us and being like, 'I am going crazy in my house; I need some new music,'" Cook says. "Everyone reacts to stuff differently. There's kind of denial, acceptance and all these people coming at it from different angles."
With that in mind, Vox took a look at the most popular new album releases from each month of the past year, according to the Billboard 200 charts, and how listeners have used them to cope with the pandemic.
March 2020: After Hours by The Weeknd (released March 20)
The Weeknd embraced brooding moodiness — a fitting forecast of the year to come. His songs are wrapped in torturous longing and are woven with even darker themes of death and addiction.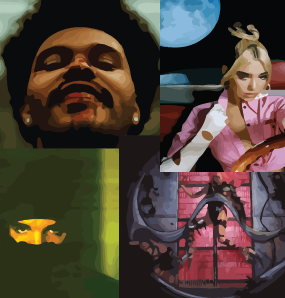 April 2020: Future Nostalgia by Dua Lipa (released March 27)
Upbeat and brash, Future Nostalgia's liveliness was at odds with the sobering lockdown sweeping the country and pop music's current trend toward emotion and away from bravado. The album was freeing for listeners seeking to break the monotony of the new reality.
May 2020: Dark Lane Demo Tapes by Drake (released May 1)
As with anything Drake releases, this album soared up the charts, with the virality of "Toosie Slide" encapsulating the popularity he manufactures. The album showcases sad boy Drake at his peak with a loneliness that hit close to home as the severity of the pandemic continued to settle in.
June 2020: Chromatica by Lady Gaga (released May 29)
A return to her electro dance-pop roots, Chromatica is a euphoric album that comes with a hefty tinge of sadness. It's impossible to listen to the up-tempo club songs without yearning for normalcy to return so you can lose yourself on a packed dance floor.
July 2020: Shoot for the Stars Aim for the Moon by Pop Smoke (released July 3)
This posthumous album had listeners thinking of what was and what could've been. The album feels diluted by excessive features, but the lasting impression will be Pop Smoke's domineering voice and the machismo Brooklyn drill sound he brought to the forefront.
August 2020: Folklore by Taylor Swift (released July 24)
Six months into the pandemic, Folklore touched on a wistfulness everyone was feeling. Swift builds an intricate fantasy world that draws listeners into fairytale- esque stories of love, innocence and loss. Her storytelling gives life to the escapist thoughts running through the heads of listeners forced to spend a summer at home.
September 2020: Detroit 2 by Big Sean (released Sept. 4)
Detroit 2 is peppered with bars that come off as either deeply motivational or self-help book-level corny. Big Sean said the album, originally slated for a mid-March 2020 release, evolved throughout the pandemic. It can seem eerily personal to those who were left with little more than their thoughts over the previous months, with lyrics about appreciating what you have before it's gone and the toxicity of social media.
October 2020: Savage Mode II by 21 Savage and Metro Boomin (released Oct. 2)
In the sequel to the 2016 release Savage Mode, 21 Savage further immerses himself in the role of rap villain, sneering at his peers and telling stories inspired by his checkered past. After nearly a year of unfamiliarity, the album served as a comforting nostalgia dump and left listeners wishing for a time when the biggest headline was that 21 Savage was a British citizen, not an Atlanta native.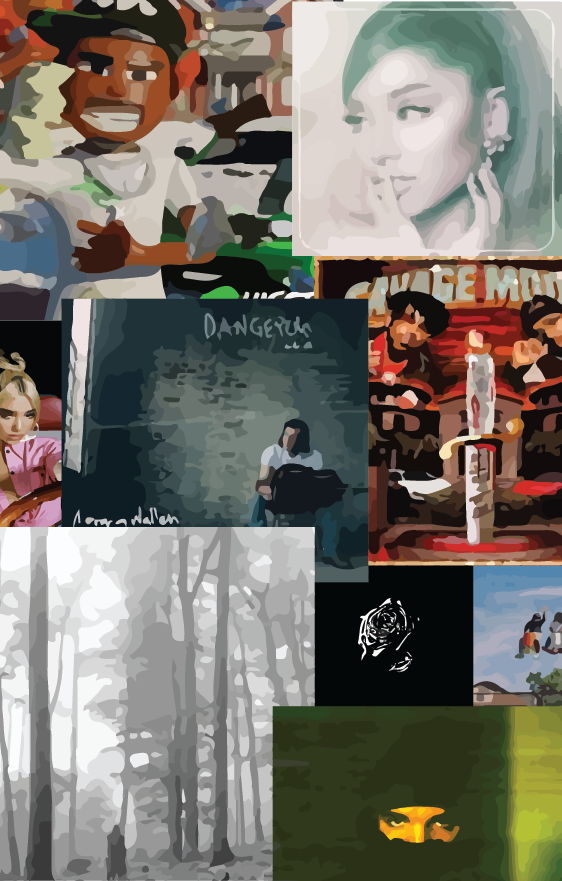 November 2020: Positions by Ariana Grande (released Oct. 30)
On Positions, Ariana Grande uses her trademark glimmer to paint over bluntly risqué lyrics. Throughout, Grande has reached an enviable level of happiness, reconciling with the immense trauma she has experienced, which serves as a beacon to those struggling with the pressures of the past year.
December 2020: Evermore by Taylor Swift (released Dec. 11)
Evermore delivers many of the same feelings Folklore did but is less cohesive and generally more playful. The album leans harder into fanciful character- and story-building, which makes it a fitting cap on a year that seemed fictional in many ways.
January 2021: Dangerous: The Double Album by Morgan Wallen (released Jan. 8)
The chart-topping Morgan Wallen represents the double-edged sword of modern country music. Wallen is undoubtedly talented, but his odious use of a racial slur is a continuation of a familiar tale. Wallen is country, and in a genre that claims to be America's genre, he is seen as a reflection of this nation in its promise and its ugliness, which were both laid bare this past year.
February 2021: Shiesty Season by Pooh Shiesty (released Feb. 5)
The album is the long-awaited debut for the Memphis-based rapper. Overall, the catchy hooks and ease with which Pooh Shiesty flows over minimalist instrumentals satisfyingly fulfills the potential he has shown. Here's to hoping the rest of 2021 can be just as promising as Shiesty's career appears to be. 
Related Stories