While at MU, Greg Warren worked as a waiter at Madison's Café in Columbia, Missouri. After graduating with a journalism degree from MU in 1990, Warren landed a job as a busboy at Denny's. "If I went to grad school, I figured I could have made it to dishwasher," Warren says.
Clearing dirty dishes is now no longer part of his job description. Warren, 53, is now a successful stand-up comedian. Ever since he quit his job at Procter & Gamble in 2001, he has been doing stand-up full time.
During his time at MU, Warren won an amateur comedy contest sponsored by Deja Vu Comedy Club. This was the event that started his relationship with Fred DeMarco, former owner of Deja Vu Comedy Club. Warren later worked at Deja Vu Comedy Club, where he opened comedy shows with announcements and brought comedians on stage. He says DeMarco was a mentor to him. "There wouldn't have been a comedy career without Fred DeMarco," Warren says.
Warren is returning to Columbia on Sept. 24 to perform at The Blue Note. He says that a chunk of his material is about his experience selling peanut butter for Procter & Gamble. Mike Nolan, general manager at The Blue Note, says this will be the first comedy show since the pandemic hit. In anticipation of the upcoming show, Vox spoke with Warren about his career in and relationship with comedy.
When did you discover that you had a passion for comedy?
I think it was in high school. I was looking for an outlet. I would get in trouble for trying to get people to laugh. I remember that I ran for some student council position. The only reason I was running was so I could get up and make a speech. I won and I realized I didn't want to do this. I just wanted to do the speech to make people laugh.
What gave you the confidence to quit your job at Procter & Gamble?
I distinctly remember I came to Columbia to watch a football game. I had been doing comedy a lot. I was pursuing it as a hobby. I had been to Columbia several times. Each time Fred would let me do a spot at Deja Vu. Freddie would watch me and he was always good to me. But he never really said much. And then one time, he was like, "Greg, you could do this for a living. You are getting better." That was a big reason. 
How do you determine if something is funny?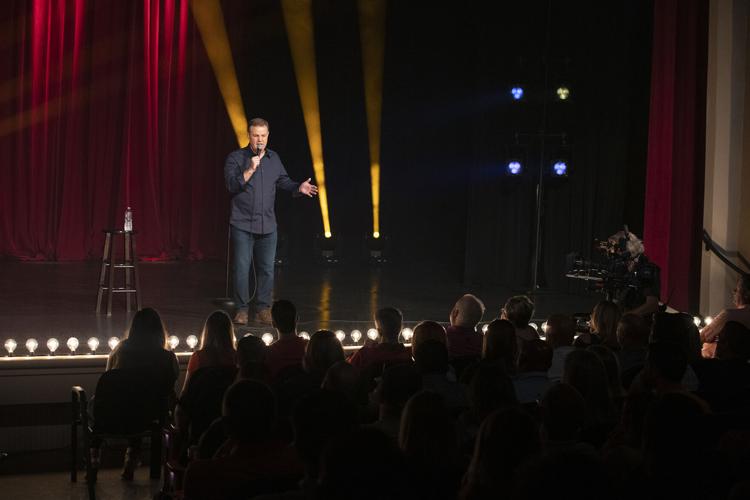 If something is different or interesting or if something interrupted the continuum of the day, often you can turn that into funny. You can turn weird into funny often. Sometimes it takes a couple days. Sometimes it takes a couple of years.
I try not to let any of those events or ideas go by. I put observations in notes on my phone. Sometimes, when I am free writing, I will write an idea I have in the margin. I think comedians make the best editors. You have these sort of thoughts that you have to edit into something that will make people laugh. Usually that means take out everything that is unnecessary.
What is your funniest memory at Mizzou?
My last year of wrestling at Mizzou they brought in this guy named Steve to workout with me. He shows up the first day and he's old. Steve was probably 35 or 40. I looked at him and I thought: I'm not going to wrestle this guy. I'll play checkers with him. But I'm not going to wrestle him.
For the first part of practice, Steve doesn't do anything. Then, coach basically goes, "Greg, wrestle Steve." He didn't even warmup. He just slapped his knees twice and got in an unorthodox wrestling stance. What am I supposed to do? I don't want to hurt this guy. He's old.
They blew the whistle, and Steve jumped a foot and a half in the air and grabbed me by my chin and head. He then threw me on the mat and preceded to physically beat me. I come to find out that Steve was on the Olympic team in 1980. We boycotted the Olympics that year. Apparently, Steve was still angry about it.
How would you describe your comedic style?
I would probably be a bit more famous if I could answer this question a little more clearly. Hopefully it is described as original, memorable, and funny. That's what I'm going for. I tend to be self-deprecating. My act is pretty clean. I wouldn't want to describe myself as a clean comedian because that sounds lame to me.
Related Stories